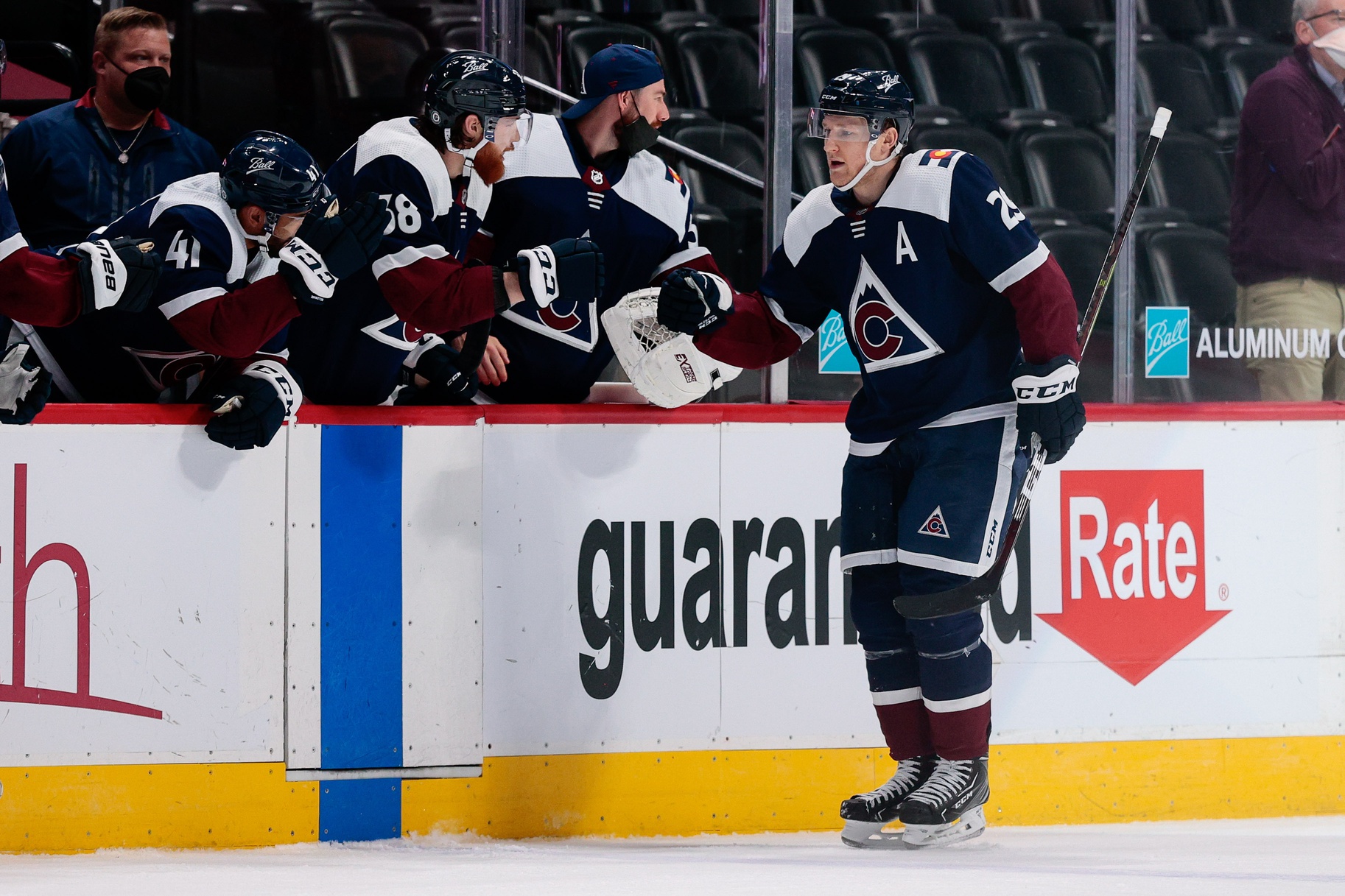 What was quickly headed towards being another bad game for the backup goalie turned into Jonas Johansson's first victory in an Avalanche sweater on Friday.
Johansson made 25 saves and Nathan MacKinnon scored two goals to lift Colorado to a 3-2 victory over the St. Louis Blues at Ball Arena. The Avs, who never trailed, increased their unbeaten streak to 13 games (11-0-2) and won their first game without starter Philipp Grubauer in goal since Feb. 26.
"Great feeling," Johansson said of his first win in nearly 14 months. "Big two points for us and personally it was really fun to get my first one in an Avs jersey."
Johansson had not won an NHL game since Feb. 23, 2020, with Buffalo. It was his second start with the Avalanche since being acquired on March 20.
Special teams played a crucial role for the Avalanche. The power play capitalized on its first two opportunities, which started with a goal from forward Brandon Saad at 3:24 of the first period. MacKinnon's goal 11 minutes later also came on the power play.
But the penalty kill was also strong. Colorado killed off four of five penalties, only surrendering a goal when the Blues had a 4-on-3 advantage. With just 4:52 left in the third and leading by a goal, Avs forward Mikko Rantanen was called for slashing.
Johansson and Colorado's penalty killers stepped up and helped preserve the lead. Defenseman Sam Girard made a crucial block to keep the Blues from tying the game.
"I think the PK did a great job," Johansson said. "At the end there Girard has a huge block. A bunch of guys getting huge blocks for us today. That's what we need on the PK to succeed and get these important situations in the game to turn to our advantage."
Leading 2-1 and having just killed a second-period penalty on Andre Burakovsky, the Avalanche turned to MacKinnon. He skated up the right boards and fired a shot past goalie Jordan Binnington to put the Avs up 3-1. His second of the game and 12th of the season was also his second game-winning goal of the year.
MacKinnon's power-play tally, which made it 2-1, was scored from in close on a nice move. Both of his goals were assisted by linemate Gabe Landeskog. Along with Rantanen, who did not record a point Friday, the Avalanche's top line has posted 58 points and eight game-winners during the 11-0-2 stretch.
"I thought we had a little bit of a slow start," MacKinnon said. "We held the lead throughout the game which is important. Obviously, it's a really good team, they're desperate. But it's great to see J.J. get his first win with the Avs and he looked great tonight."
The Avalanche are 2-1 against the Blues in 2021. They opened the season with two games at home against St. Louis. But after Saturday's second of a back-to-back, Colorado will play four road games against the Blues — all of which are within the next 12 games.
Three of those road games will be played consecutively later this month.
"When you get down the stretch run these games are going to get intense, they're going to get physical," Bednar said. "They're fighting for their position and we're fighting for ours."
The Avs have just six more home games in the regular season. After hosting frontline healthcare workers on Wednesday, Colorado opened its doors to 4,039 fans — and the crowd was electric.
The Avalanche were one of the last teams in the U.S. to welcome fans back.
"It was loud. It was very loud tonight," MacKinnon said. "It feels like more than four thousand. I think they did a good job of spreading them out. A lot of fans in the upper bowl and lower bowl. It's just very loud."
Footnotes
Aside from giving Grubauer the night off, Colorado made two more lineup changes. Forwards Liam O'Brien and Kiefer Sherwood were inserted onto the fourth line as Logan O'Connor and Valeri Nichushkin sat with injuries.
O'Brien was signed to a contract two days prior and made his debut with the Avs after starting the season on an American Hockey League deal.
Bednar said in the morning that O'Connor was dealing with an injury but Nichushkin was a late scratch after participating in the morning skate.
"Val is out day-to-day. He wasn't able to play today, he'll be re-evaluated tomorrow," Bednar said. "I've been saying it all along, I'm not going to play guys that are hurt or if their injuries are going to get worse. I'd rather play rested, healthy guys and not turn day-to-day injuries into week-to-week injuries."
Colorado's 13-game unbeaten streak is the third-longest in franchise history. In 2003, the Avs had a 14-game streak but the 2000-01 Stanley Cup-winning Avs hold the record at 16.