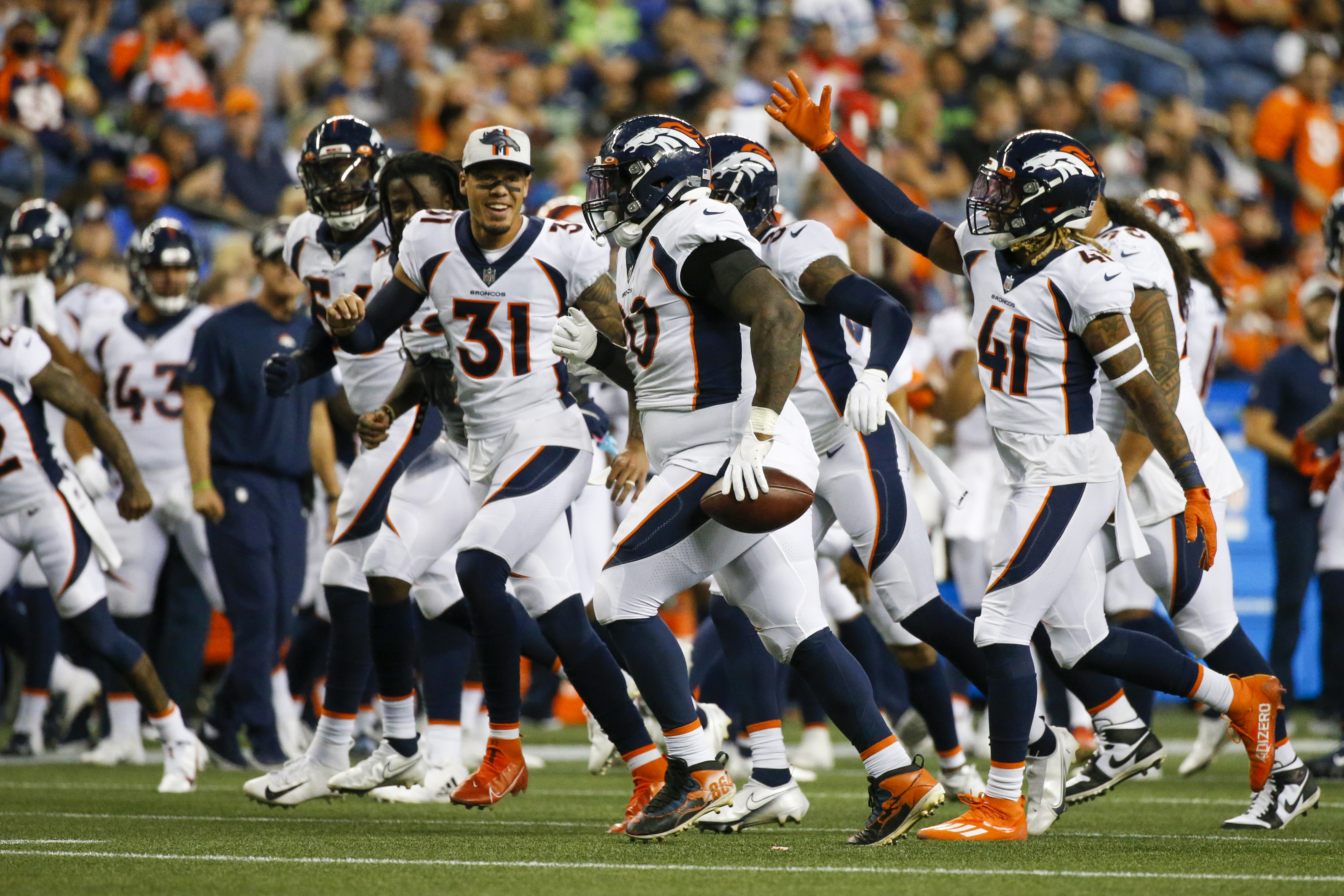 After yet another strong performance, the Broncos' second preseason game is in the books, and once again, they are victorious.
The defense once again proved to be an incredibly special unit, and it appears the turnover luck is turning around for the Broncos, but the quarterback play wasn't quite as stellar as what we saw in Minnesota.
Now, let's take a closer look at who starred, and who stunk.
Stock Up
Eric Saubert
Noah Fant is the Broncos' starting tight end and Albert Okwuegbunam is the team's No. 2 at the position.
However, after that tandem the drop-off to no-man's land is a steep one. Entering camp there was no clear third tight end on the depth chart, and it seemed like one of the more wide-open position battles across the entire roster.
That is no longer the case though, as Eric Saubert has emerged as the clear frontrunner for that third tight end spot, and a place on the roster most of his competitors will not receive. Fullback-tight end hybrid Andrew Beck is likely the only other person left competing for a roster spot in the position room, purely thanks to his positional versatility.
What gives Saubert such a commanding lead in the competition? Well, he was already the frontrunner entering Saturday night's game, and his lead only grew as the game went on.
First, he got the lion's share of the snaps with the first team, with both Fant and Albert Okwuegbunam sitting out.
Much like Trinity Benson's special team's snaps from a weak ago, that seems telling.
Pair that snap breakdown with a couple nice receptions, including a near-touchdown that involved a toe-drag down at the one yard-line, and it's hard to imagine anyone unseating Saubert.
Jonathan Cooper
Somehow, the Broncos have managed to assemble a quarter of edge rushers that might somehow rival the legendary 2015 unit that won the franchise a Super Bowl.
Von Miller and Bradley Chubb obviously form a top-end starting duo, but the talent behind them is also worth remarking on, and is enough to likely send a roster-worthy player packing — like Derrek Tuszka or Pita Tamoupenu — due to roster constraints.
Malik Reed has already established himself as Denver's key rotational figure, but now they have another star rising on their bench — rookie Jonathan Cooper.
Cooper was never supposed to be a seventh-round selection. He was recruited to Ohio State — the modern edge-rushing hotbed of college football — and was projected as a fourth-round pick in this year's draft. However, unexpected heart complications forced him to fall down the board and into Denver's lap.
Now, they're reaping the rewards.
Cooper has been a star on defense all throughout training camp, got a tackle for loss last week, and had a remarkable showing against the Seahawks, in which he was one of the best defenders on the field for the Broncos.
He made his presence felt by consistently pressuring the comedically-named Alex McGough, and creating what will certainly be one of the most vicious strip-sacks of the preseason. He also completely blew up a third-down conversion attempt in scoring position by tearing off the line unblocked.
COOOOOOOP‼️@JonathonCooper7 with the strip sack!

📺: #DENvsSEA on My20 pic.twitter.com/urlF04pidf

— Denver Broncos (@Broncos) August 22, 2021
DeShawn Williams
DeShawn Williams made sure his presence was felt Saturday night, continuing to solidify the notion that the Broncos' have both elite players and elite depth along their defensive line.
His night got started off by recovering the aforementioned fumble forced by Jonathan Cooper. He then later attempted his best Shelby Harris impression, making an impressive effort to haul in an interception at the line of scrimmage.
The Broncos' top three of Dre'Mont Jones, Mike Purcell and Harris is remarkable, but don't sleep on the second unit of Williams, Shemar Stephan and McTelvin Agim.
Stock Down
The Quarterback play
Last week Broncos Country was treated to some sublime quarterback play. Something they've been starved of for far too long.
This week, they once again found themselves famishing.
Teddy Bridgewater led the offense down the field for two fairly convincing touchdown drives, but he needed the help of three fourth-down conversions to have those drives end in points. To be fair, one of those fourth down situations never should have arose — as it was the result of an awful Javonte Williams drop — but still Bridgewater's drives required a lot of luck.
Despite that, Bridgewater was quite a bit more impressive than Drew Lock, who didn't appear to carry over any momentum from last week.
On his first two dropbacks, Lock was quickly sacked, leading to a punt on fourth down. It's very difficult to assign blame to sacks, but it was undeniably a bad look after Bridgewater led two scoring drives.
The two highlights of the night for Lock were an inspiring drive inside the two-minute warning that resulted in a field goal, which could've resulted in more, and a nice flip-and-catch on the run to Seth Williams, who ran for a big gain.
However, the night on the whole was still a dissatisfactory performance. Bridgewater had two possessions to work with against a handful of Seattle's starters and led two touchdown drives, resulting in a 14-0 lead. Lock had five drives to work with, and helped the offense generate nine points.