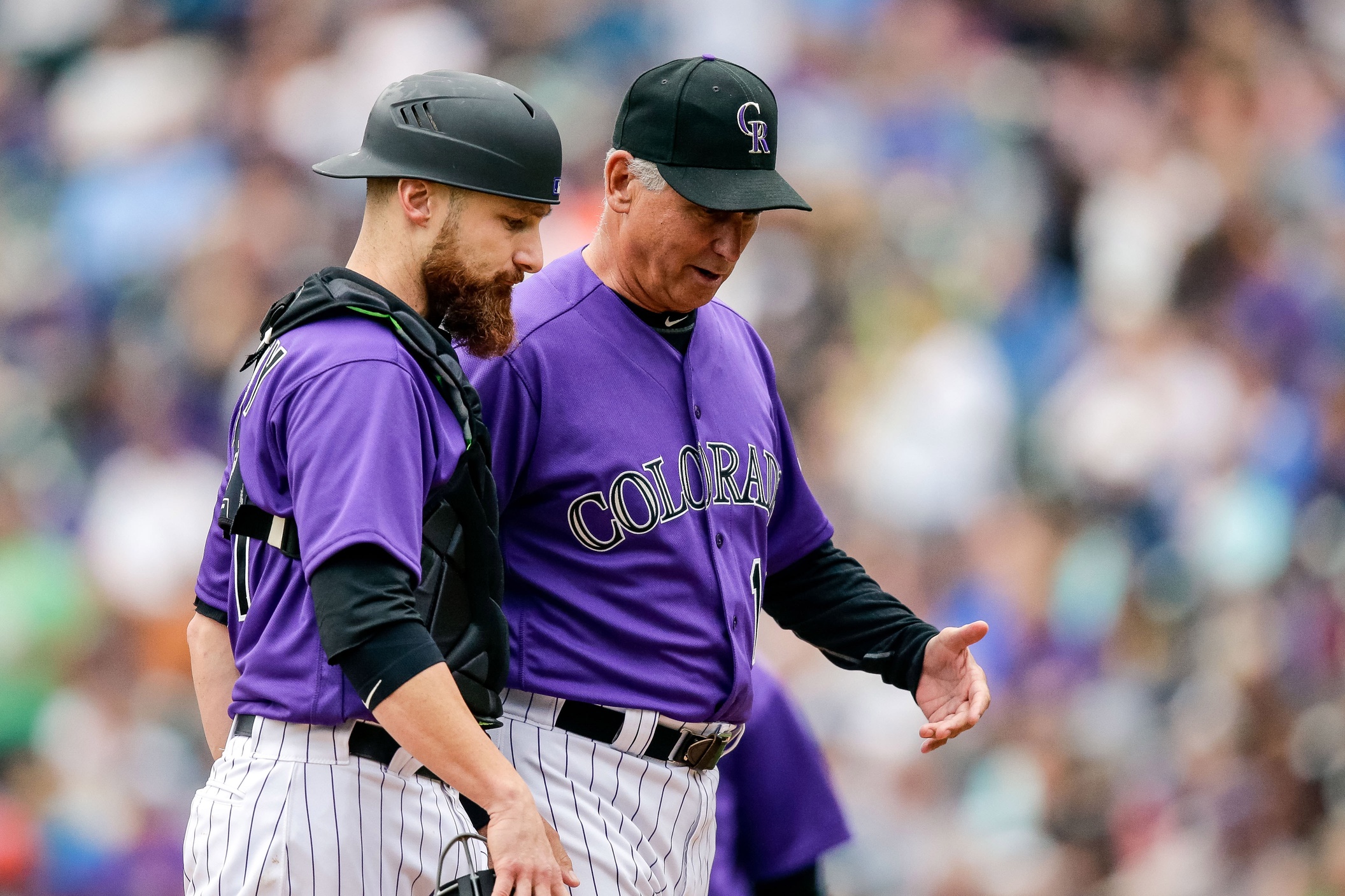 Jonathan Lucroy could hold the keys to the kingdom for the Colorado Rockies this season. A two-time All-Star, the veteran catcher was acquired by the Rockies ahead of the trade deadline to give the club a proven commodity to work with their young pitching staff.
Since joining the Rockies, Lucroy has wasted no time integrating himself with his new arsenal of arms.
"I think it's important to build those relationships. I've been talking to [Jeff] Hoffman, the guys on the bench last night," Lucroy said earlier in the week. "I'm just really amped up, ready to go, ready to get started with these guys, and ready to contribute where I can. We have a great staff. Great coaching staff, great pitching staff, great lineup, and hopefully I can come in and make contributions."
Lucroy will be handling on the youngest starting rotation in baseball, a group that features four rookies, second-year arms Jon Gray and Tyler Anderson, and a mix of experienced but still young arms in Chad Bettis and Tyler Chatwood.
The task is a tough one, but there is no one better built for it than Lucroy.
Over the course of his career, Lucroy has handled pitchers with a wide variety of age, size, stuff, and just about anything in between. You name it, Lucroy's seen it, and that's huge for the Rockies staff.
"I'm going to do everything I can. I've had the privilege of playing almost eight years now and catching a pretty significant amount of games and catching different types of pitchers," he said. "I've caught a lot of really good pitchers – very grateful and thankful for that. It's a lot of experience. I'm going to do my best to help these guys out and try to keep it simple for them. Really just try to complement them."
Keeping things simple for the youngsters appears to be the focal point of Lucroy's philosophy with his new arms. By keeping things simple, it allows the pitchers to build consistency, and with that, hopefully, confidence, something that will be critical as the Rockies continue to push for their first postseason berth in seven seasons.
"You have to slow this game down. That's one thing I really want to try to impress on these young pitchers is really just worrying about pitch by pitch and execution, not worrying about what happened last inning, not worrying about a homer you gave up last inning … We are worrying about the next pitch and executing the next pitch. Just trying to keep that mindset simple and at the same time having that attack mindset." Lucroy said.
Lucroy gives the Rockies an immediate upgrade behind the plate. While Tony Wolters and Ryan Hanigan did a nice job for a majority of the season, Lucroy brings a reputation with him that is almost invaluable for a young rotation.
Lucroy did a masterful job at developing the Milwaukee Brewers rotation and stabilizing the Texas Rangers starting five in his respected time with each club.
The Rockies now have the expectation that he will do the same in his time here. If he does, it could mean a successful one-game Wild Card exit, a National League pennant and beyond.
While a majority of the season has been up and down for the rotation, they've proved in the past what they are capable of.
In the month of May, Colorado's staff posted a 17-12 record with an era of 3.91 and an opponent's batting average of just .242. Those marks both ranked within the top five of the National League. Also, Freeland and Senzatela were both atop the NL wins leaders for the early months of the season, Gray and Marquez have showcased the fact that they can dominate at times, and Chatwood, Anderson, and Bettis have all demonstrated they can perform in spurts.
The potential is there, and now it's up to Lucroy to find and establish it consistently on the diamond, something he's already started doing.
"Oh yeah," Gray said of if he liked his new catcher following his first outing with Lucroy behind the dish. In the game Gray recorded seven innings allowing one run on six hits. "Another thing he does is make you feel real confident when you're out there too. Every pitch, every batter. He's an intense guy and really gets you fired up."
The Rockies rotation has held down the fort for a majority of this season; however, it's clear that they need some help in elevating their game to the next level.
By not trading for a starting pitcher at the deadline, the Rockies are counting on Lucroy to strengthen the rotation down the stretch from behind the plate.
"Jon's immersed himself here in the last two days in a lot of stuff," Manager Bud Black said. "Talking with the pitching coaches, talking with [Bench Coach] Mike Redmon, talking with me, talking with the pitchers. This guy is pumped, man. He's excited. He's ready to play, he's excited to be a Rockie."
The Rockies hope that excitement translates into improved performance on the mound. With the postseason approaching, Colorado's pitching staff is in need of some fine tuning, and Lucroy could hold the key to tune the Rockies for a deep run.