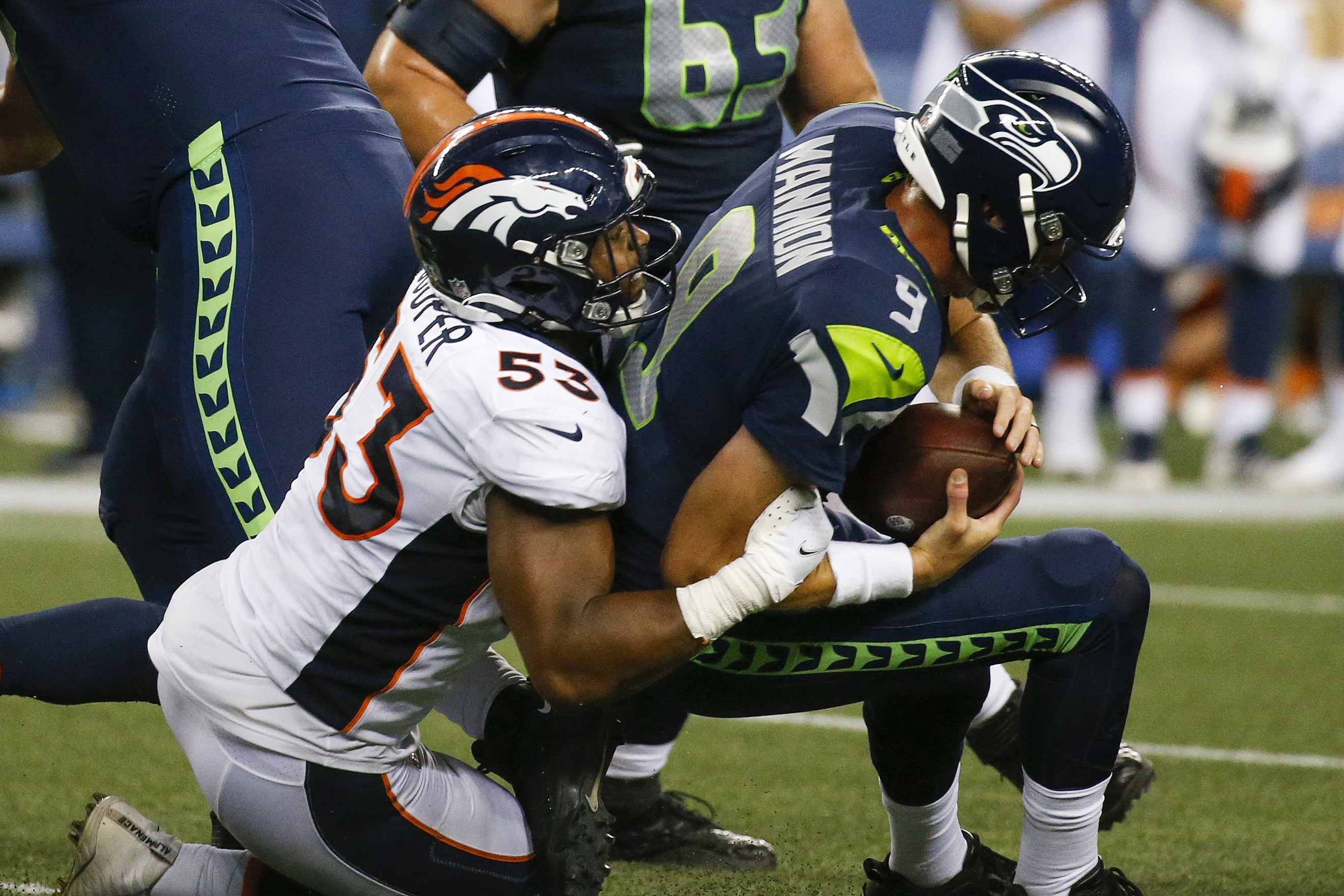 The Broncos' 53-man roster is now finalized, and while players like Von Miller and Bradley Chubb had easy paths to making the team, individuals like Jonathon Cooper had to battle through so much adversity to get to this point.
Not only was he a seventh-round pick drafted into a loaded position group, but he also had to recover from a series of heart surgeries in order to make the final roster.
"To be honest, it feels amazing. [I] just feel extremely blessed," Cooper said when asked how he felt about all he's accomplished, considering the adversity he's faced. "But honestly, my only focus is making this team better. The real work starts now. This is only the beginning. Obviously, this is an amazing feeling and a great accomplishment for me. I'm extremely happy, but now the real work starts. Now I just have to keep doing what I have been doing—keep getting better every single week."
That's the right attitude for a player like Cooper, who just barely made the roster as a late-round pick, as his fight isn't over. Throughout the season and this time next year, he will once again have to prove he belongs among the final 53.
That said, Cooper has plenty of confidence in his own abilities.
"I'd like to say that I never lost confidence in myself," Cooper said to the media after Tuesday's practice. "I always believed in myself and felt like that I got drafted for a reason, and I was given this opportunity for a reason. But I wouldn't say there wasn't no singular moment where I was like, 'OK, I belong here.' I just feel like me being out there with the guys, I just made sure I never took a snap or a second out here for granted and hoped that it would all pay off."
Cooper's top-of-the-line motor, which never seems to run cool, was a major factor in his making the final roster.
"I feel like [that effort] was instilled in me at a young age," Cooper said. "I just always go hard at anything that I do out there. My mom taught me that when I was young—just whatever I do, put your best foot forward. It doesn't matter whether you're out here playing football or you're working a 9-5 somewhere. Whatever you do, just put your best foot forward, give it all you got, and that's what I do. I feel like that's where my effort comes from and that's why I go so hard at everything that I do."
Another major factor in Cooper making the final 53-man roster was everything he was able to learn from the superstar tandem of Miller and Chubb.
"There's been a lot, a lot of things they've talked to me [about]," Cooper said of their top-notch mentorship. "Those are guys that I can always count on and rely on. Whenever I have a question about me, about life, about anything—between [OLB Bradley] Chubb, [OLB] Von [Miller] and [OLB] Malik [Reed], I know I have great mentors to rely on and to talk to, and obviously great players—in order to step up my game to become a better player. I was just watching film with Bradley Chubb the other day, just figuring out how my steps could be better, how my pass rush could be different, how I could read the play better. I picked their brains a lot just to see what they can tell me. Any little tips I can get to make my game better, I'm going to use it."
Cooper also discussed just how meaningful it was for him, a kid who grew up watching Von Miller demolish offensive lines throughout the NFL, to receive praise from one of his idols.
"It's crazy honestly," Cooper said. "I grew up watching Von Miller. He's one of the greatest to ever put on some cleats. For him to talk good about me, for him to say good things about me, and for me to be his teammate and learn from him, it's a blessing. I don't take it for granted. I want to make sure that every single resource, and everything that he's learned in the game—I want to make sure that I can take that and apply it to myself, so I can become even better."
One thing is for certain, the Broncos have a deadly amount of talent and depth coming off the edge.