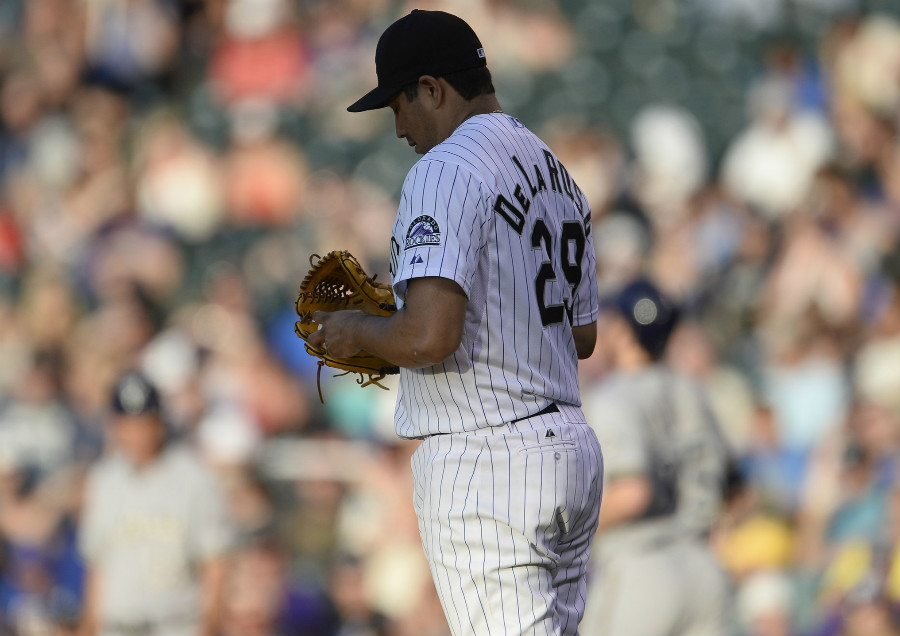 Colorado Rockies starter Jorge De La Rosa was pulled in the third inning of his start Tuesday for a groin injury. Although no one wants a player to be hurt, the possibility of some time off may be best for De La Rosa.
Pulled groin for De La "He pulled his groin right there going to first base, so we got him out of there." -Walt Weiss, per @jennycavnar

— Aniello Piro (@aniello_piro) April 27, 2016
De La Rosa, 35, has not got off to the best of starts this year (to say the least), owning a record of 1-3 with an era of 10.18.
Jorge's era of 10.18 is the highest among qualified pitchers in the big leagues so far.
The poor start is definitely a cause for concern for the veteran who has not been able to find his stride all season.
A mixture of poor performance, sickness and injury have all riddled De La Rosa's season thus far, and now, more then ever, may be the perfect opportunity for Jorge to get some time off.
"I'll have to talk to Doogie (the Rockies' trainer) first, see the extent of it," manager Walt Weiss said in regards to whether or not Jorge De La Rosa will be placed on the disabled list.
De La Rosa was pulled after he appeared to be limping after his at bat in the first inning.
"He may have done it before that," Weiss said. "After he ran down to first base, that's the first time he mentioned it, but I'm not sure exactly when it happened."
De La Rosa got clobbered in his start and just seemed off balance yet again.
One noticeable difference with De La Rosa has been the velocity on his fastball, and Weiss is well aware of it.
"The one difference I see is that the fastball isn't coming out like it was, or used to," Weiss said. "The changeup is still a real good pitch … but the fastball is a tick down."
De La Rosa was not available for comment; however, an announcement of his status should be made tomorrow.
According to Summit Medical Group a pulled groin can take anywhere from a few weeks to six weeks to fully heal, depending on the severity of the injury.
Regardless, it is sounding like De La Rosa will miss some sort of time, which is probably for the best.
His head is not straight, and he needs to find a way to regain his focus and concentration.
He is 35 years old, which means velocity on his fastball is likely decreasing, meaning he will need to find different ways to get batters out.
The age factor or the injury could be the mental block that is limiting De La Rosa's performance, and there's no doubt that the Rockies need him to get back to his old self if they're going to have any success this season.
The Rockies rotation, as is, is not very strong, and with no legitimate No. 1 starter, the club needs the veteran presence of Jorge De La Rosa in order to help teach the young guys to pitch at Coors field.
The time off may help De La Rosa find himself and his pitches and go back to being a solid starter for the Rockies.