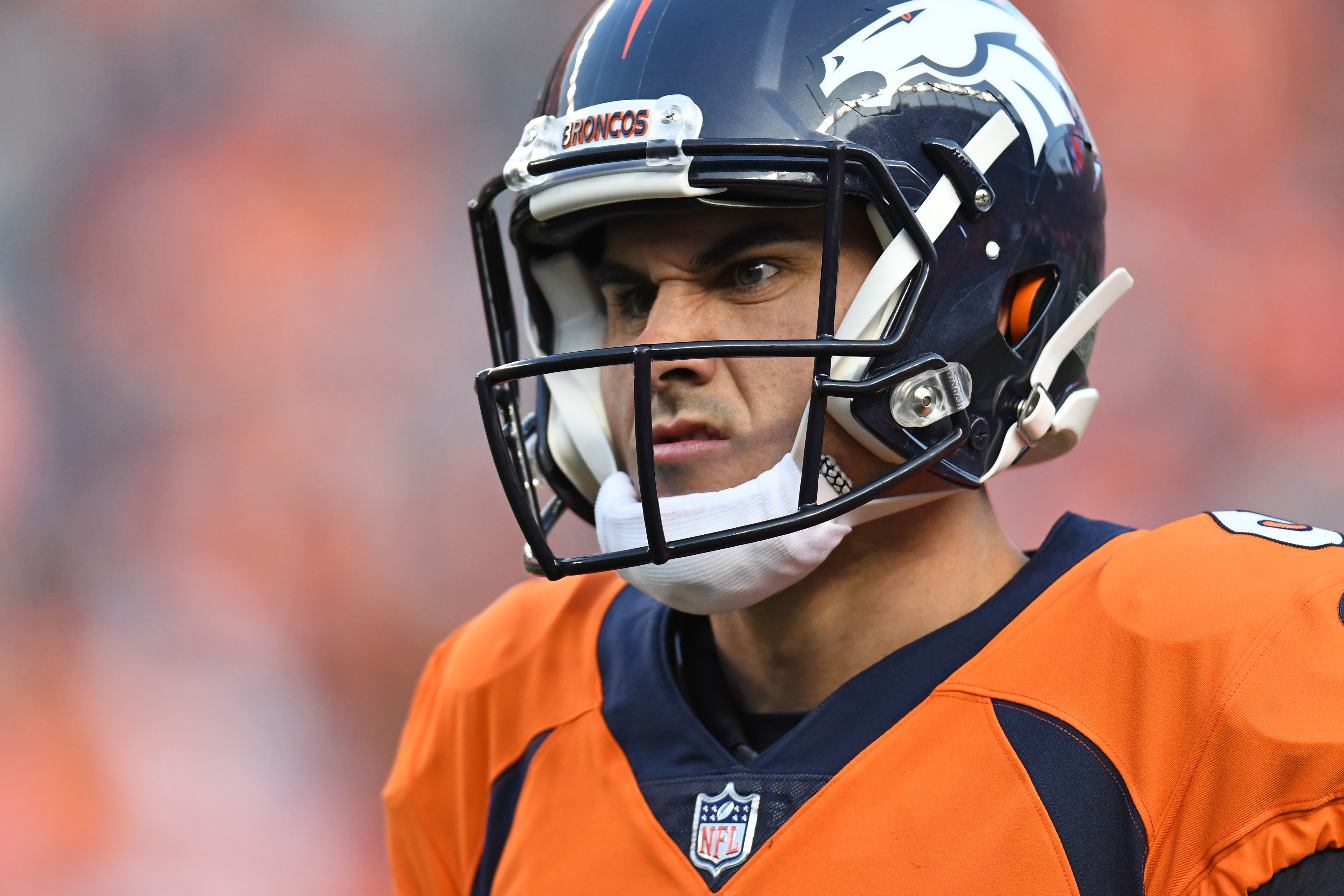 The Denver Broncos are quickly coming to the end of the preseason, and by Saturday, the team will cut down to its 53-man, regular season roster. There have already been surprises — both good and bad — and head coach Vance Joseph spoke to the media Tuesday afternoon to discuss what they'll mean for the Broncos in their final preseason outing against Arizona.
Second-year quarterback Chad Kelly is the backup for Case Keenum in this final week, and Joseph indicated that something significant would have to happen against the Cardinals for that to change. "I would say right now, Chad is our two. He's earned it," Joseph said. "Right now, Paxton [Lynch] is our three. Obviously, we have a game to play on Thursday night. We'll see after that how it shakes. As we sit here now, Chad is the two, Paxton's three and Case is the one."
If the status quo doesn't change, it's possible that the Broncos would cut Lynch, a former first-round pick and the man general manager John Elway anointed the future of the franchise. While things are certainly trending in that direction, Joseph was noncommittal. "I can't speak for that right now. We're going to play the game and see what happens over the weekend. Those decisions are made over the weekend," Joseph explained. "We're going to play this game on Thursday, have our staff and personnel meetings on Friday and Saturday, and determine what's best for the Broncos. That's all I can tell you about that."
Moving from the shocking sea change at quarterback to the more-volatile, youthful running back corps, Joseph said that even though third-round pick Royce Freeman has stood out — and perhaps claimed that starter's role — that he shouldn't expect Thursday off like so many other starters. "We've got 12 guys like that. I can name five on offense. We've got Royce, we've got [WR Courtland] Sutton, we've got [WR DaeSean] Hamilton, we've got [RB Devontae] Booker, we've got [G] Max Garcia, who's not in the starting lineup, but plays as a starter for us. Defensively, you've got [NT] Shelby Harris, you've got [DE] Zach Kerr, your third corner or your dime backer. Every team is dealing with this. It's a toss-up how much those guys play. You want them to play some, but you don't want to expose them to too many reps to get them nicked. Our real game is next Sunday."
Despite being clearly outplayed by Freeman and undrafted college free agent Phillip Lindsay, Joseph still thinks of Booker as a major cog in the offense — even if it's appeared as if the former Utah product was the least promising of the five running backs on the Broncos' roster. "Royce and Book (Booker) have been the lead guys the whole preseason, so to say it's open, it's between those two guys. That's pretty much closed in my opinion," Joseph said, indicating that Booker's role was completely safe. "Whoever's the lead back in the season… is not my focus right now. If we call a power play against Seattle on first-and-10, it's probably going to be Royce. If we go empty and throw a quick pass, it may be Book. So, who is the lead guy? It doesn't really matter, but obviously those two guys have been the lead backs for the entire spring really and entire summer. It will come down between those two guys."
Lindsay's splashy training camp and preseason have made the former Colorado Buffalo a lock for the final roster. Joseph took a moment to rave about the impressive, versatile rookie. "I think what No. 2 (Lindsay) has done has been real. It's not a fluff story. Again, he's done it on offense and on special teams. What he's done hasn't been just because he's a local kid, he has earned his right to be here," Joseph said. De'Angelo Henderson has shown what he can do in limited preseason time, as well. Fortunately for Henderson, Joseph's noticed. "De'Angelo has done some good things also, but I'm speaking of those guys separately. What '2' has done has been real, and what De'Angelo has done obviously has been real also. It's been major competition with our halfbacks, and it's been fun for me to watch."
Click the video for more from Broncos head coach Vance Joseph, including:
How his experience as a "guy on the bubble" informs his decisions during cut week
Why he expects guard Ron Leary to start Week 1
Safety Su'a Cravens' injury status
Defensive lineman Clinton McDonald's return
… and more!
VIDEO CREDIT: Denver Broncos/Facebook