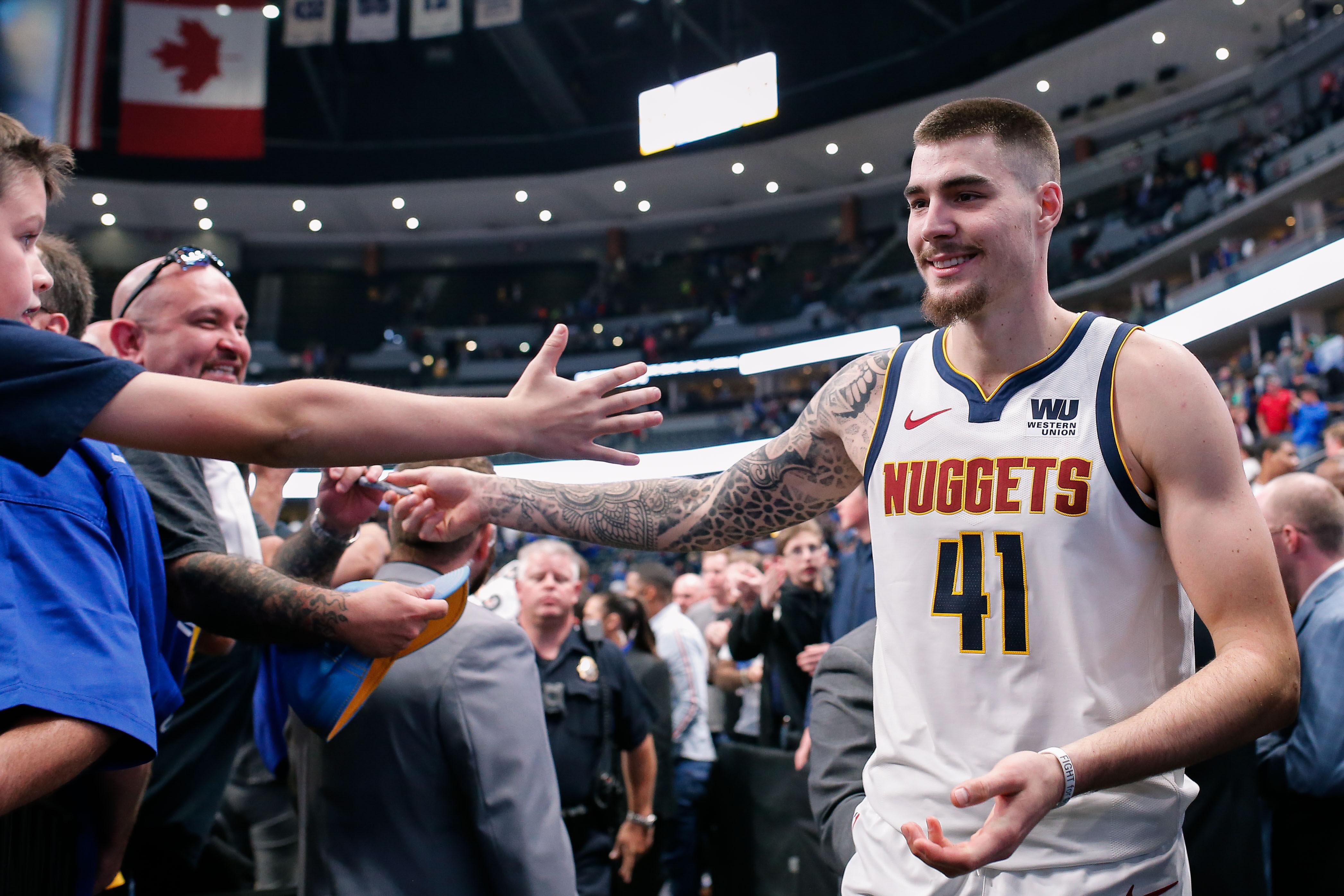 After suffering from mononucleosis and missing most of the 2017-18 season, the Denver Nuggets are finally getting the Juancho Hernangomez that flashed so much potential during his rookie season.
When the Nuggets drafted Hernangomez with the 16th pick in 2016, they were drafting an international player known for his sweet-shooting jumper and tremendous upside. Hernangomez, who had his fourth-year team option picked up last week, is a part of a Nuggets draft class that includes him, Malik Beasley, and Jamal Murray.
"It feels great. We are like a family. I love those two guys," Hernangomez said when asked about producing at a high level with his draft class. "We are always hanging out together. To be on the court playing together; it is awesome. So we just focus on one thing — we want to win."
Hernangomez was a key player on Denver's 2016-17 team as he played in 62 games, with nine of those coming as a starter. In his 13.9 minutes per game, Hernangomez averaged just 4.9 points per game, but showcased his sharp shooting ability averaging 40.7 percent from three point range.
Juancho was on fire from beyond the arc! 6 of 9 for the rookie.#Nuggets #MileHighBasketball pic.twitter.com/F8I8sZDlVq

— Denver Nuggets (@nuggets) February 14, 2017
In that specific game against the Golden State Warriors, Hernangomez went for 27 points and hit six three-pointers in the Nuggets victory. That game gave the Nuggets organization hope for the future as Hernangomez performed like a role player that Denver could count on for many years to come.
That plan was derailed last season though as Hernangomnez became diagnosed with mono just three games into the season. This was coming off a busy summer for Hernangomez where he competed with his home country of Spain in the 2017 FIBA EuroBasket tournament. Hernangomez played a key role in Spain taking third place, but it certainly did him no favors going into his sophomore season.
Following a breakout rookie season Hernangomez played in just 25 games last year, with almost all of those coming after his recovery from being sick. The key stat that flashes off the screen is the 14 threes he made all of last season. That number was down from 46 triples the year prior, with health obviously being a huge factor as to why.
Putting his lost season aside, the swagger from Hernangomez is officially back. He has played in nine of the Nuggets' ten games so far this season. He's already averaging 6.8 points per game — double what it was last season — while also shooting a career high 48.8 percent from the field. Hernangomez is also contributing on the boards as he is averaging four rebounds per game, 1.4 of those coming on the offensive end of the floor.
The do-it-all mentality Hernangomez has played with so far this season has been huge with the Nuggets losing starting small forward Will Barton to an injury. Torrey Craig has started in every game Barton has missed this season, but that could be something that changes sooner rather than later.
"We could not score the ball to start the game. So, literally two minutes into the game in the first quarter I subbed Torrey out and Juancho in just to give us some spacing," Michael Malone said on his decision to go to Hernangomez early against the Celtics. "Juancho had been shooting the ball well, somebody that they have to guard, and I just decided to start the third quarter with that same unit just to give ourselves a better chance to score."
Hernangomez made the most of his opportunity with eight points on 3-6 shooting from the field, 2-4 from behind the three-point line. In his 24 minutes of action, Hernangomez also chipped in five rebounds and one big time block.
JUANCH-NOOOOOOOOOOOOOO pic.twitter.com/9UMu6PFcO7

— Denver Nuggets (@nuggets) November 6, 2018
Hernangomez played an extremely effective game on both ends of the floor and knew that the Nuggets success against Boston was coming from his draft class friend in Murray.
"He doesn't say anything," Hernangomez said on Murray's 48-point night. "You just see the fire in his eyes and you just pass him the ball and get out. He started making shots and he won the game for us."
The chemistry that Murray and Hernangomez have was on full display in this three-pointer where Murray made an unbelievable pass for the wide-open corner three.
When your teammate hits you with the impossible find, you knock down the corner three. pic.twitter.com/JaxerUogCU

— Denver Nuggets (@nuggets) November 6, 2018
"It was a great pass," Hernangomez said on Murray's dish. "To be honest I didn't know he was going to pass me the ball because he started getting hot and making shots. He knows I'm going to be in the corner to shoot the ball. Like I said, we've been playing together for three years, he knows."
Hernangomez's three-point stroke was on full display there as he's now up to 46.2 percent from three this season. He only trails Will Barton and Mason Plumlee for the team lead in three-point percentage, while his 12 total threes puts him tied for second on the team with Gary Harris (Jamal Murray, 16).
The key in Hernangomez's success so far this season is his ability to make the most of his opportunities. After not playing due to a coaches decision against the Chicago Bulls, Hernangomez played the following night going for 23 points in the Nuggets victory over the Cleveland Cavaliers. Hernangomez went 5-8 from three-point range against the Cavaliers, and was the key reason why the Nuggets were able to walk out of Cleveland with a win.
After being outscored 27-15 in the first quarter by the Cavaliers, Hernangomez came off the bench and sparked a Nuggets rally. Hernangomez's play led to a 95-64 run to finish the game for Denver as he finished with the Nuggets highest +/- rating with a +19. Since that game, Hernangomez has played back-to-back games of 24-or-more minutes and is proving that he is a guy the Nuggets can trust on a nightly basis.
Just like in the Cavaliers game, Hernangomez has played a key role on a much improved Nuggets bench unit. With scoring and defense being the key to their success, Hernangomez embodies what the Nuggets second unit has become and what they could potentially be moving forward. The fire and energy Denver's bench unit plays with is contagious with Hernangomez being a big reason as to why.
"It is great. The guys that start, the guys on the bench; we have something special," Hernangomez said on the Nuggets second unit. "All of us can have great games. All of us can step into one game and have 20 (points) and get the win. I think we are communicating on defense and communicating on offense. I think we just have fun together. We enjoy playing basketball, we play hard, and we won. We all focus on winning and that is important."
There's no telling what type of starting lineup the Nuggets might roll out against the Memphis Grizzlies, but after Monday nights performance against Boston, there is a possibility Hernangomez could be apart of it. Whether he is starting or not will not matter as Hernangomez has proven his consistency in whatever role he is given moving forward.
One thing is for sure though and it is that Hernangomez is finally back to the player he was for the Nuggets during his rookie season, and this time he looks better than ever.