UFC 247 was a spectacle marred in controversy caused by the judges scoring the event. Keep in mind that that the UFC does not have to say in this fashion as the officials are appointed by the Texas State (or whatever state the fight is in) Athletic Commission.
Judge Joe Solis should never work as an MMA ever again after Saturday night. This joker had unexplainable scores all night. Please, please, please, state athletic commissions nationwide, do not give this guy another opportunity to rob fighters who have poured out their heart and soul in the cage for either 15 or 25 minutes.
It's simply not fair for the fighters. It's not fair to their families. It's not fair to the fans.
Most fighters follow a payscale of show money and win money at a 50/50 rate. These warriors, who put it all on the line, are victims of straight-up robbery for half of their money before factored expenses even come into play. Some fighters spend more than two months away from their families to train at top camps around the world to prepare for their fights
Allow me to offer multiple examples of poor judging and costly decisions from UFC 247 — the one common denominator? Solis.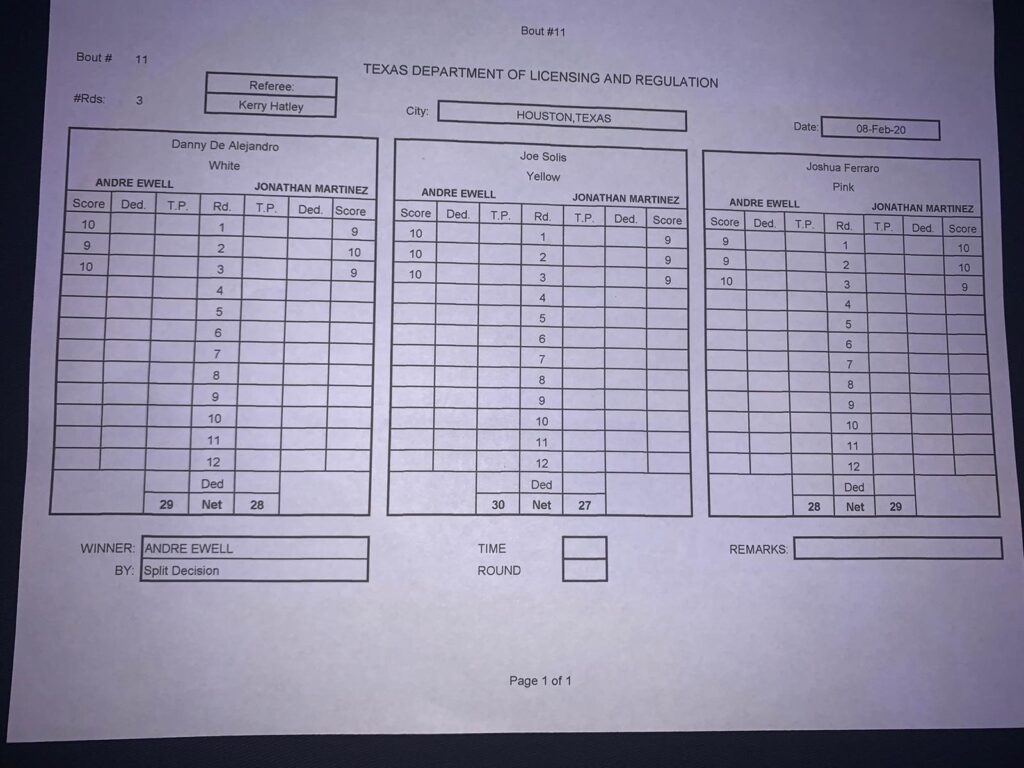 In the second bout of the night featuring Jonathan Martinez vs Andre Ewell, Solis' scoring was "criminal" according to Joe Rogan.
"That's ridiculous," said Rogan on the broadcast. "Anybody saying that that is three rounds to Ewell, that is criminal. That three rounds to nothing is criminal. Martinez put on an excellent performance. He had Ewell hurt on several occasions in two rounds, kicked him to the body, took his legs out, had Ewell fighting his game, showed excellent defense. I'm stunned."
Solis scored this fight 30-27. How? Seriously, how? How did two judges see it with a narrow margin and Solis saw it as a sweep
Now, in no way is this piece intended to disrespect or slight the fighters. They had nothing to do with the scoring the judges, or judge rather, put down on their card. It has to be a sour feeling after getting booed mercilessly by the fans in the arena in a win you fought your butt off for.
Controversial decision number one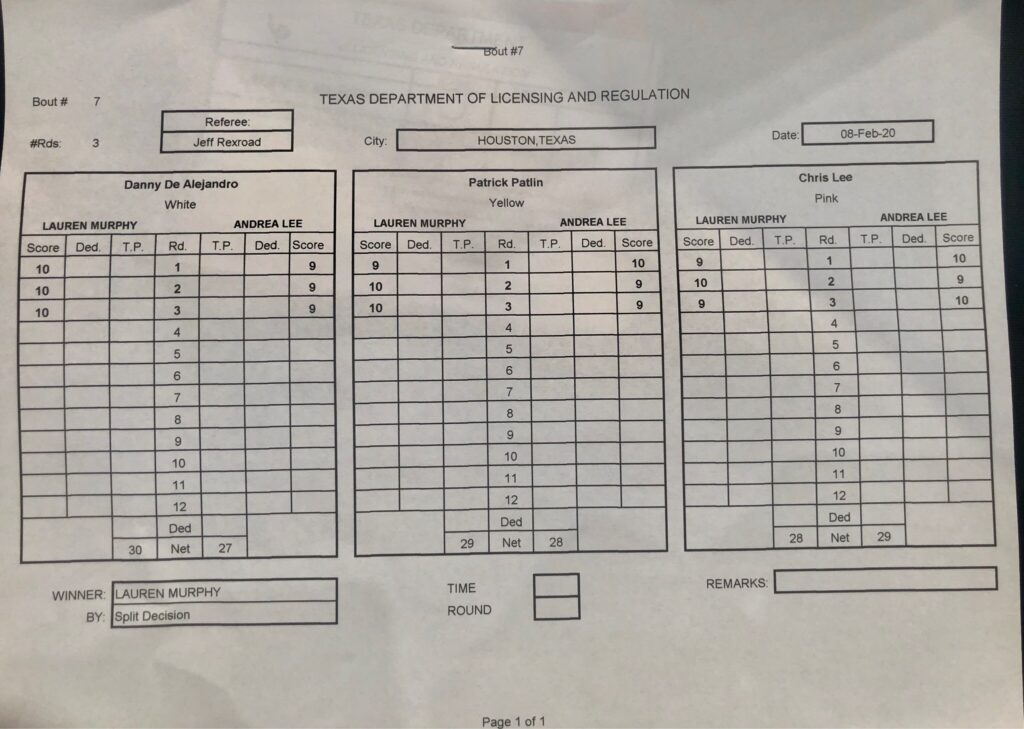 In the Lauren Murphy against Andrea "KGB" Lee fight, the decision in favor of the Texan, Murphy, drew a mixed crowd reaction.
Murphy showed she was tough as nails and has heart, but I personally did not see her snatch the win. If we are playing the eye test, Murphy was bloodied up early and the damage Lee did to her face looked like a tenderized steak. It's worth noting that Lee had bruising on her face also, but not even close to the same level as Murphy.
Lee looked to have the superior grappling display and her striking found its mark often. The very last sentence of my live recap from media row addressed how Murphy's heart and determination were phenomenal with her coming forward until the end despite taking a beating and that she just did not amount enough damage to beat Lee.
Controversial decision number two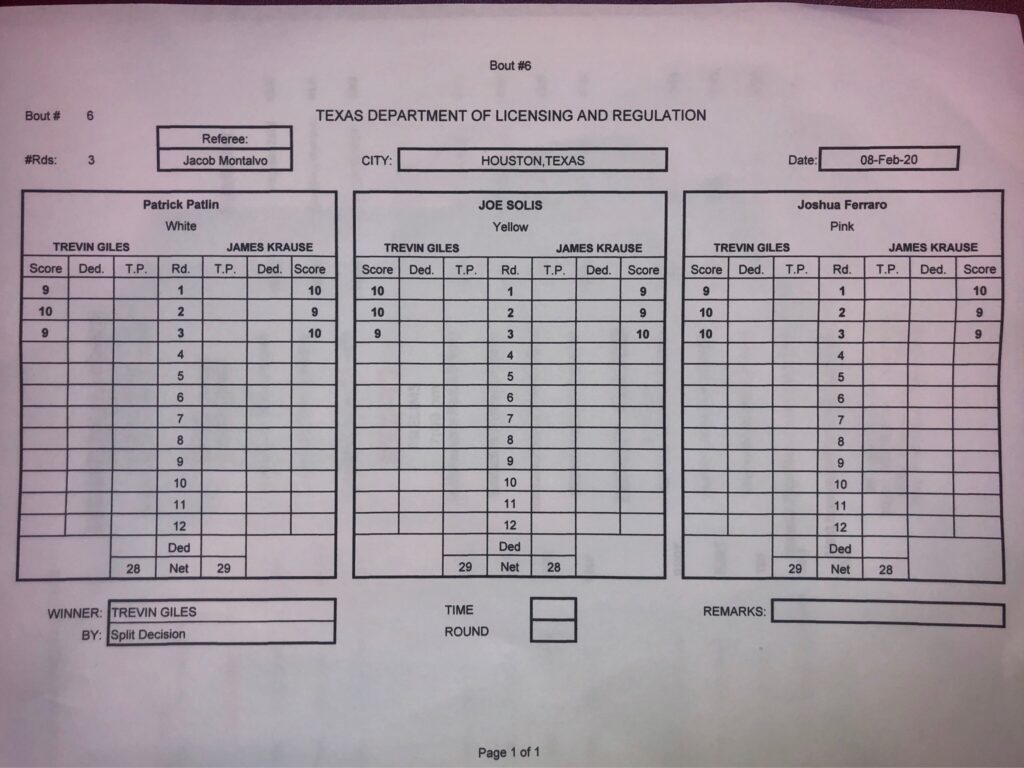 In the next fight, perhaps the most ludicrous round of scoring from Solis occurred. James Krause, on a day's notice, fought another hometown fighter in Trevin Giles.
In the first round, Krause took Giles back early and maintained the position for nearly four minutes while attempting a series of rear-naked chokes. Solis gave Giles 10 points, signaling he won the round.
No. Just no. There's absolutely zero acceptable explanation for this. All due respect to Giles, but how in the blue hell does he win that round? James Krause had his nuts carried to the arena in a dump truck and got hosed by Solis' incompetence.
Controversial decision number three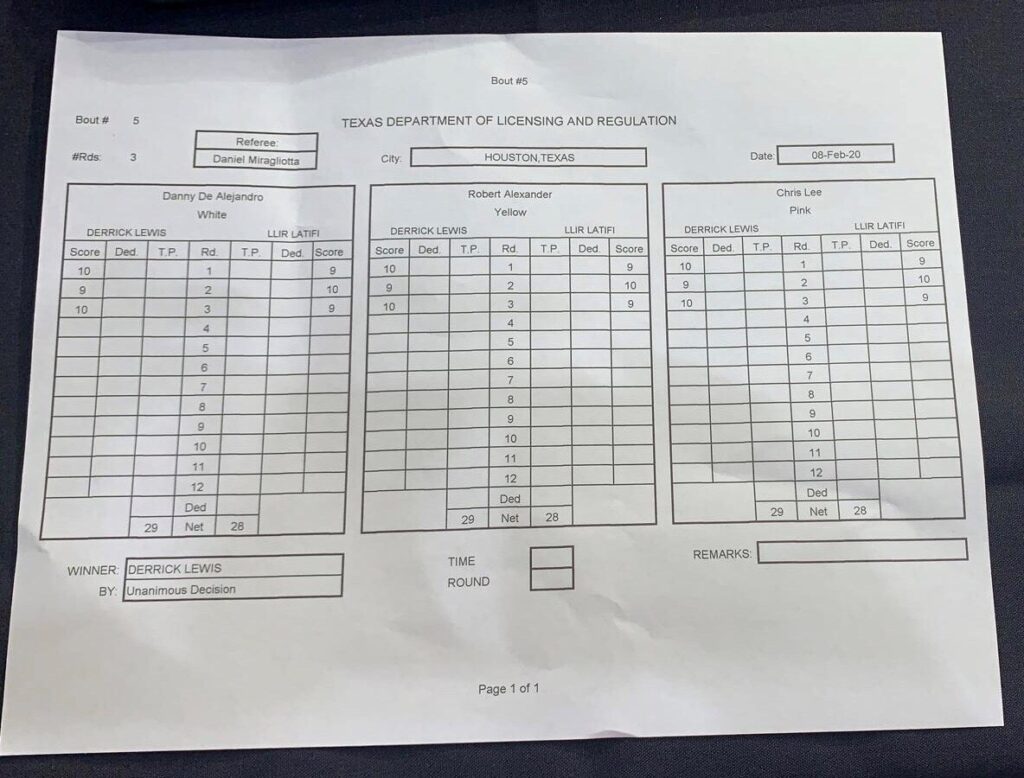 Derrick "The Black Beast" Lewis was by far and large the crowd favorite, as the heavyweight from Houston even has his likeness painted on murals in the city. Lewis fought Ilir Latifi in the first fight of the main card.
Latifi put his grappling on display by locking up with the kickboxer and maintained strong positions for a substantial amount of time, but the problem is, he did nothing with it. No advance to a better position, no ground and pound damage, no submission attempts. The combatants were also reset twice from stalling.
Now, lay and pray is far from entertaining, but it is worth offering that it is also Lewis' responsibility to work himself out of bad and potentially dangerous positions. Lewis finally Hulked himself up (where's my old school pro wrestling fans at?) and emptied the cup coming after Latifi in a blaze of glory until the end of the fight.
Lewis was the aggressor on the feet and was able to inflict damage with the little bit of offense he was able to get off before Latifi would tie him up in a bodylock. Hell, he even threw a flying knee. Lewis also hurt Latifi in the third with punches.
The judges scored a unanimous decision win for Lewis. It's hard to believe not one judge didn't see the fight in favor of the hometown hero.
Controversial decision number four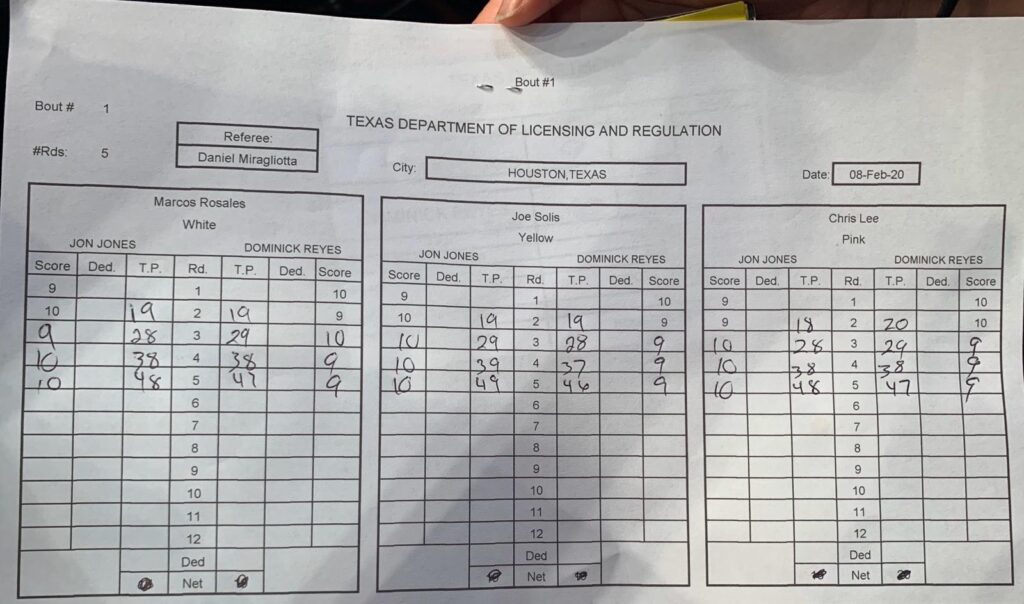 The main event will be questioned for the rest of history. Challenger Dominick Reyes had the strongest performance against Jon Jones since Alexander Gustafsson in their first fight.
Now, for the record, I had the fight 48-47 in favor of Jones. The controversy for me was the 49-46 scorecard for Jones from one judge. Any guess as to which judge this scorecard belonged to? If you guessed Solis, then give yourself a pat on the back for picking up on the pattern.
"For anyone to think that was 4-1 Jon Jones, that person's insane. You're insane. Dominick Reyes put on a hell of a fight tonight, and to disrespect that performance with that kind of judging is insane. Clearly, it's a giant issue with people judging who clearly don't understand martial arts." -Joe Rogan 
To reiterate, this fight was as close as it gets. There's just simply no way that one can validate four rounds for the champ.
Controversial decision number five 
After five of the twelve (nearly half) fights on the card had a suspect decision, the clamoring for change in the scoring and judging system is at an all-time high.
One proposed solution is open scoring. What is open scoring? It simply means that the scores would be visible after each round.
ESPN Staff Writer Marc Raimondi broke the news yesterday that the Kansas Athletic Commission will be experimenting with "real-time scoring" beginning March 1 per Kansas boxing commissioner Adam Roorbach.
According to Raimondi's report, this scoring format can be used selectively and is not a requirement for MMA promotions to use.
The all women's fight promotion, Invicta FC, will be the guinea pig promotion for "real-time" scoring with their show on March 6 in Kansas City, Kansas, which will air on UFC Fight Pass.
Time will tell if open scoring is a feasible long-term option, but for now, the willingness to experiment with change of the status quo for potential growth is a step in the right direction.
-Jordan Kurtz is a founding member of Comments From The Peanut Gallery and The MMA Plug and can be followed on Instagram at @CommentsFromThePeanutGallery and @TheMMAPlug303