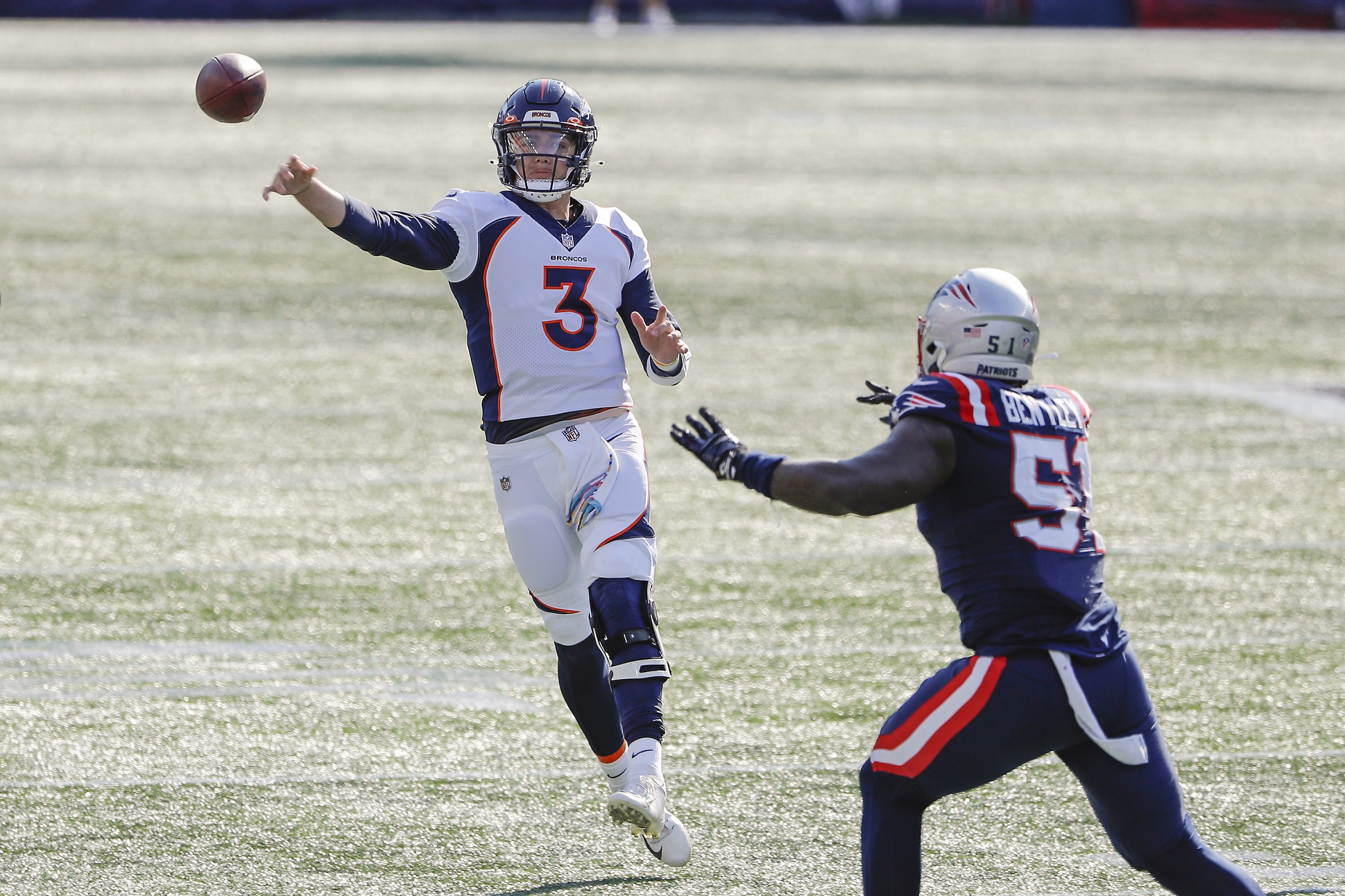 Don't think of this game as the Broncos versus the Chargers. Think of it as Herbert versus Lock.
Justin v. Drew. The first of many.
Or so we hope.
As you might have heard, Herbert is a "lock" to stick around for quite some time. After all, he's not only the NFL's surprise story, he's arguably leading the race for Rookie of the Year. Some have even suggested MVP!
That's probably excessive, as Herbert has a long way to go before solidifying that kind of hardware. But the results thus far are certainly eye opening. The Chargers rookie QB has averaged 308.4 passing yards in his first five games, complete with an impressive completion percentage of 67.39 and a (whopping) rating of 108.1. He's thrown 12 touchdowns and just three interceptions. Simply put, there's not much to "not like."
In Denver, Drew Lock is technically not a rookie. But in reality, he's only got nine starts in the NFL, one of which was cut woefully short following a first-quarter injury against the Steelers. For all intents and purposes, there's not a ton of difference between Herbert and Lock in terms of experience – three games and a decent amount of film sessions and meetings, to be exact(ish). If you throw out the Pittsburgh game, Lock is averaging, 210 passing yards per game, a rating of 61.9, and has thrown 8 TDs to 7 INTs.
On paper, Herbert is better than Lock. To be fair, in the eye-test, Herbert is better than Lock – that was played out when both quarterbacks squared off against the Chiefs. Herbert nearly won; Lock looked like he was too cold. In fact, at the moment, there's not a GM in the league –who wouldn't take Herbert over Lock.
And that's exactly why Sunday's Broncos-Chargers game is so important.
For Lock.
For Vic Fangio.
For John Elway.
And to some extent, for Herbert.
If, on Sunday, Drew Lock holds his own against the current poster boy of NFL rookie quarterbacks, then things suddenly look up in Denver. Because Hebert is the opponent, the spotlight on Empower Field will most certainly be bright. If Lock doesn't measure up, the entire country will see. The narrative will most certainly be that Elway has once again missed the mark on his quarterback, and that the Chiefs and Charger are light years ahead of Denver. To be fair, Elway was a big fan of Herbert's, up until the junior Oregon quarterback decided to play in college one more year. But none of that will matter. Here and now, it's Herbert versus Lock.
It's not just on Lock, either. Sure, the "second-year" quarterback must play better. At New England, it was a lack of red zone production. Against the Chiefs, it was worse – like zero passing TDs and two INTs worse. But his head coach and his offensive coordinator share in the fate of their young signal caller.
Pat Shurmur must devise a better game plan. Up until now, it seems the former head coach turned Broncos offensive coordinator has been a disaster hire. The Broncos are last or near last in most key offensive categories, and Shurmur looks nothing like a young quarterback whisperer (as he was somewhat billed). In short, Shurmur needs to call plays that help his young quarterback. Period.
And Vic Fangio can help Lock, too. Or, more realistically, he can knock a little luster off Herbert. As a gifted defensive mind, Fangio has the ability to make the Chargers rookie quarterback look like, well, a rookie. Even if Lock just plays "okay", making Herbert look bad because a brilliant scheme or a pick or three, then the race for "next-best" QB in the AFC West is on.
Herbert could very well be the next Phillip Rivers.
Lock could very well be the next Jake Plummer.
Or, both could be backups four seasons from now.
But at the moment, it appears that Justin Herbert is winning this race. He's the real deal until someone proves otherwise. It's imperative that the Broncos – Lock, Fangio, whoever – find a way to trip him up.
The Broncos can't afford to have the third (or fourth) best quarterback in their own division (again). That's a recipe for losing.
Sunday is a defining moment for the Broncos and their young quarterback.