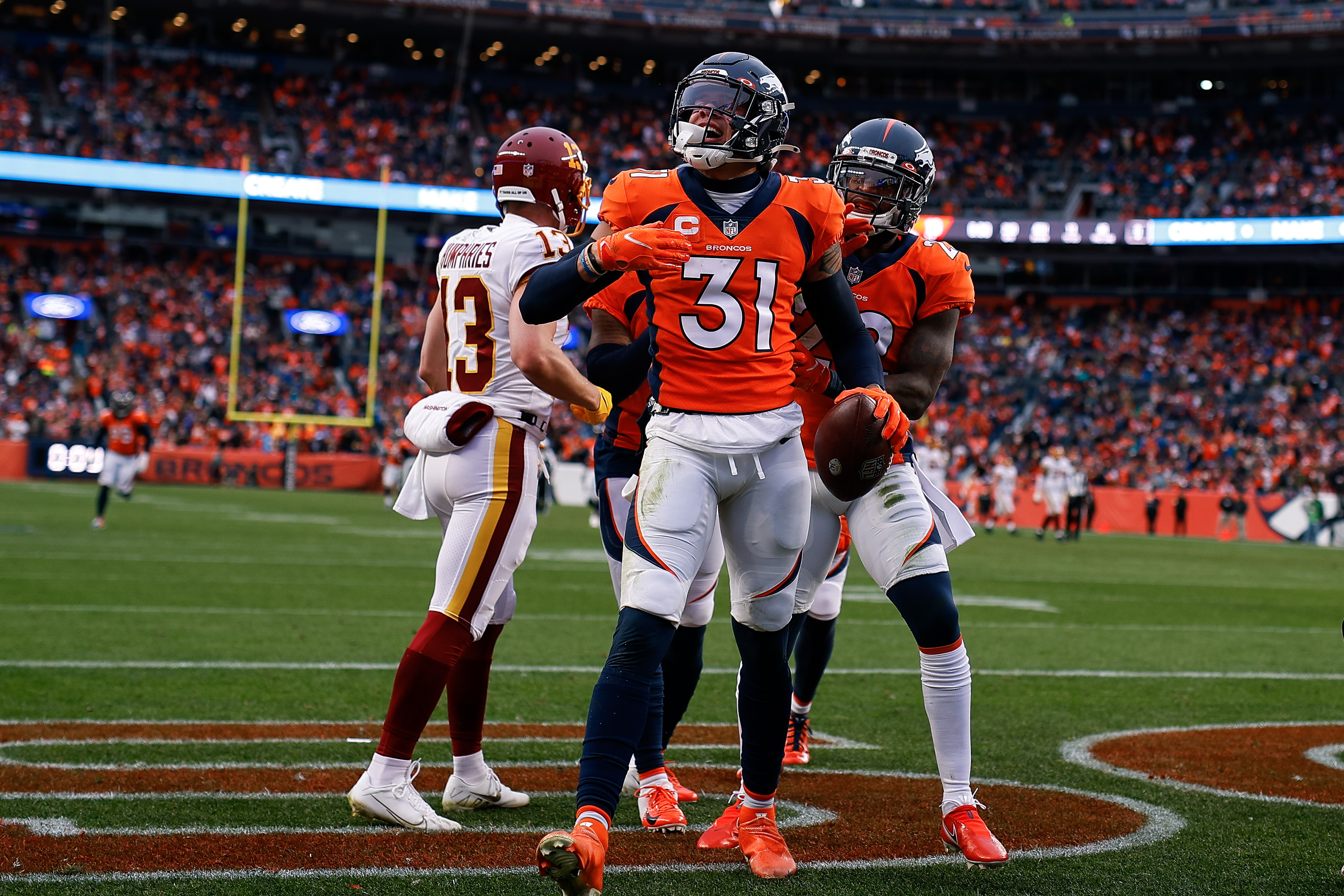 On Sundays, the Denver Broncos' dynamic safety duo of Justin Simmons and Kareem Jackson impose their will against opposing defenses. Away from the field, shoulder pads removed, both Simmons and Jackson impact the lives of one another separately from football.
In a game that often glamorizes the transactional aspect of football, the Broncos' veteran safeties lead a transformational approach to the game and in their personal lives, whether that be with teammates in the locker room or with one another.
Mutual respect before becoming teammates
How did Justin and Kareem's bond develop and grow so strong? Before becoming teammates, both players acknowledged the respect they had for one another prior to Jackson strapping on a Broncos helmet.
In 2018, the Broncos hosted the Houston Texans in a regular season matchup. This was one of the games that lit the spark for the team to pursue Jackson in the offseason. In the third quarter of play, Jackson would telegraph a swing pass for Phillip Lindsay, delivering a massive hit behind the line of scrimmage.
Simmons recalled witnessing this play from the sideline.
"Kareem's a guy where you just watch his tape all over," Simmons said. "Obviously known for his playmaking ability and big hits. The first time I really got to see him in person was when we played them in Denver. He had that big hit on Phil and I was just laughing because that's how I'd imagine Kareem would play in person. I've always admired his game, and when he came over to Denver I already knew that we were getting a guy."
That very offseason, Jackson would sign a three-year deal to join the Broncos for the 2019 season. Jackson wasted no time connecting with Simmons.
"Upon signing you hear about guys and you get a chance to see them play before you get a chance to meet them," Jackson told me. "I knew before coming to Denver the type of player that Justin was seeing him over the years. Just having mutual respect from a distance. Previously I had a chance to play against him the year before I actually signed to Denver. Fast forward and having a chance to play with him, I think for me, and Justin will have to tell you, but instantly there was a connection in the sense that it felt like we've played together for some time before."
Kareem Jackson's arrival was big for Justin Simmons in 2019
For Simmons, he was entering his fourth season in the NFL and felt the addition of Jackson was huge for him at that point of his career. Despite having previously played with leaders like Darian Stewart, T.J. Ward, Aqib Talib, and the No Fly Zone, Jackson's arrival served an influential purpose as Simmons continued to grow as a player and man.
"Little did I know then, [Kareem] would be by far the most influential, not only player but person in my life and my career," Simmons reflected. "That's on the field, off the field. The things that we've talked about, the things that I've learned from him both on and off the field, it's unparalleled. That's saying a lot because I've been around a lot of great players, hall of fame players, and hall of fame worthy players."
Initially, Jackson would play his first game as a Bronco against the Las Vegas Raiders at the nickel position. After Week 1, Kareem would transition to safety where he and Simmons would begin to mesh in synchrony, instantly becoming one of the NFL's most dynamic duos at the position.
"It felt like after the first couple of games where we were playing safety, it felt like it just worked. I think another thing that is a big testament to Kareem is that it's not always likely that you find guys in the league that are in it for selfless reasons. You find a lot of guys who are selfish about what plays are they going to make, what matchups are they getting, and how is this going to make their stats look. With Kareem, it was selflessly like 'what do we need to do to win' and that was really cool to see."
Broncos safety duo challenging transactional status quo
Jackson approaches the game from the standpoint of doing his job to the best of his ability to help the Broncos win games according to his teammate. When looking at the business side of football, the narrative is often viewed under the lens of "what have you done for me lately."
For both players, "what have you done for me lately" is a term they use to reflect on what they did well, what areas of their game can they improve on, and how can they continue to grow in a game that is ever evolving into a hyper-focused offensive showcase.
"He's a big part of why, as a defense, we've been so successful," Simmons spoke of Jackson's role on defense. "He's super underrated, and I say that all the time. He's a big part of the reason why I've had so much success in recent years is due to the ability to play more free because he's doing his job at a high level."
The success they share on the field can also be attributed to their bond away from the team's facility. Coming off of Broncos OTAs, both players spent time together in Georgia and Florida during the break before training camp, training at the same facility, and spending time with each other's families.
"That's my brother for life," Simmons shared with me. "It's crazy because I have a bunch of guys that I'll always be cool with as teammates. But with Kareem, it's a different level like a brother. I'm constantly checking in on how his family is doing, I went down to his camp this offseason, hung out with mom and dad, met extended family, and went back to his hometown. You get to do those types of things and it's deeper than just the X's and O's that you talk about in the film room or on the field. I think if you talk to anybody who has that type of relationship with another guy on the team or player in general, that helps."
Their bond has impacted the way Justin views the game of football, but more importantly, how he continues to grow as a man, a father, a husband, a son, and a brother.
"You have the same visions in terms of how you want to lead your family, how you want your life to be looked at from guys that you played with and coaches that coached you. You want to be around guys that are winning in life, that are pushing you to be better. That's exactly what Kareem has done since he's been in Denver, for me."
As he prepares for his 13th season in the NFL, Jackson has been around a multitude of veteran players and great teammates, but his bond with Simmons is something that he holds in high regard.
"To be blessed to have played this game for so long, I've had so many different teammates, but there are only one or two other teammates that I've been anywhere as close with as I am with Justin. I think it says a lot when you're close to not just players, but their families. Creating a relationship with not only him, but his family."
Broncos safety duo pays it forward to next generation of players
Sometimes in NFL locker rooms, it's common where some players don't talk or hang out beyond the team facility. Jackson and Simmons' bond is different. Whether it's trying to figure out where they are going to go eat after practice concludes, or when they're going to go bowling, their friendship holds more value than tackles or interceptions.
This approach also carries over to the younger players inside of the locker room and at the safety position. Jackson and Simmons both believe that helping the younger players on the roster is one of the most important things they can do as veterans.
In the often glamorized business side of football, when a team drafts or signs a younger player at a position you play, many veteran players become territorial about their role. For players like Justin and Kareem, they take a different approach, acknowledging how important the younger players are toward the success of the team.
"When it comes to helping the younger guys, that's something I truly believe in. For one, I feel as a team we're only going to be as good as our younger guys. Those are going to be the guys playing special teams, those are going to be the guys, if somebody goes down, they have to step in and play without any drop-off. So why would I not help these guys if I know at some point in the season we'll have to count on them."
Jackson reflected on some of the players who helped him develop this mindset when he was a rookie first-round draft pick in 2010. Veteran names like current Detroit Lions defensive coordinator Aaron Glenn, Andre Johnson, Glover Quin, and Johnathan Joseph were all instrumental in helping Jackson take his game to the next level as a player and as a man on and off the field.
"You're only going to be remembered for how you help people. Whether it's in life or in the locker room. Nobody may remember what I did on 3rd and 3 in the 7th game of the season, but the relationships that you build and the way you help the younger guys and bring them along, they'll remember that for a lifetime because they'll be in that same position at some point and it will be on them to help the younger guys."
Kareem believes it's important to help young players grow whether it be with football, film, technique, life, money management, or how to overcome the various hurdles that present themselves the moment a player gets drafted or signed to a roster.
"You see why I had to let him go first," Simmons laughed. "That's a staple for him. Guys don't even ask questions, he tells them before the question is even there. We'll be in film and he'll ask multiple times to run back plays and he's having a whole side conversation about thought process with whoever he's talking to, corner, nickel, or other safety it doesn't matter. He's taking them through what they need to be looking at before the play to help put them in a successful position and already eliminate half of the route tree. Or if we're in this coverage, you won't need to worry about half of these routes."
That's who Kareem Jackson is, that's who Justin Simmons is. Younger defensive backs like P.J. Locke, Caden Sterns, Patrick Surtain II, Delarrin Turner-Yell, and Michael Ojemudia have all shared high praise for both of the Broncos' veteran safeties. 
Players like this, men of strong faith with character like this are strong examples of the transformational culture that is often missing in professional sports. When bonds and relationships extend beyond the field of play, the impact can change the trajectory and life of someone else the way it has for Simmons and Jackson and those around them.
When football is viewed through a lens like this, it helps paint a vivid picture of how important it is to humanize professional athletes. When players take off their shoulder pads and hang up their cleats, they go home to their families, they go home to their life away from the sport. They go out to eat, they go bowling, they play golf, and they value the things that add fulfillment and growth in their life and to those around them.
The world would be well-served if more people took a page from the playbook of Justin Simmons and Kareem Jackson.