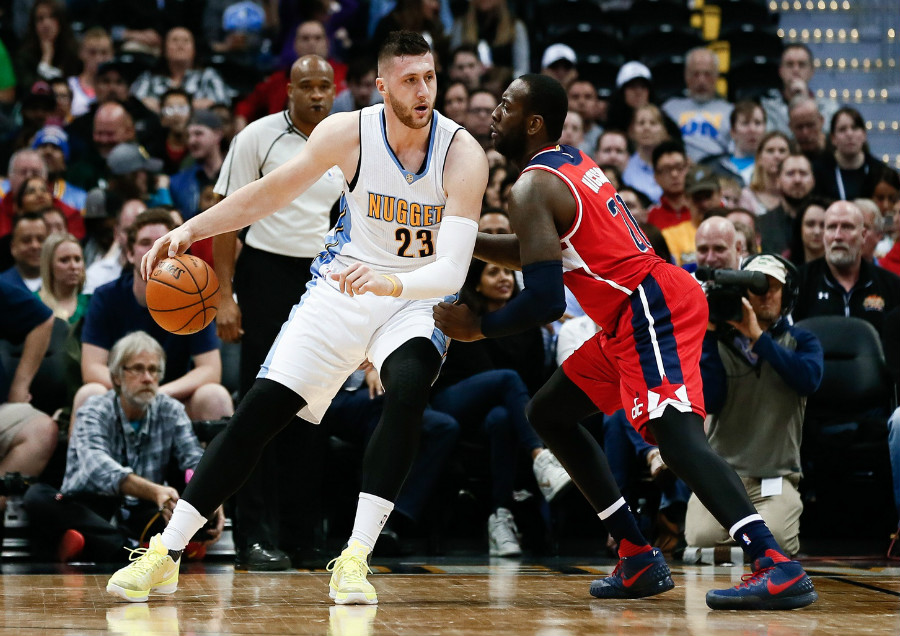 The Denver Nuggets knocked off the Washington Wizards Saturday night 116-100, and Jusuf Nurkic was a big part of the team's triumphant win.
Nurkic had been virtually unheard of since the All-Star break, managing to only appear in four of the team's games since the layoff. No one really knew why Nurkic wasn't playing, but questions began to swirl around the team.
Was he hurt? Did he have an off-the-court problem? The only person who knew for sure was Michael Malone, and he wasn't talking.
So when Nurkic suddenly was reinserted into the game last Thursday night against the Phoenix Suns, it was a pleasant surprise. More importantly, for Nukic at least, it was a productive four minutes, as the Bosnian big man tallied two points, two steals, a block and a three rebounds.
That was apparently enough in Malone's eyes to reinsert Nurkic into the regular rotation, and on Saturday, Nurk was called on again; this time, though, he made a statement.
In 17 minutes, Nurkic went off, grabbing 17 points, four rebounds, an assist, a steal and two blocks, all of which helped lead to the Nuggets scoring 75 points off the bench.
Yes, you read that correctly: 75 points.
The Nuggets went on a 41-17 run in the fourth to put the game away, and Nurkic, along with the rest of the bench squad, played a key role.
"He shows you the force that he could be," Malone said in reference to Nurkic. "He is a force to be reckoned with not just on offense, but on defense as well. I am hoping we can expect a lot more of that moving forward in these last 16 games."
When Nurkic has played this year he has been very good — much better than his minutes would indicate, at least. On a per game basis, Nurkic's numbers are down across the board from his rookie season:
2014: 6.9 points; 6.2 rebounds; .8 assists; .8 steals; 1.1 blocks (17.8 minutes)
2015: 6.5 points; 4.8 rebounds; .8 assists; .5 steals; 1.0 blocks (13.5 minutes)
But when you look at his Per-36 numbers, Nurkic's production actually looks a lot more appealing:
2014: 13.9 points; 12.5 rebounds; 1.6 assists; 1.7 steals; 2.2 blocks
2015: 17.4 points; 12.7 rebounds; 2.0 assists; 1.4 steals; 2.8 blocks
If Nurkic continues to work hard and earn his minutes, he can prove to be a vital player as the Nuggets move forward in their pursuit of a championship.
The fans, coaches and front office all know the potential Nurkic has; however, the one thing preventing Nurkic from breaking out is himself.
Nurkic will determine if he wants to be great, and if he manages to put the time and effort in that he needs to, he could become one of the best big men in the NBA.