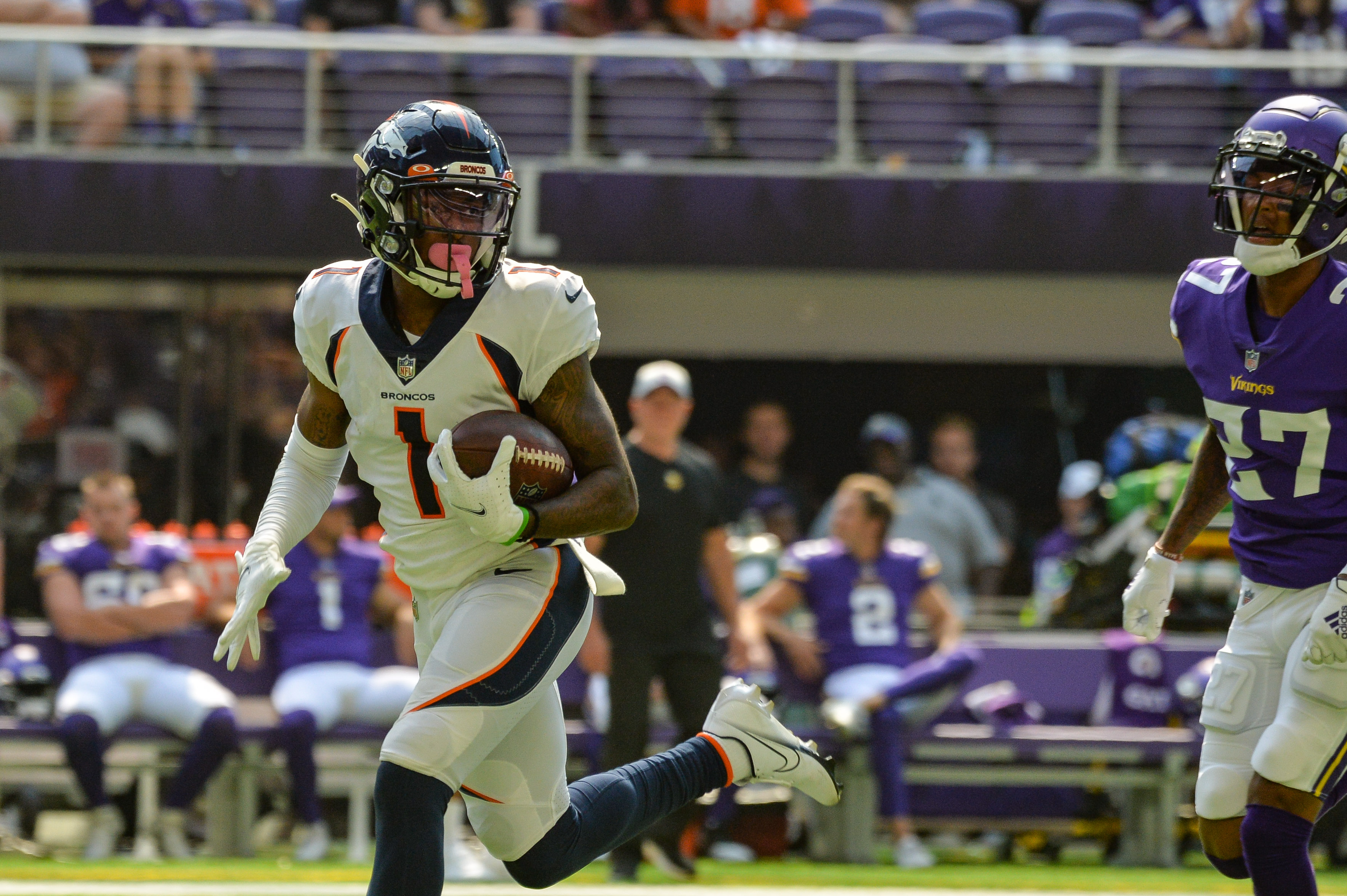 The Denver Broncos offense was off to a relatively promising start in 2021, up until K.J. Hamler suffered a tragic ACL tear in the Week 3 home debut against the New York Jets.
Losing Hamler robbed the Broncos of their most dangerous speed element, and the offense sputtered afterward as a result.
Fortunately for Broncos Country, K.J. Hamler is set to return this season, and his swift approach to the field paired with a fearless demeanor has wowed new head coach Nathaniel Hackett.
"He's done a really good job," Hackett said of Hamler's recovery to the press on Monday. "I give him so much credit for [having] the injury that he had. To be able to come out here and do the RVAs and the individual [work] that he's doing is awesome. It's great to see him in that training room [and] how hard he works. He always talks about how he doesn't have any fear, so I think that's why he's been able to progress the way that he has. He runs like nothing else matters and he's just working every single day, so I really respect him for that."
Hamler was fully dressed and ran some routes at Monday's practice, which was open to the media.
LTB is lucky enough to have somebody live at Broncos OTA's. @Zach_Segars gave his thoughts on KJ Hamler and how he has looked coming off of injury ⬇️⬇️⬇️ pic.twitter.com/OyZ4ulISae

— Let's Talk Broncos Podcast (@TheLTBPodcast) June 7, 2022
At the practice, you could see Hamler driving hard off the line of scrimmage, showing off his world-class speed and acceleration. Not only that, but Hamler was decelerating hard and making sharp breaks on his routes, further exemplifying the progress his knee has made, and the fearless approach Hackett highlighted.
Also, a fully healthy Hamler has more potential value to the offense than he ever had ahead of the 2020 or 2021 season. That's because Wilson is one of the NFL's elite deep ball throwers, and Hamler is perfectly situated to take advantage of that trait.
There are sure to be plenty of fireworks lit off at Empower Field this coming season. One would hope a fair amount of them are the result of Hamler's brilliance.