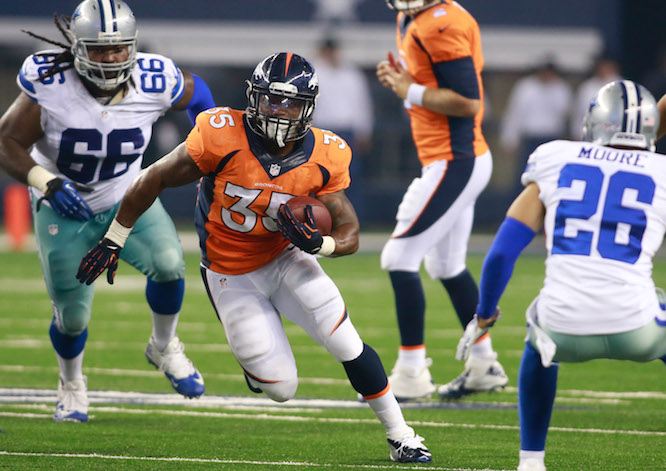 The Denver Broncos season is revving up its engines as training camp began this week the team prepares to defend their Super Bowl crown. With Peyton Manning retired, though, and Brock Osweiler having run off to Houston, the offense will likely have to rely on their running game to generate points, and that's where newly re-signed back C.J. Anderson looks to be the star contributor.
Behind him, Ronnie Hillman is the most-veteran presence and Devontae Booker is the new, shiny toy. But they're not the only ones looking to make a name for themselves. Kapri Bibbs, who spent last year on the practice squad, plans on not only making the final roster, but contributing in a big way.
"My main thing is I am not looking to be a three or four; I am looking to be that guy" Bibbs told Gil Whiteley on Mile High Sports Radio. "That is how I am approaching every single day, but my main goal is to compete as hard as I can and to give me a starting job."
While Bibbs was a star up I-25 at Colorado State University, and while Bibbs has shown flashes in the preseason, Bibbs has yet to prove himself to be a starting-caliber running back in the NFL. That was a priority for himself this offseason.
"I just fixed a few things mentally," Bibbs said. "I'm in great shape and have always been in great shape."

Having rushed for 1,741 yards and 31 touchdowns in his lone season with the Rams back 2013, there's no denying his talent, but in the NFL, everyone's talented. If he proves himself, he'll be rewarded.
To listen more from Bibbs, check out the podcast below …
Catch Gil Whiteley every weekday from 11a-1p on Mile High Sports AM 1340 | FM 104.7 or stream live any time for the best local coverage of Colorado sports from Denver's biggest sports talk lineup.