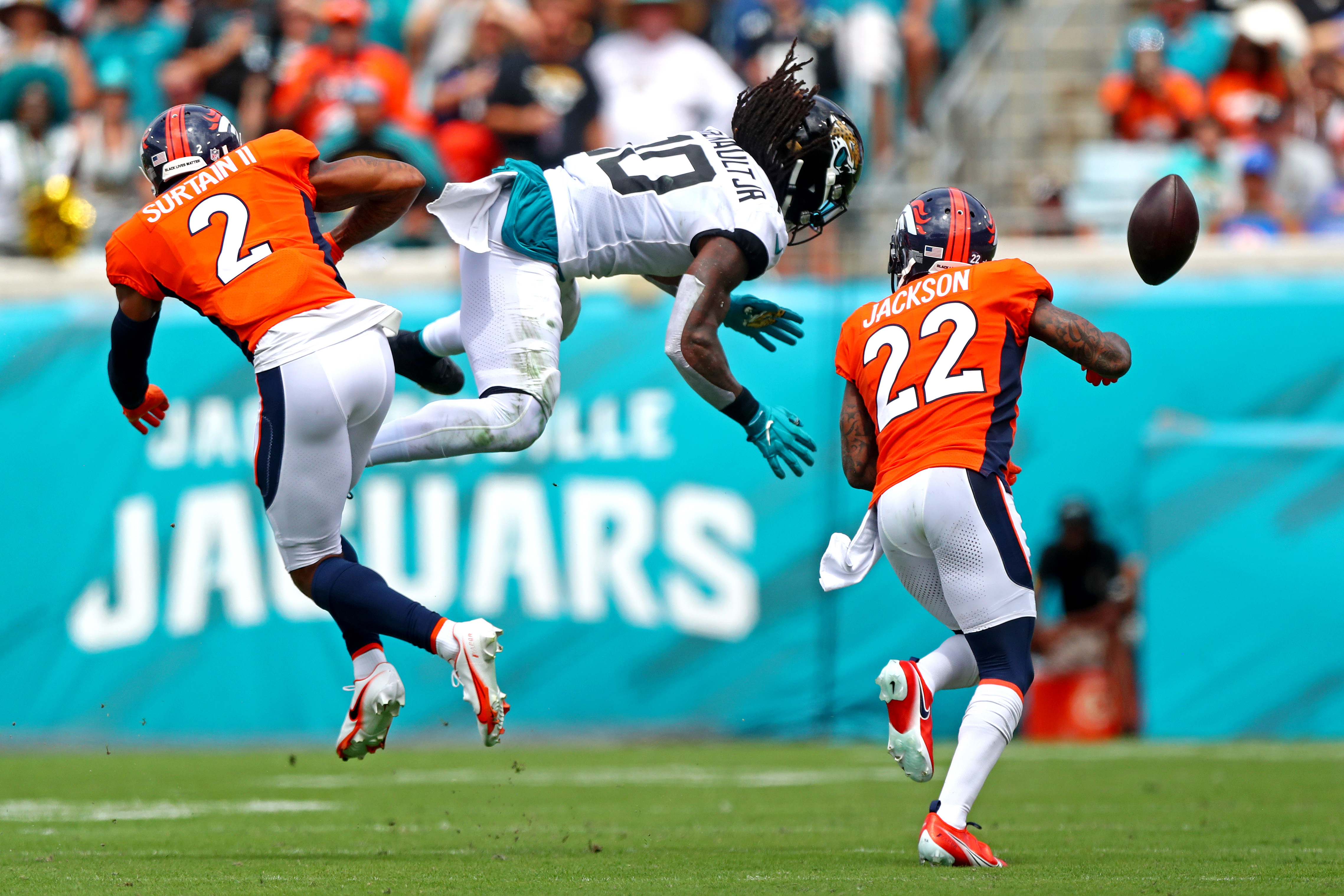 The Denver Broncos suffered their first setback of the season on Sunday, against the Baltimore Ravens, and it's hard to imagine it going any worse.
The Broncos were outclassed in just about every phase of the game, and they lost their starting quarterback to injury, adding to the pile of injured key contributors.
"[It was] definitely disappointing, considering how we wanted to play that game," Jackson told the media on Monday. "We can't have that. We just have to be better. I don't think we made enough plays on the back end as a whole. We have to be better. We'll watch the game today and move on."
One of the worst plays of the game for the Broncos, came when their two star safeties failed to pass off a Marquise Brown deep route, leading to an easy Baltimore score.
"We both know what went wrong," Jackson said in regard to that play. "We talked about it on the sideline. We have to move on. We had a long game after that. One play—you can't dwell on it, but you talk about it and you move on. That's just how it happens sometimes. They're going to make plays, but like I said, you just have to move on from it"
Although Sunday was a day of bad moments for the Broncos, there was a glimmer of optimism in the secondary, which came in the form of Caden Sterns. On the day, Sterns came up with two of Denver's three sacks, and had a massive pass breakup downfield.
"Caden [Sterns] had a huge game yesterday—him stepping in and playing multiple positions. He comes to work every day, and he's a smart player and tough," Jackson told the media. "I'm definitely excited for the way he played yesterday, and I look forward to the great things he will do for us moving forward. He's been a great addition to our defense."
Now though, the Broncos' eyes are focused on their impending matchup with the Pittsburgh Steelers.
"We all know what Roethlisberger has been in this league," Jackson said. "He's a great quarterback. They have some weapons over there. He's always been a guy that has great command of the offense, can make every throw in the field, always going to put his guys in the right situation to be successful. For us, we have to have a great week of practice. It's all about executing as a defense. At the end of the game, you look back and it's about If you executed or if you didn't. For us, we have to have a great week so we can go do what we need to do on Sunday."
Fortunately for Broncos Country, Jackson believes Denver's roster will be able to bounce back for Week 5.
"Just the mentality of this group," Jackson said in response to being asked why he had so much faith the team would bounce back. "We all have the same goals in common. Our mentality definitely will come out with the mental toughness this week to go to work and do what we need to do to bounce back from a loss."
Here's hoping he's right.