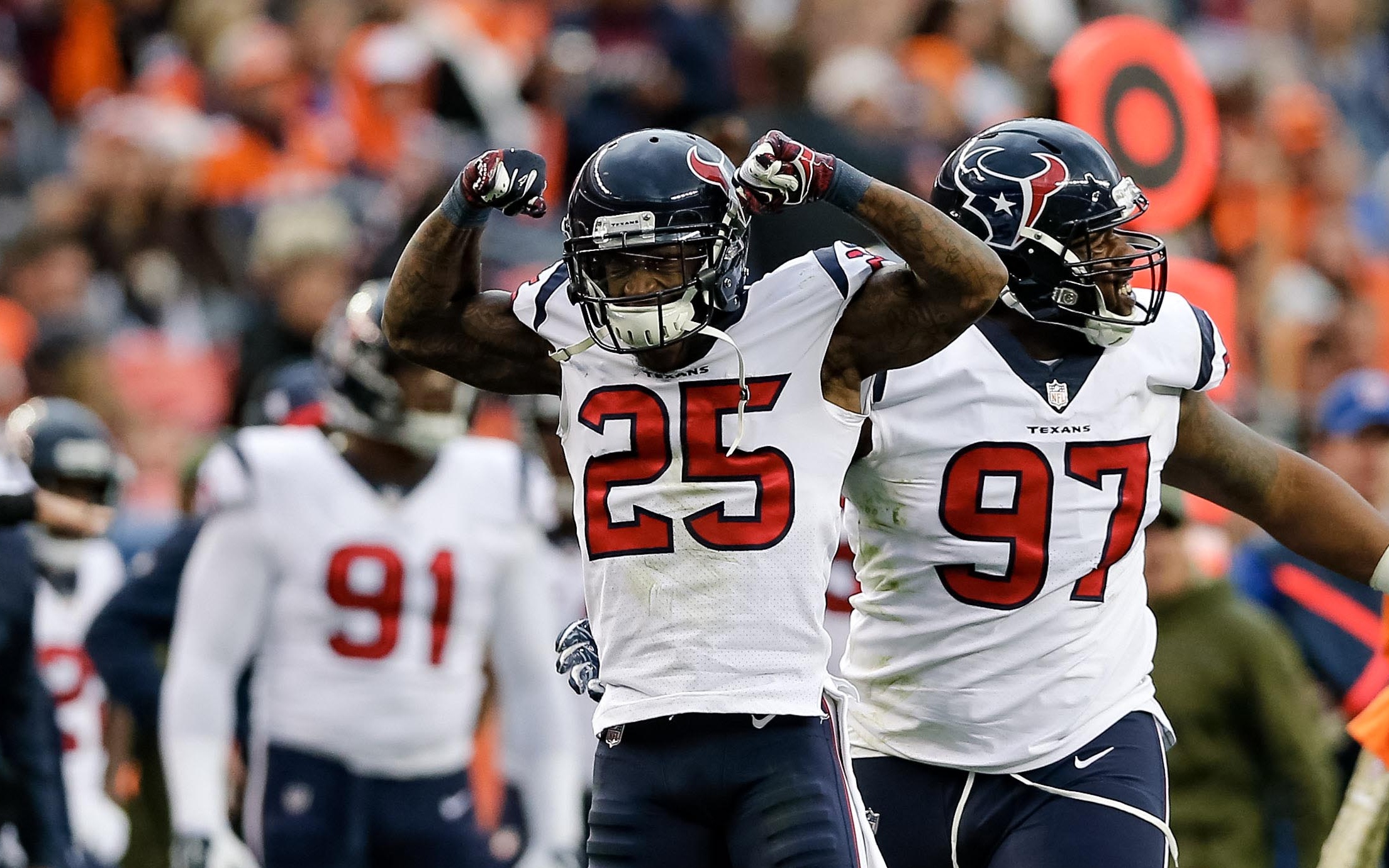 The Broncos have finally found their second starting cornerback.
On Monday night, the first day of "legal tampering" in the NFL, Denver took their time but landed a star corner in Kareem Jackson, formerly of the Houston Texans. That, per Ian Rapoport, who explained on Twitter the deal is three years long, worth $33 million and $23 million in guarantees.
It's a steep price for a legitimate, star cornerback to play opposite the shutdown stud Chris Harris Jr.
Jackson is a nine-year NFL veteran who will be 31 when the season kicks off. For the most part, he's been the model of stability, missing only 12 games over the course of that time and starting nearly all of them. Jackson's racked up 88 passes defended, 16 interceptions and six forced fumbles with last year being one of his best.
According to Pro Football Focus, he was the seventh-best cornerback in the NFL last year, coming in with a 85.7 overall grade. Jackson will now be paired with Harris, the sixth-best cornerback (86.0) last season.
That means two top-20 corners for the Broncos, a team which was noted as needing a cornerback most of all positions per that same, PFF. Only Chicago, LA and New England could say the same last year, and two of those teams were in the Super Bowl.
Jackson will immediately improve Denver's defensive backfield in terms of covering receivers, notching a career-high 17 passes defended last season, along with two picks. But he's more than a one-trick pony; Jackson is one of the best run-defending corners in the NFL.
Pro Football Focus graded him as a 90.4 in the run defense game last season, making 34 defensive stops (a "loss" for the offense) while forcing two fumbles. In fact, Jon Ledyard called him the "probably best tackling cornerback in football" on Monday night.
He certainly isn't afraid to lay the wood, as this clip proves:
Former Alabama CB Kareem Jackson trying to send folks into orbit tonight. Ouch. #Texans pic.twitter.com/k0k5NdX4RX

— Clint Lamb (@ClintRLamb) October 26, 2018
And here's this de-cleater against Phillip Lindsay:
Kareem Jackson! 😤🔨💥💥 pic.twitter.com/t3SfXNaIB9

— WeAreDBnation (@WeAreDBNation1) November 5, 2018
Last season, the Broncos moved away from Aqib Talib to go with the younger, former first-round pick Bradley Roby as the starting corner opposite Harris. That experiment finished with mixed results; Roby was mostly down during and up-and-down season.
His grade in his only season as a full-time starter was a dismal 59.8, or the 144th-best corner in the league.
That gives Broncos fans a sense of how much better Jackson will be. Of course, that starting cornerback is now locked down by Jackson, but he'll be paid around $10 million a year, leaving Denver in the neighborhood of $27 million to work with this offseason.
The Broncos have a ton of holes to fill — middle linebackers, nickel corner, right tackle and possibly center, starting safety and a blocking tight end — so it will be interesting to see what other moves they make. This Jackson signing was likely the one "splash" they'll make in free agency this year, but stay tuned, as it will continue Tuesday and then the free agency period finally begins at 2 p.m. MT on Wednesday.