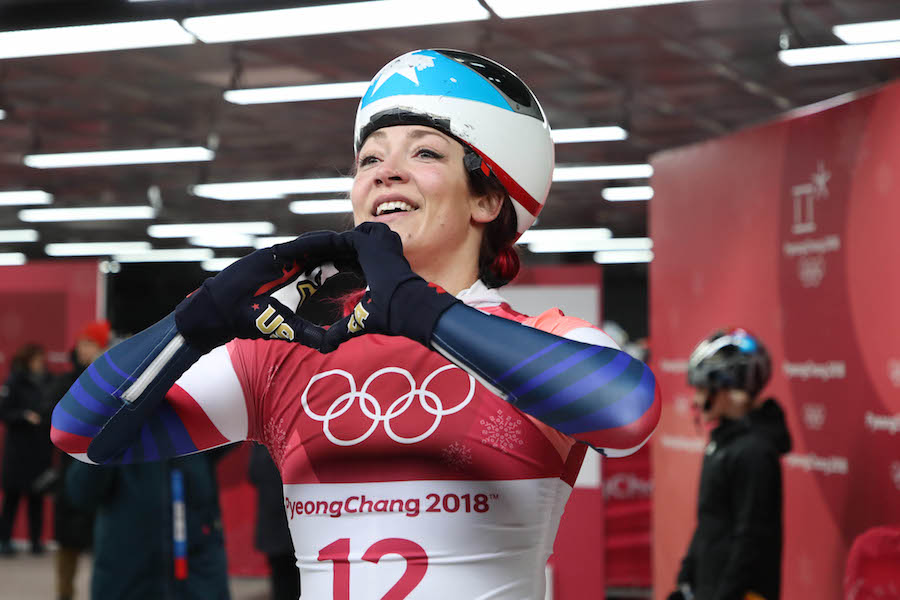 Forget the fact that Katie Uhlaender was seeking redemption from a fourth-place finish in the skelton by mere hundredths of a second in the 2014 Winter Olympics. Forget the fact that for a time she believed she had actually won the bronze medal after the third-place finisher was stripped of her medal for doping. Forget that just days before the 2018 Games, that ruling was reversed and Uhlaender no longer had her medal.
All that, no doubt weighed heavily on the Breckenridge resident during competition in PyeongChang — but there was more. Much more.
Uhlaender finished a disappointing 13th overall in her fourth and what could be her final Olympic games. After looking very strong through training, Uhlaender's first run (of four cumulative) was a letdown. Her second run of the night didn't fare much better. No doubt her performance was complicated by seeing an unexpected face in the crowd.
As the Washington Post reported from South Korea, Uhlaender was just moments from beginning her first of the four medal runs when she spotted her estranged mother in the crowd. It was the first time she had seen her mother in several years.
Since that time, Uhlaender has endured other significant hardships on her path back to the Olympics. She lost her best friend and former Team USA bobsledder Steve Holcomb to an alcohol and prescription drug overdose. She has battled significant injuries throughout her career, including a hip injury that nearly pushed her out of the sport after the Sochi Games, a left ankle injury in 2015 and an autoimmune illness that resulted in multiple surgeries in 2016.
The autoimmune disease nearly cost Uhlaender her life, giving her a very different perspective heading into these Olympic Games. Although her times on the second day of medal runs weren't any better than those first two disappointing runs, Uhlaender has something much more important to take away and build on — the reunion with her mother.
"The fact that she's here, that she is showing me all the love she has, that is huge," Uhlaender told the Post. "I want to accept the love. I'm looking forward to building from there. And it's my mom, man. I've been waiting."
At the conclusion of competition, well out of medal contention, Uhlaender made a heart-shaped hand gesture to the crowd. It was a fitting end, regardless of where she placed in the standings.