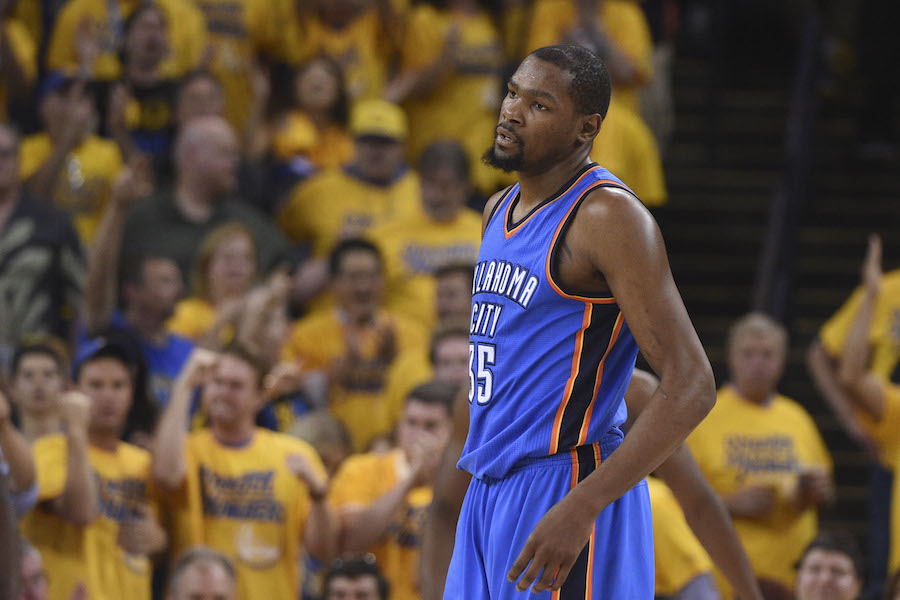 Kevin Durant's decision to sign with the Golden State Warriors will have far-reaching effects across the entire NBA, and that includes the Denver Nuggets.
There are hopes of Denver perhaps fighting for one of the final playoff spots in the Western Conference next season, but in order for that to happen, the Nuggets need to overtake one of the weaker teams that did qualify last season.
One of those teams, perhaps, was the Dallas Mavericks.
Dallas, though, may have received just enough help to stay in the playoffs next season, with the additions of Harrison Barnes and Andrew Bogut, who were both jettisoned out of Golden State to make room for Durant.
Likewise, any hope that Denver might be able to sign Dwyane Wade went out the window with the Durant signing, as the Miami Heat no longer need to find cap space to offer Durant a max contract.
That said, not all of the Durant ripple effect hurts the Nuggets. The one positive is that the Oklahoma City Thunder will be weaker in the Northwest Division. The Thunder still have the talent to compete for a mid-seed in the West playoffs next season, but that may significantly change after this year, when Russell Westbrook becomes a free agent.
Now that the Durant decision is over with, Denver needs to move forward as if it's business as usual. With the way this Warriors team is set to dominate in 2016 and going forward, Denver doesn't need to win now; they want to be coming into their own as the Warriors are (hopefully) coming back to earth a few years down the line.
Really, if there was to be a "super team" in the Western conference, it couldn't have come at a better time for the Nuggets. Let the Warriors rule the NBA for the next few seasons, while Denver continues to develop and add to their nucleus.
At this point, with what's happened to the Thunder in the last 24 hours, the Nuggets should only be concerned with the arms race occurring inside the Northwest Division. The division is up for grabs, and the young cores of the Timberwolves, Trailblazers and Jazz, along with the Nuggets, are looking to fill the void left by the Thunder.
Durant's decision may cost the Nuggets in the short-term, but with him finally out of the division, the pathway towards sustained success has opened for the Denver Nuggets.
For more Durant talk, listen to the podcast below …
Catch the Weekend Drive with Sean Walsh Saturday and Sunday from 2p-4p on Mile High Sports AM 1340 | FM 104.7 or stream live any time for the best local coverage of Colorado sports from Denver's biggest sports talk lineup.