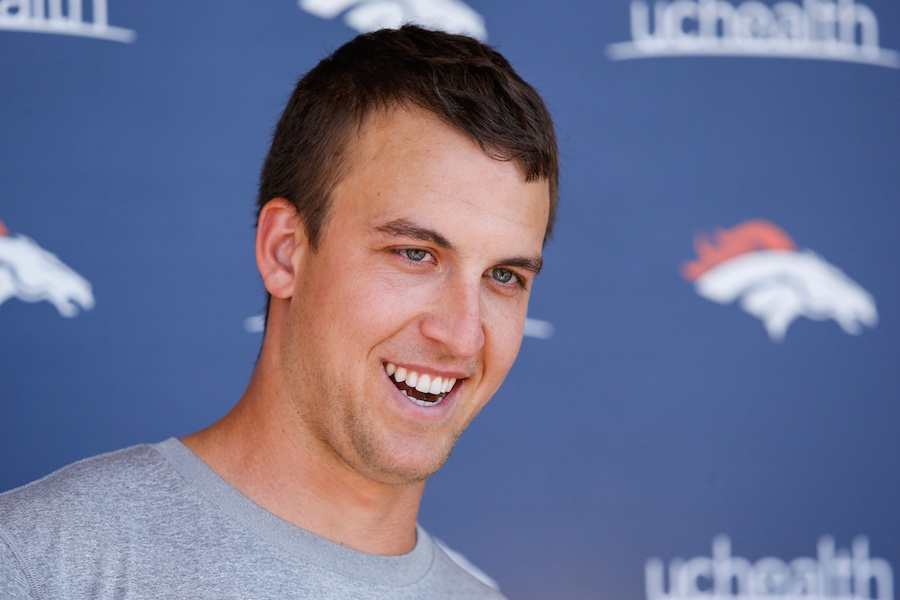 As Bill Cosby taught us, kids say the darnedest things. Trevor Siemian now knows that firsthand.
Siemian partnered with DICK'S Sporting Goods this weekend to celebrate DICK'S first annual Youth Sports Weekend by hosting a shopping spree with local youth from Jeffco Midget Football Association at the Lakewood store. And while all of them were appreciative for the new gear and the chance to shop with a pro football player, they pulled no punches.
First, they wanted to know why he didn't invite his more-famous teammate, Von Miller.
Siemian shopping w/ kids. One awestruck kid said, "Trevor Siemian!" But another asked, "Why didn't you invite Von Miller?" Kids are rough. pic.twitter.com/ERFBIjUdP9

— Andrew Mason (@MaseDenver) July 14, 2017
Then they asked him about the hottest question in Denver sports right now. Is he the starting quarterback for the Denver Broncos?
#Broncos Siemian asked, "When were you drafted?" Says 7th round. "You starting?" Says "I am still hanging around" pic.twitter.com/CoVCJ5TYvm

— Troy Renck (@TroyRenck) July 14, 2017
Siemian was a great sport, though, helping each kid individually.
Watching @TrevorSiemian patiently help every kid here choose the proper pair of cleats – size, color, fit – is cool to see. He's a good guy pic.twitter.com/RB2UL9r4SJ

— Andrew Mason (@MaseDenver) July 14, 2017
Fortunately, Siemian got the last laugh on his teammate.
Of course there's a @VonMiller adidas poster here.
Kids: "What's on his teeth?"
Siemian: "I don't know. I'll ask him when I see him." pic.twitter.com/HqDBPPDesz

— Nicki Jhabvala (@NickiJhabvala) July 14, 2017
DICK'S is donating 1 percent of all sales this weekend to support youth sports teams in need across the country.
Any customer accompanied by a child wearing his or her youth team uniform or team gear will receive 20 percent off their purchase (exemptions and exclusions may apply).