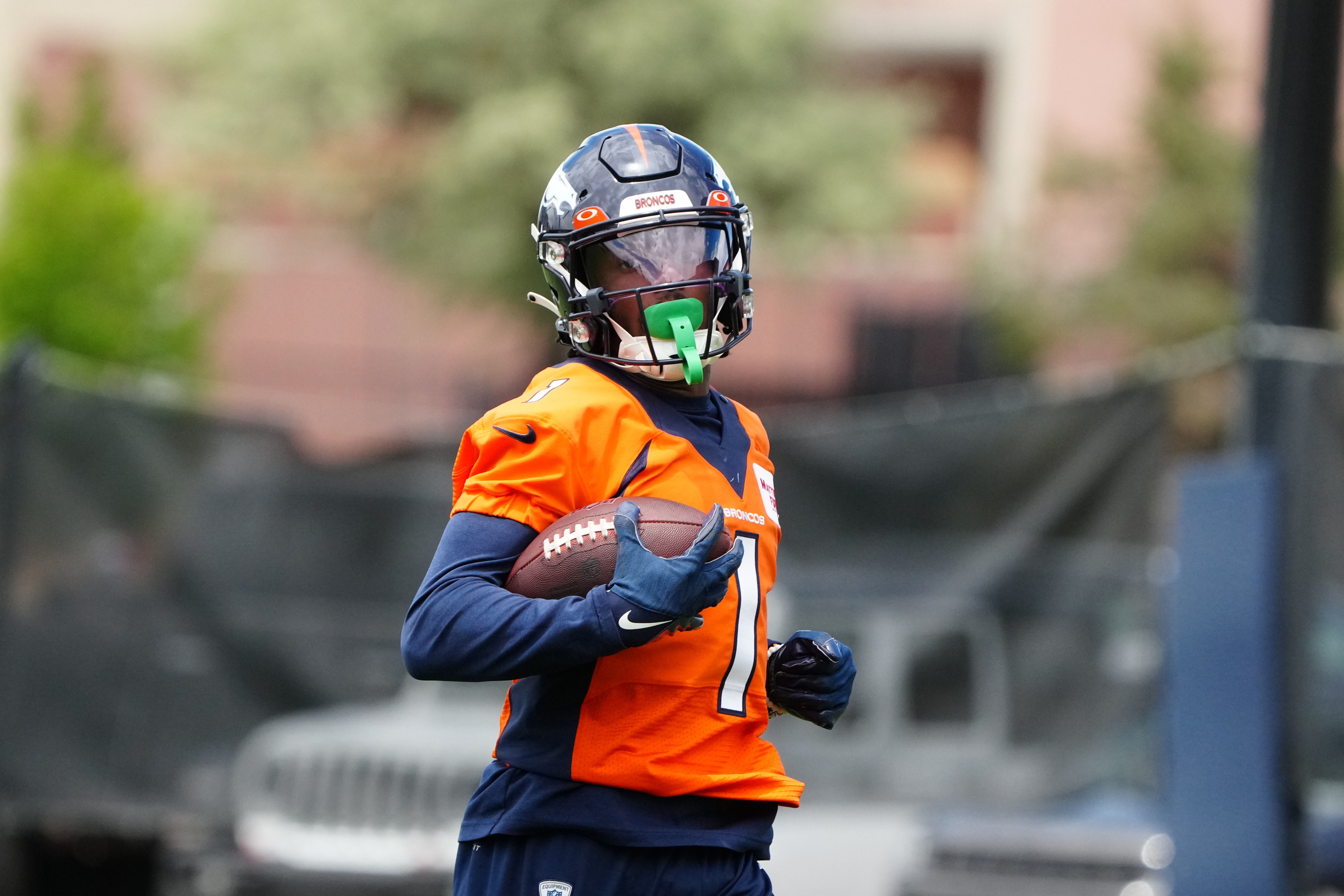 For Denver Broncos wide receiver KJ Hamler, Saturday's preseason game against the Minnesota Vikings was a step in the right direction ahead of the regular season.
The third-year wide receiver appears to be fully ready to go for Week 1 against the Seattle Seahawks.
KJ Hamler ready for the regular season
The Broncos 23-13 victory on Saturday against the Minnesota Vikings felt great, but for KJ Hamler, he felt even better.
The speedy wide receiver saw his first NFL game action since Sept. 26, 2021, against the New York Jets, the game where his season ended after a torn ACL and dislocated hip.
Hamler's return just under a year after his injury is a testament to his perseverance and dedication.
This offseason, Hamler opened up about his struggles with mental health through the recovery process and with the loss of his grandmother.
"It's been a tough journey [back from injury], to be honest," Hamler said. "There was so much stuff I was dealing with and being piled up on top of each other. At one point, just dealing with the ACL and then some more things [with] family situations. The love of my life passed, my grandmother, so that was the toughest thing. That was on my back for a while. I wish I never did it by myself. I wish I would have asked for help, because it was at one point in my life—and I'm going to just be honest with you all because I'm more vulnerable and more confident in myself by just saying it.
"At one point, I didn't want to be here," Hamler continued. "I didn't want to be in this world. There was one point where I didn't want to be heard from anymore because I lost my granny and that really hurt me. God gave me the strength to just get out of that hole because he knew I was strong enough to get through [it]. I didn't feel like I was at the time. Just getting out of that hole was very hard, very tough. Just having all of these things going on and piling on top of each other, it was a hard process. Just to see where I am at from where I started and where I'm at now, [it's] been a big change. I'm proud of myself and I know my grandmother is proud."
And KJ should be proud of himself. His teammates are proud of him, his coaching staff is proud of him, and Broncos fans are proud of him.
In Saturday's win, he played the entire first half, hauling in three receptions for 18 yards.
Broncos head coach Nathaniel Hackett said they had to take him out of the game or else he wouldn't have come out.
"We had to take him out, he wanted to keep going," Hackett said following the Broncos' 23-13 preseason victory. "He was having such a great time. I think it's great for him to be able to catch the ball, take a couple pops. You want him to want to stay in those situations. For a guy that hasn't played for as long as he had, it's very encouraging, and he's feeling a lot better."
His first catch came in the first quarter at the 13:18 mark, reeling in a pass across the middle, planting into the turf, and making a move in the open field before being tackled after a gain of seven yards.
Brett Rypien shared postgame what it was like seeing Hamler back on the field.
"He's got such a fire and passion for the game, and you can see it every time he's out on the field," Rypien said. "I was telling some guys on the sidelines, there was one play where he was lined up in the slot and empty and there was like nobody over him. He was like, 'Brett, Brett,' getting ready for me to throw it to him. He just has so much fire, so much passion. He's a great guy to be around, he brings great energy every day, and I couldn't be happier for him."
Every rep mattered to Hamler who made the most of his time in the first half.
"Yeah, I wanted to. I really wanted to," Hamler said following the game. "I'm glad I did, I'm glad I got out there and got a lot of plays and reps in just to build up endurance in my legs. So I am glad I did all of that."
One thing Nathaniel Hackett believes in is not playing starters in the preseason, but Hamler made a strong enough case to the Broncos first-year head coach.
"I thought it was very important," Hamler said. "I really wanted to get in. Hackett didn't really want to play me, but I was like, 'Let me just get in, get a few reps and see if I am still myself.' I just wanted to be back to myself."
Guess who's back? Back again. KJ's back. Tell a friend.