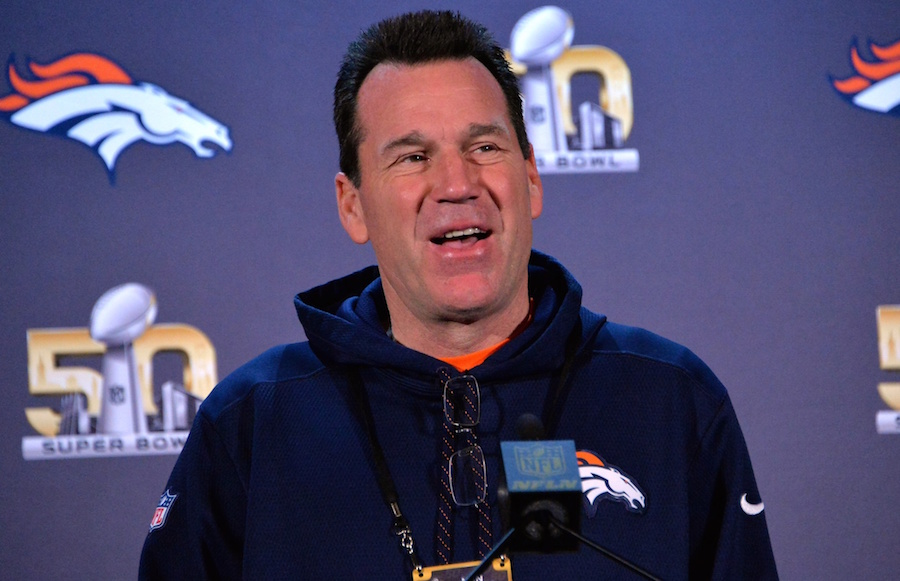 Gary Kubiak never had the spotlight in Denver – never had the stage to himself as a soloist, so to speak – but the story of the Broncos' success wouldn't sound the same without him. As a quarterback, coordinator and even as head coach, there was always someone garnering more of the attention, yet his contributions to Denver's winning ways are undeniable over his 22 years with the organization.
As an eighth-round draft pick out of Texas A&M in 1983, Kubiak entered the league with an impressive rookie quarterback group. One that contained his now boss, John Elway, not to mention Jim Kelly and Dan Marino. Six quarterbacks were selected in the first round alone in 1983. Kubiak was the 10th of 10 QBs selected that year, but he'd go on to win more Super Bowl rings than all of them, albeit as a coach.
Following Sunday's career-ending win Kubiak again shied away from the spotlight, putting the focus back on his team.
"It's about the football team right now," Kubiak said postgame when asked about his future. "It's not about me. I'll address what I can tomorrow."
One player who has soaked up the spotlight recently, turned all the credit back to Kubiak, though.
"For me personally, it was night and day," Super Bowl 50 and fellow Texas A&M Aggie Von Miller said postgame. "He came right when I was [going] on my fifth year. We had a connection right away. He went to Texas A&M and I've known him for a while. With the other regime, I came in as a rookie and it was hard to grow out of that rookie stuff; even four years down the line, that staff sees you for what you were. With Coach Kubiak, he had this light, especially with me. It felt like he had confidence in me and that he trusted me. It felt like he wanted me to be the leader of this team. He was always cool and confident with me and that's exactly what I needed. He came at a perfect time in my career."
From 1983 to 1991 when he retired from the game as a player, Kubiak played the backup role to Elway. The Broncos went to the playoffs six times during Kubiak's time as a player, including three trips to the Super Bowl (all losses) and a Wild Card round exit his rookie season.
As a player, Kubiak was 3-2 as a starter in 119 total games. He recorded stats in 34 regular season and three playoff games. He retired as a player with a career completion percentage of 58.05, 1,920 passing yards, 14 touchdowns and 16 interceptions.
Kubiak spent two years coaching at his alma mater before returning to the NFL. He coached one year in San Francisco, picking up his first Super Bowl ring as quarterbacks coach for the 49ers, then found his way back to Denver in 1995 when Mike Shanahan took the reins as head coach.
Kubiak served as offensive coordinator and quarterbacks coach from 1995 until 2002, helping guide his former teammate, Elway, to two Super Bowl titles (1997 and '98) along the way. He dropped the quarterback coaching responsibilities from 2003 until 2005, leaving Denver in 2006 for a head coaching opportunity with the Houston Texans. In his 11 years as offensive coordinator, Denver made the playoffs seven times. The Broncos won two Super Bowls and went to three AFC Championship games. His offense ranked in the top five in the NFL on eight different occasions in that time. Denver was under .500 just one time under Shanahan and Kubiak together, a 6-10 season after Elway's retirement.
As a coordinator, Kubiak learned the quiet leadership role that made him a favorite among players to this day.
"He's the best coach I've played for," current Broncos safety Darian Stewart said on Sunday. "I loved it. Like I said, the best head coach I've played for. No discredit to any of my past ones. He's just a great man and a true loyal guy. We're going to miss him a great deal. That's our leader."
In a leading role with Houston, Kubiak led the Texans to their first ever winning season and first playoff appearance, in 2009 and 2011 respectively. His teams won the AFC South in back-to-back years, 2011 and 2012, before the 2013 season derailed and Kubiak was let go mid-season.
Also in 2013, Kubiak experienced the first of a pair of game day health scares that would be the ultimate cause for his retirement. At halftime of a Nov. 3 loss to the Indianapolis Colts, Kubiak suffered a "transient ischemic attack" (sometimes called a mini-stroke). Defensive coordinator (and former Broncos head coach) Wade Phillips took over coaching duties for Kubiak on that day and when Kubiak was relieved of his duties in December.
Kubiak spent a year as the offensive coordinator in Baltimore before his old friend and teammate convinced him to return to Denver to lead Peyton Manning and a Super Bowl contending team.
The two reunited with a single mission at hand: Send Peyton Manning off into the sunset as they had done for Elway. They enlisted the help of Phillips as defensive coordinator for what turned out to be a historic defense that helped deliver the franchise's third Lombardi Trophy.
Even as the head coach, it felt at times that Kubiak was still playing the backup role to Elway the GM and to Phillips, simply because Denver's defense was so dominant.
And while his offense didn't take hold as expected, Kubiak navigated a complex quarterback situation in 2015 as Manning battled injury and Brock Osweiler struggled with consistency in Manning's stead. Both QBs failed to put up impressive numbers throughout the season, and Kubiak had the unenviable task of naming Manning a backup for the first time in his career in the season finale against San Diego.
The toughest, but probably best, coaching decision of his career came in that game, when he benched Osweiler in favor of Manning after the Denver offense committed five turnovers in just over one half of play. Manning came in and led a comeback for the ages, as Denver went on to win and claim the No. 1 seed in the AFC. Kubiak would keep Manning at the helm through the playoffs and deliver on that mission to send Manning out on top.
The players on this year's team made sure they sent Kubiak out a winner, if not on top.
"It's definitely sad to see him go," cornerback Chris Harris said postgame. "We won the Super Bowl with him and have had so much success. It's just sad to see him go. We love him as a coach. He's definitely a coach that takes care of his players and takes care of everyone, really. You always commend a guy like that. He told us today. He said that he didn't want to tell us during the week because he wanted the game to be about the team. We handled business today and we wanted to send him out right, which we did."
Kubiak won't have the opportunity to go completely out on top – Denver missed the playoffs this season despite jumping out to a 4-0 record to start the year. But, he will still exit as one of the most influential figures in Broncos history, even if he was never the one at the forefront.