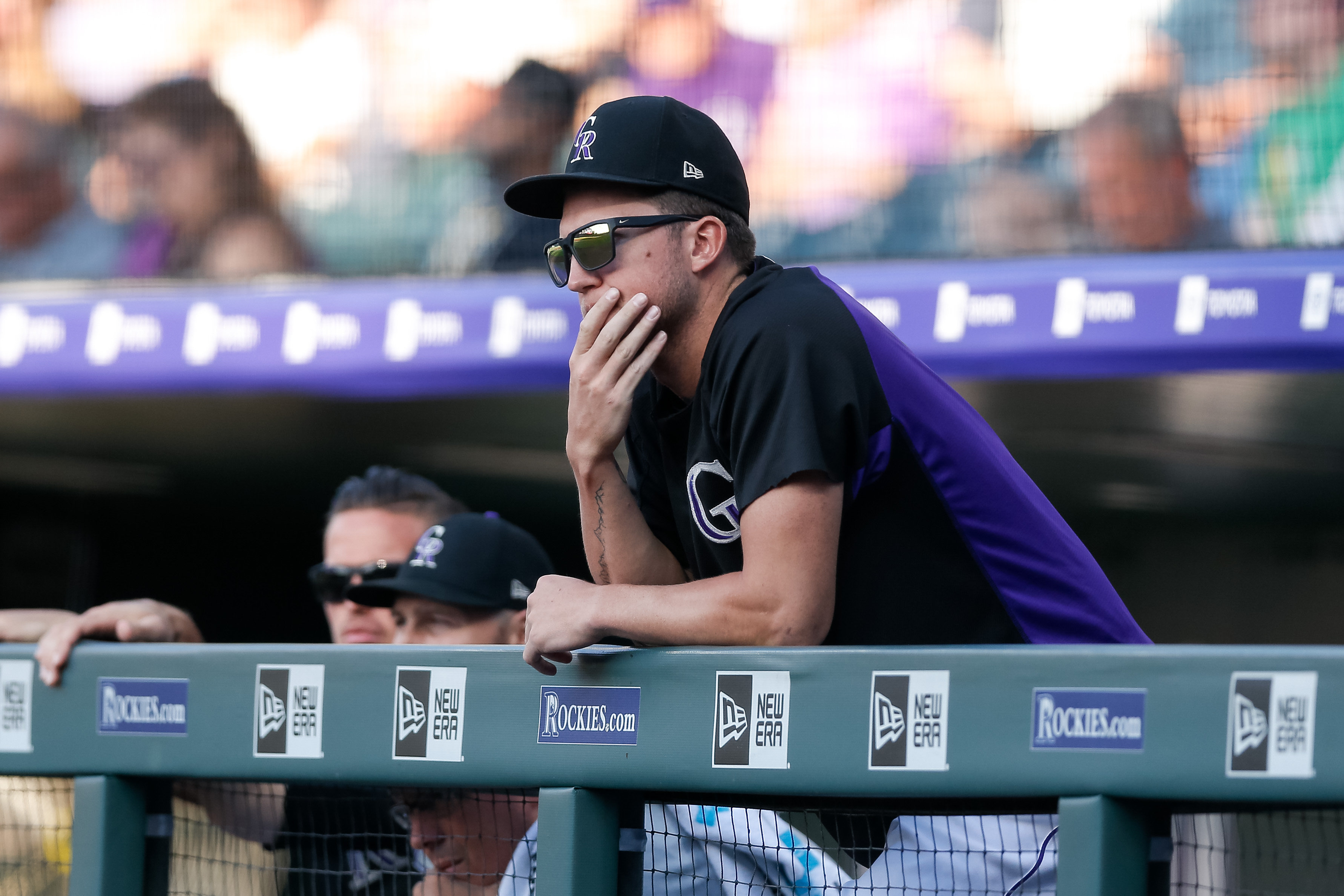 A boy relies on his father for many things. They learn how to shave, throw a ball and even how to drive a car. Each relationship has a different musing.
In lessons of leadership, that boy is Kyle Freeland. His father, Don Freeland, was his teacher.
"(My dad) always enforced, no matter what you're doing, do it 100%," Kyle said. "No matter what, playing or not playing. Sending out that positive encouragement to your teammates can have a big role." 
Now, those teachings have resulted in a pitcher, that even on his days off, is along the top railing of the dugout and readily apparent. The words conveyed from his perch have been pivotal to keeping a Rockies' club afloat in the midst of turmoil.
It's not just in-game optimism either. The presence that Kyle brings to the club begins earlier.
Following batting practice, with the game fast-approaching, things begin to click. A highly-motivated team taking the field in a dead sprint isn't merely a product of caffeinated drinks available in the clubhouse.
"Right before the game is when I kind of lock into, 'okay, let's go out and get a win,'" Kyle said. "I start firing guys up, get a little loud, stuff like that. I get the blood flowing." 
It would hardly be fair to place the credit for all of Kyle's quality traits on the field on just his father. His brother, Colin, played a role as well.
The desire to fuel his teammates has a catalyst of its own: he wants to win. No matter the activity. Whether Kyle and his teammates are playing ping pong in the food room, participating in 18 holes or simply competing on the diamond, his will to win is seldom matched.
"He's probably the most competitive guy next to Nolan (Arenado)," Jon Gray said. "When we have him around, I think the team just plays up a notch. We have a little bit more drive and momentum on our side. It's unbelievable how important that is." 
That innate desire to always be better than an opponent was crafted by Kyle's aforementioned brother.
Playing with his brother's older friends, Kyle faced competitors three-to-four years older than him. In order to prove he belonged, despite being less developed, he built a fire within himself.
"I was trying to keep up with them," Kyle said. "It's carried on through middle school, high school and college of keeping that competitiveness – always striving to be the best you can and the best on the field." 
The spirit of support has been more evident than ever through the turmoil of 2019.
It's a drive to be the best that has pushed Kyle through his worst season to date and a demotion to Triple-A Albuquerque. Mechanical – rather than passion – flaws have pushed the ball to the center of the plate this year and been a leading cause for his 7.24 earned run average in 17 starts.
Through it all, that strive to make the team better has stuck with him, even when his performance has taken a step back.
"I was taught, growing up, that no matter how you're playing, how the team's doing, no matter what, try and keep it the same," Kyle said. "Just because you had a bad outing doesn't mean you're not gonna cheer for your team." 
As the team's biggest supporter, his absence carries a large weight. During the demotion, teammates not only noticed the loss of a part of their five-man rotation, but also the loss of their "booming" voice.
"You definitely feel his absence," Ryan McMahon said. "Maybe me more than some other people because I've played with him a lot, (but) we definitely felt his absence in the dugout and in the atmosphere."
The club no longer had the constant, "you got this," or "let's go." Kyle's face – commonly noticed in the Rockies' dugout – was no longer around.
As much as teammates with the Isotopes can learn from his enthusiasm, Kyle's presence is needed in the majors.
In recent years, they've lost Carlos Gonzalez, Gerardo Parra and DJ LeMahieu. The subtractions have taken away prowess both on the field and off of it. While replacing them is no small ordeal, Kyle's ability to make a difference in leading the team's emotions is a step.
Peter Lambert, Chi Chi Gonzalez and Jeff Hoffman all received a chance to take the reins in his stead. Each had their moments of greatness, but performance on the field is simply a portion of a bigger whole that is Kyle Freeland.