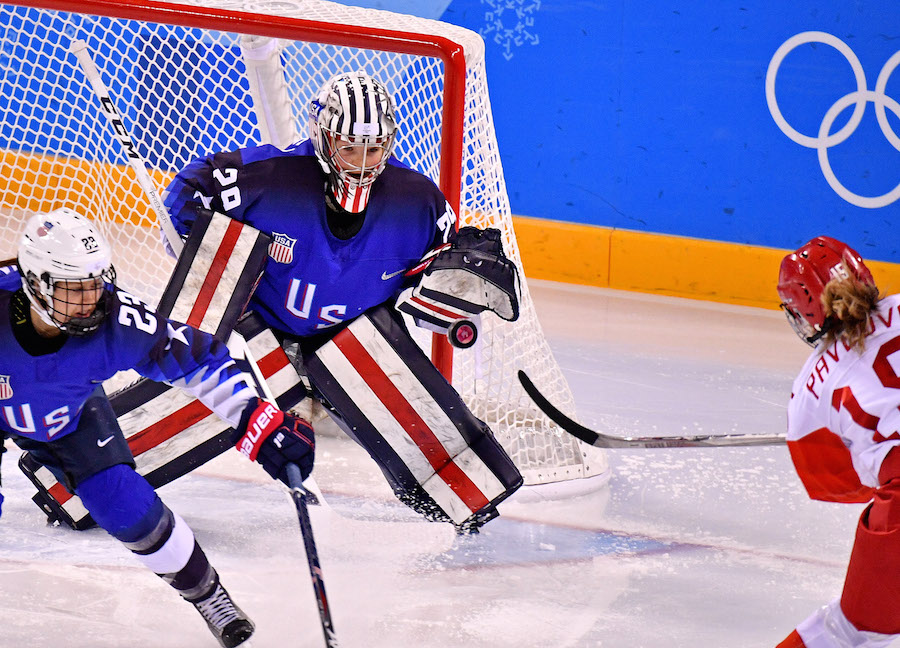 Group A of the women's hockey tournament at the 2018 Winter Games in PyeongChang, South Korea is an imposing one. The top two teams in the world, the U.S. and Canada, lead the group, but challengers exist in Finland and the Olympic athletes from Russia (O.A.R.).
The United States skated to a strong performance in their first game of the preliminary round, defeating Finland 3-1. They were downright dominant against the OAR in their second game, led by a shutout performance from Lakewood, Colo. native Nicole Hensley.
Hensley is part of a three-goaltender rotation for head coach Robb Stauber, and the 23-year-old saw her first Olympic action in Tuesday's important matchup with the Russian athletes. Hensley made 13 stops in the contest, matching the shutout Canada posted against the same O.A.R. squad on Sunday.
It was a convincing performance by the U.S. squad, who totaled 50 shots against a pair of Russian goalkeepers. Kacey Bellamy, Hannah Brandt and Gigi Marvin each had one goal for the U.S. Jocelyne Lamoreux-Davidson scored twice in a span of less than 10 seconds during a landslide second period; the Americans scored three times in the period.
The 5-0 win sends the U.S. on a high note heading into the final game of preliminary round play against their arch-rivals.
The U.S. and Canada face off on Thursday. Quarterfinals begin Saturday.