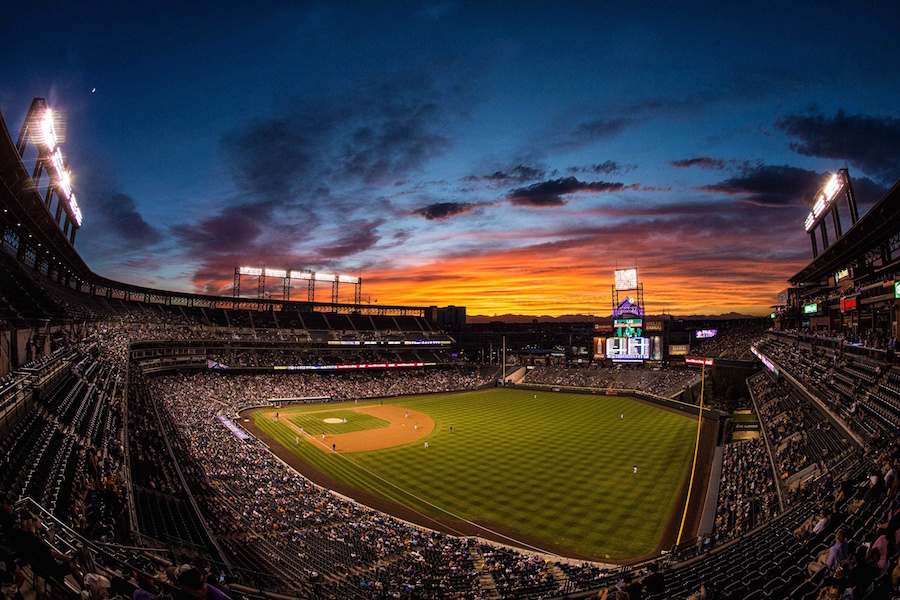 In my 25 years of watching Major League Baseball in Colorado two inescapable truths have been born out to my eyes:
1. Larry Walker is the best all-around positional baseball player (fielding, batting) in his prime that I have ever seen come through this organization (that will likely change as Nolan Arenado goes further into this baseball prime).
2. Walker, along with every player who has played a significant portion of their career in Denver, will struggle to get even token consideration from baseball elites because of where he played so many games (Coors Field, Mile High Stadium).
In a recent interview with TSN Montreal, Walker gave a strikingly honest assessment of his Baseball Hall of Fame chances after falling short for the eighth straight year:
"I can't fault myself. I played for a major league team that happened to be in Denver. If that's a problem and if that's going to be an issue for them, then get rid of the team and move it elsewhere if it's going to be that big of an issue. No needles went in my ass. I played the game clean, but I played in the ballpark and it's almost like Coors Field is my PED."
No, Walker wasn't throwing the city of Denver or it's baseball under the bus. He was saying what fans and media members have known for ages — that the anti-Coors Field (and by extension anti-Denver) bias within Major League Baseball and its media elites, most notably Hall of Fame voters, is basically insurmountable.
We can debate the numbers with Walker. You can make the case that, even with the baseball park included, Walker's numbers don't quite make it to Hall of Fame level. We would be foolish, however, to deny the not-so-subtle "if it happens in Colorado it doesn't count" sentiment among the older baseball guard who weren't terribly fond of the concept of baseball in Denver in the first place.
Prime Larry Walker was a sight to behold. A rare combination of incredible baseball intellect (anyone who saw Walker throw out someone at first base from right field can attest to this), base running ability and sheer power. These are called five-tool players and they don't just grow on the same trees they make Louisville Sluggers out of. Walker's 1997 MVP season came amidst the peak of the steroids era in baseball and no one has ever accused the notably goofy Canadian Rockies player of even a hint of being involved with PEDs.
Except…
Coors Field hangs over his head like a cloud, and there's no end in sight as long as the "old guard" Major League Baseball media/voters remain as dominant as they do. Todd Helton will likely suffer the same fate once he comes up for consideration next year and — as unfair as it seems — the Rockies will need to either win a World Series or become a perennial contender to break through the anti-Coors stigma. I'm convinced that last year, despite Charlie Blackmon and Nolan Arenado splitting the National League MVP vote, that the "you played at Coors" stigma hurt both guys and led to the eventual election of Miami Marlins outfielder Giancarlo Stanton as MVP (narrowly over Cincinnati Reds first baseman Joey Votto).
You would think that because, you know, there's a bias against fielders and hitters who play at Coors Field that the opposite would apply. By that I mean you'd believe that pitchers who excel and have extraordinary years despite pitching half their games at Coors Field would be rewarded for that achievement. This hasn't been true at all, as standout seasons by pitchers — Ubaldo Jimenez in 2010 for example — have not been rewarded with postseason honors or recognition. It's almost as if the cloud of Coors covers all.
It's not right, but it is what it is.
The Rockies' Twitter account is probably the best in baseball and maybe all of sports. They have taken the longtime Rockies media/Rockies Twitter meme of COORS and applied it in a good-natured way to poke fun at themselves. It's the only thing you can do when 70-year-old men who remember the "good old days" pre-1993 expansion are still writing about baseball on dusty typewriters in smoke-filled rooms.
I'm convinced there will be a time, and soon, that the Rockies and players such as Walker, Helton, Troy Tulowitzki and (hopefully) Nolan Arenado get their due with the awards that count. Until then the Rockies will just have to keep getting better and better, taking some satisfaction in knowing that the more they succeed the greater the old guard that's fading away will grumble in frustration at their success.
In the meantime, you'll always be a Hall of Fame player to me …
Now batting: Right fielder… Larry WALK-errr!!