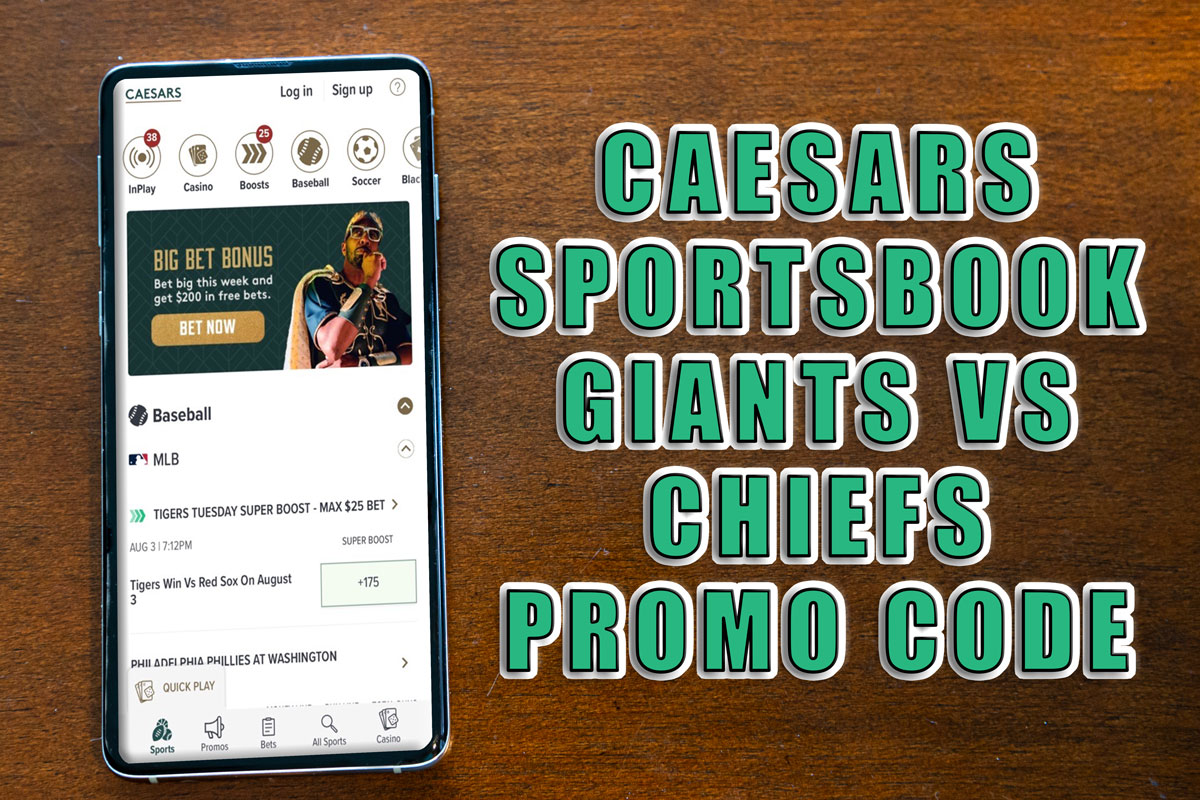 Throughout the first eight weeks of the NFL regular season, the best Caesars Sportsbook promo code has been delivering access to an industry-best $5,000 risk-free first bet. But tonight's Monday Night Football showdown between to Giants and Chiefs will mark the final opportunity, at least for the time being, to get in on this massive bonus.
The best Caesars Sportsbook promo code for the Monday Night Football matchup between the Giants and Chiefs is MHSXLRF. By using this code, new players will have one final chance to lock in a huge bonus bet.
When Caesars Sportsbook rebranded from William Hill just to prior to the return of football, it did so with an onslaught of creative television ads and an eye-popping $5,000 risk-free first bet. In order to make up ground on rival apps, Caesars came out of the gates swinging with the big bet over the first eight weeks of the season. However, the offer expires at midnight tonight, meaning the Giants-Chiefs MNF is the last chance to get this deal.
Use the state links above or below and Caesars Sportsbook promo code MHSXLRF to get a $5,000 risk-free first bet.
Caesars Sportsbook Promo Code for Giants-Chiefs Monday Night Football
With time running out to grab the maximum new player value, Caesars Sportsbook promo code MHSXLRF will unlock one of the best Giants-Chiefs bonuses with a $5,000 risk-free bet.
Generally speaking, Caesars Sportsbook is one of the best operators in terms of incentivizing new players, so we don't want to oversell the urgency element of this. It's possible that the $5,000 risk-free first bet or a similarly aggressive bonus kicks back into play in the coming weeks. That said, for now, it appears that tonight will mark the last opportunity in the short term to get the best possible bonus.
MNF Bonuses Available with Caesars Sportsbook Promo Code
Although the Chiefs are a struggling at just 3-4 this season, Kansas City remains one of the biggest betting draws, and plenty of action figures to be on the game. With a number of awesome specials and odds boosts, our Caesars Sportsbook promo codes requires one of the best ways to bet on it.
Tonight's Super Boost is on Patrick Mahomes and Daniel Jones each to go over 1.5 touchdown passes at +200 odds. Despite Mahomes' struggles this season protecting the football, he has still thrown for 18 total touchdown passes, averaging over two passing touchdowns per game this season.
Meanwhile, Jones has been up and down for the Giants, but the Kansas City defense has been a disaster through two months and figures to present the New York offense with plenty of opportunities tonight.
Finally, the Caesars Sportsbook promo code also unlocks seven other Monday Night Football boosts, as well as the ability to grab a free bet just by wagering on the game's first touchdown player prop.
Where to Get the App
The Caesars Sportsbook app has emerged in a number of new and established betting markets as a preferred option. It's currently available in New Jersey, Indiana, Iowa, Virginia, Tennessee, Colorado, Arizona, Michigan, and more.