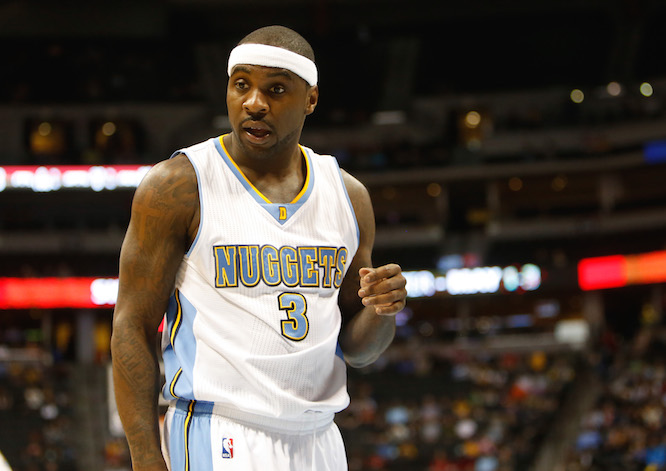 Nuggets fans may be wishing that Ty Lawson had put forth the same kind of effort at Pepsi Center last year as he seems to be putting into getting himself out there. They might have made the playoffs, if so. The missteps keep happening for Lawson who once again put his foot in his mouth over the weekend on social media when he took a dig at former Nugget and NBA Finals MVP Chauncey Billups, as well as the Nuggets front office.
Billups knows a thing or two about winning. He has played for great teams and for terrible teams as well. He knows a thing or two about growth and being versatile in the National Basketball Association. And he knows a lot about leadership. In a recent interview with Denver's 104.3 The Fan, Billups made a comment about Lawson's leadership, or lack thereof:
Ty, he has not demonstrated what you want from the leader of your team and a guy who they've handed the keys to. He's not demonstrated the kind of leadership that you want. And you have a young kid named [Emmanuel] Mudiay coming in who I think has a chance to be a star in this league. you come in 19-20 years old, you oftentimes try to emulate some of the actions on the floor and off the floor of the best player because that's one day what you want to be. So I think just from the standpoint of the welfare of Mudiay and the well-being and the growth of Mudiay, you have to get Ty Lawson and you have to move him along.
Lawson has had countless opportunities to prove that he could be a cornerstone for the Nuggets franchise, but time and again – and especially of late – he has shown that he lacks the maturity and consistency to carry a group of players to the next level.
Over the weekend, Lawson was asked by a Twitter follower what he thought about Billups' comments. Lawson responded, saying "some ppl just want to stay relevant lol."
@miguelzwrld some ppl just want to stay relevant lol

— Ty Lawson (@TyLawson3) July 12, 2015
Lawson either forgets or fails to realize that the "King of Park Hill" will always be relevant – especially in Denver – and the only way to make himself more relevant that Billups would be to lead his team to a NBA championship and pick up a Finals MVP along the way.
With a single action, Lawson has yet again dug himself deeper in the hole, seemingly looking for any opportunity to disrespect the Nuggets franchise. He leaked a private video of former head coach Brian Shaw creating a bond with his players, told a fan on Instagram that he wished he was going to be playing for the Dallas Mavericks, posted a web video of himself smoking a hookah and telling friends he's "going to Sacramento," and now adds disrespecting an NBA legend via social media to the growing list of PR failures he's accumulated in the past calendar year. And that doesn't even include his DUI arrest or the fact he missed the team's first practice following the All-Star break earlier this year.
As if the dig on Billups wasn't enough, Lawson went on to respond to another follower engaged him to disparage the Nuggets front office, responding "lol" to the user who described Lawson's employer as "garbage pail."
@jh32_futw @nuggets lol

— Ty Lawson (@TyLawson3) July 12, 2015
The Nuggets announced on Monday that the team had re-signed Jameer Nelson to a three-year deal, and with the addition of seventh round draft pick Emmanuel Mudiay in June, it's looking less and less likely that the Nuggets will need his services in 2015-16. It appears clear that Lawson doesn't want to be in Denver. The questions that now remain are whether any team will take on a player with so much bad press in his suitcase, and if they will, can Denver get anything of value in return on a trade. It's a messy situation and Lawson isn't doing anything to clean it up.
---
Marcus Flowers, a Mile High Sports intern, contributed to this report
---