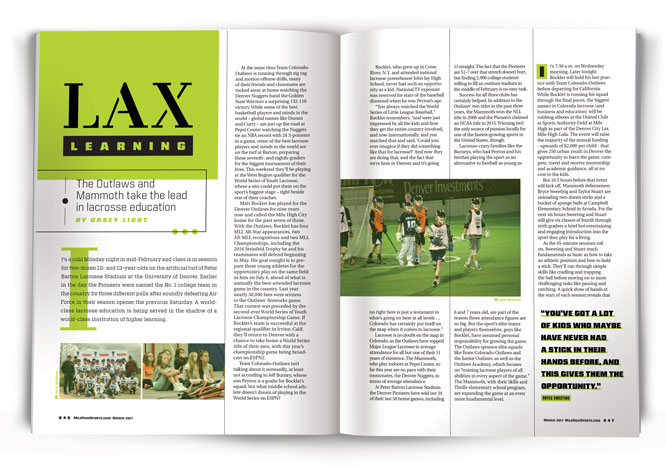 This story originally appeared in Mile High Sports Magazine. Read the full digital edition.
It's a cold Monday night in mid-February and class is in session for two-dozen 12- and 13-year-olds on the artificial turf of Peter Barton Lacrosse Stadium at the University of Denver. Earlier in the day the Pioneers were named the No. 1 college team in the country by three different polls after soundly defeating Air Force in their season opener the previous Saturday. A world-class lacrosse education is being served in the shadow of a world-class institution of higher learning.
At the same time Team Colorado-Outlaws is running through zig zag and motion offense drills, many of their friends and classmates are tucked away at home watching the Denver Nuggets hand the Golden State Warriors a surprising 132-110 victory. While some of the best basketball players and minds in the world – global names like Durant and Curry – are just up the road at Pepsi Center watching the Nuggets tie an NBA record with 24 3-pointers in a game, some of the best lacrosse players and minds in the world are on the turf at Barton, preparing these seventh- and eighth-graders for the biggest tournament of their lives. This weekend they'll be playing at the West Region qualifier for the World Series of Youth Lacrosse, where a win could put them on the sport's biggest stage – right beside one of their coaches.
Matt Bocklet has played for the Denver Outlaws for nine years now and called the Mile High City home for the past seven of those. With the Outlaws, Bocklet has four MLL All-Star appearances, two All-MLL recognitions and two MLL Championships, including the 2016 Steinfeld Trophy he and his teammates will defend beginning in May. His goal tonight is to prepare these young athletes for the opportunity play on the same field as him on July 4, ahead of what is annually the best-attended lacrosse game in the country. Last year nearly 30,000 fans were witness to the Outlaws' fireworks game. That contest was preceded by the second-ever World Series of Youth Lacrosse Championship Game. If Bocklet's team is successful at the regional qualifier in Irvine, Calif. they'll return to Denver with a chance to take home a World Series title of their own, with this year's championship game being broadcast on ESPN2.
Team Colorado-Outlaws isn't talking about it outwardly, at least not according to Jeff Burney, whose son Peyton is a goalie for Bocklet's squad, but what middle school athlete doesn't dream of playing in the World Series on ESPN?
Bocklet, who grew up in Cross River, N.Y. and attended national lacrosse powerhouse John Jay High School, never had such an opportunity as a kid. National TV exposure was reserved for stars of the baseball diamond when he was Peyton's age.
"You always watched the World Series of Little League Baseball," Bocklet remembers, "and were just impressed by all the kids and how they get the entire country involved, and now internationally, and you watched that and said, 'Could you ever imagine if they did something like that for lacrosse?' And now they are doing that, and the fact that we're here in Denver and it's going on right here is just a testament to what's going on here at all levels … Colorado has certainly put itself on the map when it comes to lacrosse."
Lacrosse is no doubt on the map in Colorado, as the Outlaws have topped Major League Lacrosse in average attendance for all but one of their 11 years of existence. The Mammoth, who play indoors at Pepsi Center, so far this year are on pace with their roommates, the Denver Nuggets, in terms of average attendance.
At Peter Barton Lacrosse Stadium the Denver Pioneers have sold out 34 of their last 58 home games, including 15 straight. The fact that the Pioneers are 51-7 over that stretch doesn't hurt, but finding 2,000 college students willing to fill an outdoor stadium in the middle of February is no easy task.
Success for all three clubs has certainly helped. In addition to the Outlaws' two titles in the past three years, the Mammoth won the NLL title in 2006 and the Pioneers claimed an NCAA title in 2015. Winning isn't the only source of passion locally for one of the fastest-growing sports in the United States, though.
Lacrosse-crazy families like the Burneys, who had Peyton and his brother playing the sport as an alternative to football as young as 6 and 7 years old, are part of the reason those attendance figures are so big. But the sport's elite teams and players themselves, guys like Bocklet, have assumed personal responsibility for growing the game. The Outlaws sponsor elite squads like Team Colorado-Outlaws and the Junior Outlaws, as well as the Outlaws Academy, which focuses on "training lacrosse players of all abilities in every aspect of the game." The Mammoth, with their Skills and Thrills elementary school program, are expanding the game at an even more fundamental level.
***
It's 7:30 a.m. on Wednesday morning. Later tonight Bocklet will hold his last practice with Team Colorado-Outlaws before departing for California. While Bocklet is running his squad through the final paces, the biggest names in Colorado lacrosse (and business and education) will be rubbing elbows at the United Club at Sports Authority Field at Mile High as part of the Denver City Lax Mile High Gala. The event will raise the majority of the annual funding – upwards of $2,000 per child – that gives 250 urban youth in Denver the opportunity to learn the game, compete, travel and receive mentorship and academic guidance, all at no cost to the kids.
But 10.5 hours before that event will kick off, Mammoth defensemen Bryce Sweeting and Taylor Stuart are unloading two-dozen sticks and a bucket of sponge balls at Campbell Elementary School in Arvada. For the next six hours Sweeting and Stuart will give six classes of fourth through sixth graders a brief but entertaining and engaging introduction to the sport they play for a living.
As the 45-minute sessions roll on, Sweeting and Stuart teach fundamentals as basic as how to take an athletic position and how to hold a stick. They'll run through simple skills like cradling and trapping the ball before moving on to more challenging tasks like passing and catching. A quick show of hands at the start of each session reveals that nearly 75 percent of the students are familiar with the game of lacrosse, if only by name. As the clinic rolls on, it's clear that despite their familiarity with the game less than 10 percent of the students have ever put their hands on a lacrosse stick. But that's of no bother to Sweeting.
"Any day we get a chance to come to a school is great," says Sweeting, who in his second year with the Mammoth now takes the lead on this Skills and Thrills workshop. "You've got a lot of kids who maybe have never had a stick in their hands before, and this gives them the opportunity."
The goal, according to Sweeting, "is just to see the fun in the game and make sure they're all having a good time – to show them that it's a little bit easier than people think. Once you get a stick in their hands and get the fundamentals down, it's a lot easier than people think it is."
Sweeting's smiling, cheerful demeanor is reason enough for the kids at Campbell to find the fun in the game, something physical education teacher Angela Gilbreath recognizes. Now in her fourth year as a PE teacher, Gilbreath has had numerous groups come through her gymnasium to expose students to new sports. The Mammoth, she says, are unique in how they engage with the kids.
"They're getting them up, getting them moving," Gilbreath says, "which is huge when kids come in to a PE class in elementary school. They don't want to sit and listen (as is the case with some of her other groups); they want to listen and move … I think they have a really nice balance of introducing some quick skills, but then letting the kids really go after it and experience it for themselves."
The lacrosse experience doesn't have to end when the class bell rings, either. Before they depart for the day Sweeting and Stewart will give each student a certificate of completion they can redeem for a free ticket to any upcoming Mammoth home game. The players sign autographs as one class filters out and another filters in, thanking the kids for such a great effort and encouraging them to come down for a game at Pepsi Center so they can see them afterwards.
The Mammoth hosts postgame autograph sessions after each home game, and Sweeting says he regularly sees familiar faces from his school clinics.
"It's always good to see them, see what they took from when we came to their school. It shows that we're giving back and that they're learning something from this," he says with a smile.
Bocklet has a similar experience with the Outlaws and the various youth teams he's coached in his seven years living in Denver full-time.
"They all come to the games," Bocklet says, "which is awesome. I get to coach them on weeknights and then watch them play on weekends and then on Saturday nights they're out watching myself and my teammates play."
***
Bocklet's team represents some of the absolute best the state has to offer in youth lacrosse – players who are learning from stars of the sport, and competing against the best in the game at their age level.
Meanwhile, many of the students at Campbell Elementary were just as excited to learn they were receiving Mammoth stickers as they were to receive a free ticket to watch Sweeting and Stuart play in "The Loudest House in Lacrosse."
Players on Team Colorado-Outlaws aspire to fill the shoes of guys like Bocklet and MLL Championship Game MVP Eric Law, who attended Littleton's Arapahoe High School and DU before his pro career, and who currently helps lead the Denver City Lax program in addition to his playing duties with the Outlaws.
Gilbreath's PE students may or may not go on to lacrosse stardom, but that sticker on their binder could be a seed that blossoms into lifelong fandom cheering on locals from the newest lacrosse hotbed, Colorado.
The growth of the sport has been exponential. Bocklet says he doesn't think Colorado could have fielded a deep enough team to compete in the World Series of Youth Lacrosse back when he first arrived in the Mile High City. Now he's leading a team with aspirations of being crowned World Champions and appearing on ESPN.
It all begins with education about the game – from the basics like Sweeting and Stuart are teaching first-timers, to the championship-level instruction Bocklet and his fellow coaches offer the game's elite youth.
"They're getting taught at a different level," Bocklet says, "that's helping them. And it's why Denver, at the youth level, is doing so well."
Editor's Note: Team Colorado-Outlaws went 4-1 at the West Regional qualifier, losing the championship game but earning themselves a bid to the 2017 World Series of Youth Lacrosse, to be played in Colorado July 2-4.