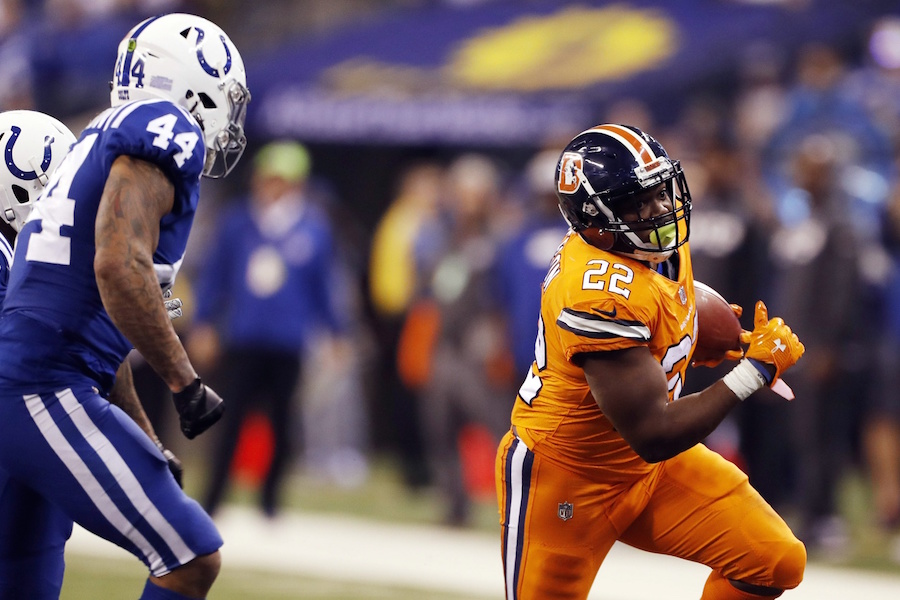 With consistent struggles at quarterback all season, one of the lone bright spots for the Denver Broncos has been the success they have had in the running game.
That is, when they decide to commit to running the ball.
In their 25-13 victory over the Indianapolis Colts the Broncos not only committed to the running game, they ran the ball arguably better than they have all season. The Broncos' offense was firing on all cylinders Thursday night, led by workhorse running back C.J. Anderson.
The fifth-year back had his best game of the season, rushing for a season-high 158 yards on 30 carries — just 10 shy of a career high. Anderson's 5.26 yards per was his best average all season.
Devontae Booker had a solid outing, contributing for 39 yards on 11 rushes as well as one catch for 10 yards. Booker's statline could have been even more impressive, but his incredible catch-and-run would-be touchdown was called back by a holding penalty.
One of the changes implemented by interim offensive coordinator Bill Musgrave has been the inclusion of fullback Andy Janovich, who saw a higher volume of playing time in the backfield picking up opposing linebackers and opening up running lanes for Anderson and Booker.
Earlier in the week, Broncos starting right guard Ron Leary was placed in injured reserve with a back injury. Many believed that the Broncos were losing one of their best offensive linemen and that their running game would drop in production because of it. Instead, 2016 fifth-round draft pick Connor McGovern, starting in place of Leary, had a terrific game consistently pushing Colts linemen backwards and allowing the Broncos' running game to flourish.
Anderson has been a bright spot, if an inconsistent one (although it's hardly his fault) in a disappointing 2017 campaign. Throughout the team's offensive struggles, Anderson has been consistent in his play and appears to be hitting his stride as 2017 begins to wind to a close. With his 158-yard outing against the Colts, Anderson is only 142 yards from 1,000 rushing yards on the season with two games left to play.
When the Broncos signed former All-Pro running back Jamaal Charles to a one-year contract in the offseason, it was assumed that Charles and Anderson would form a formidable combination at running back while Booker recovered from offseason injuries. Instead, Booker not only came back healthy, but also appears to have permanently unseated Charles as the Broncos' No. 2 running back.
Charles did not register a single rushing attempt all game, while Booker's playing time has continued to increase as the season nears its end.
The new one-two combination of Anderson and Booker appears to be the running back duo Broncos fans should expect for the rest of the season. While the 2018 offseason should see much change for the Broncos, Anderson appears to be stating his case to remain the Broncos bell cow running back moving forward, with Booker continuing to grow into a promising player of his own.
While many fans cannot wait until the offseason to commence, we all might be witnessing the maturation of the Broncos' backfield in Anderson and Booker.