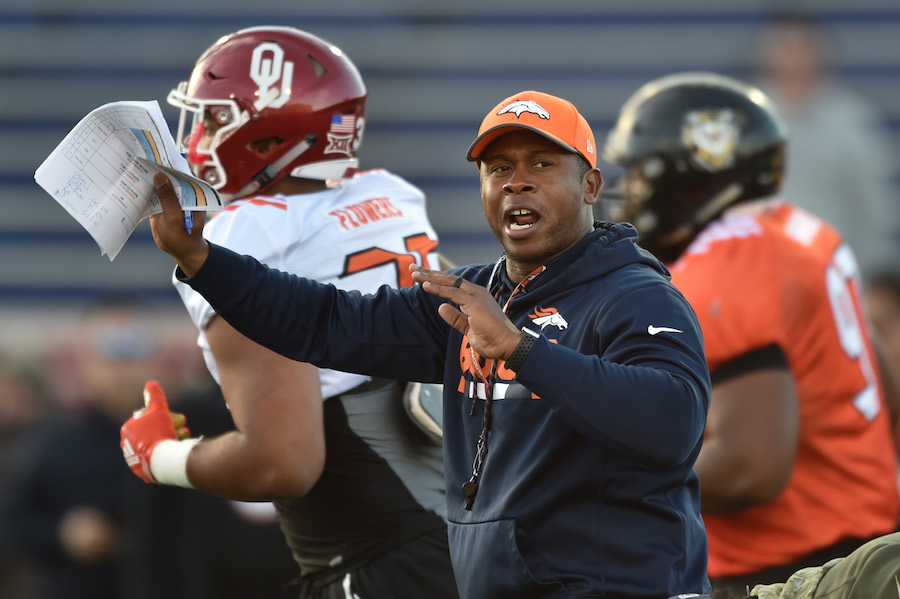 This is not what you think.
The Senior Bowl does not prove that Vance Joseph, despite having his team blown out 45-16, is a bad coach. It certainly didn't prove he's a good one, either.
It didn't prove that Heisman winner Baker Mayfield, who went 3-for-7 for 9 yards and no touchdowns, doesn't belong in the NFL. It doesn't necessarily mean that Wyoming's Josh Allen (9-for-13, 158 yards, 2 TDs) is better than Mayfield. Nor does the performance of the South team's Kyle Lauletta (8-for-12, 198 yards, 3 TDs) of Richmond, who earned honors as the game's MVP, makes him a high draft choice.
The game means nothing.
The practices might mean something. The idea is that it's a great chance for coaches to get an up-close look at how the seniors selected can play. Then again, "practice" suggested to the Broncos last summer that Trevor Siemian was the best quarterback on the roster and that Isaiah McKenzie should be returning punts. Perhaps that's just a cheap shot.
The biggest takeaway from the Senior Bowl?
Broncos Country is a strange combination of worried and angry. I'd call it "unchartered territory."
In my entire life as a Denver native, I've never heard or read more on the Senior Bowl. Sure, the Broncos staff was selected to coach the North squad, so there was an atypical interest coming out of Denver, but still, has this ever mattered this much before?
Broncos coach Lou Saban coached the Senior Bowl in 1970 and '71. John Ralston got the call in 1975. Dan Reeves coached the team while with the Broncos in '86 and '89, then again as the Giants coach in 1995.
Who knew?
(Who cares.)
Perhaps I'm wrong, but it sure seemed like the Senior Bowl was "a thing" this year. In the past — at least in this dusty ol' cow town that typically wins at football — it's something we've never given two $h*7s about.
The number of Denver reporters and reporting from the senior bowl this past week was — I'm sorry — absurd. (NOTE: That's not a knock on anyone or any outlet specifically; our very own Benjamin Albright was all over it). The coverage leading up to the game became annoying, if not just white noise (that's what Vic Lombardi thought, anyway). The social media storm that thundered down on Vance Joseph was probably unjustified, but more accurately it was evidence of how much the decision to retain his services is one of the most unpopular choices Broncos fans have ever stomached.
Joseph was getting blasted for losing an exhibition game. What do you suppose the reaction will be if the Broncos go out and lose the season opener?
Yikes.
The Broncos need a quarterback (we know that) and, a month ago, we thought they needed a new head coach. Allen wasn't accurate at the Senior Bowl. Mayfield looked like he was running a modified Siemian offense (against base defenses that didn't blitz). Sam Darnold didn't play, but he did throw three picks at the Cotton Bowl. And Josh Rosen thought the Senior Bowl was about as big a deal as I do; he opted not to play.
Joseph, bless his heart, did his best to re-fuel the fire that had almost started to die down. Winning or losing the game really shouldn't matter. Winning over Denver should — and Joseph, once again, somehow failed miserably. The strong, negative reaction was probably just a scab picked off way too soon.
I'm not sure I can recall a time where Denver was so on edge about the Broncos. Seriously, we've never — ever, not even when Dan Reeves was coaching it — gave a rat's behind about the Senior Bowl.
My recommendation? Go get some serviceable, low-risk quarterback (Alex Smith, perhaps?) and draft whichever guy you like at the moment. Or, heck, filp a coin or roll the dice. Clearly, this is an inexact science, especially in the Mile High City. (Dak Prescott, by the way, was the 2016 Senior Bowl MVP.)
But more importantly, stop worrying about the Senior Bowl. And don't watch it next year.