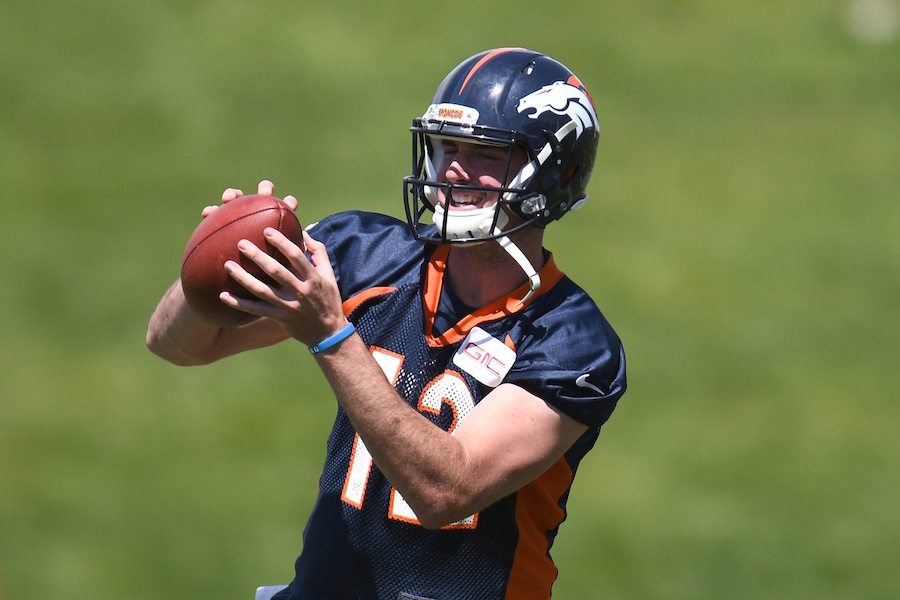 There are days in our lives worth remembering.
The problem is sometimes we don't realize it at the time.
Let's hope Broncos fans far and wide will keep June 5, 2017 tucked in the back of their brains. The day the franchise's quarterback for the next decade may have arrived.
If you were paying attention at Broncos OTAs in person, or on Twitter by following your favorite beat writers, you undoubtedly felt the hype.
Paxton Lynch passed Trevor Siemian in the Broncos QB race.
He may never look back.
The former first-round pick out of Memphis was on fire. He made every throw. He scrambled. He looked strong and confident.
Frankly, he looked like a starting NFL quarterback.
And to compound the problem, Siemian had a bad day.
He missed easy throws. He checked down too often. He looked like a seventh-round pick out of Northwestern who will have a nice ride as a career backup.
It took a year longer than many had hoped, but Lynch comfortably passed Siemian in the minds of many media folks and fans.
"It was a good day for the entire offense. He made some nice strolls. Yes, it's fair. He had a great day," Broncos head coach Vance Joseph said when asked if that's the best Lynch has looked.
Yes, it's fair.
That's the key line, from the Broncos' key decision maker, in that quote.
Joseph didn't necessarily want to acknowledge how brilliant Lynch was on Monday, but it would have been silly for him not to. The media isn't allowed to watch every practice, but that one we saw. It was incredibly apparent Lynch was the best QB on the field.
And that's where the 'controversy' begins.
Critics will say you can take nothing of substance from OTAs – that these are basically glorified underwear Olympics like we see at the NFL combine.
The last of the Siemian apologists (there are a few remaining) may hold out as well, noting he went 8-6 last year and is clearly the brighter of the two.
But the reality is here: Lynch will be Denver's starting QB in 2017.
No, it wasn't just June 5, 2017 that sealed that fate, it was a handful of factors.
First, it's impossible to ignore any longer that one man was a John Elway first round pick (whom The Duke moved up to take) and the boss is no longer willing to see him sit on the sideline.
Gary Kubiak is no longer the Broncos' head coach for several reasons – health chief among them – but you're crazy if you don't think the Week 17 refusal to play Lynch had nothing to do with the mutual split.
Next, Lynch has the upside Siemian doesn't. As the great Woody Paige pointed out on Twitter (in so many characters), Siemian's ceiling is Alex Smith. Lynch's bad is bad, but his good is a helluva lot better than Alex Smith's.
Finally, Lynch has found that swag in year two that Siemian doesn't, and won't ever, possess. The 'slow heartbeat' QB just doesn't work in the NFL. Even Peyton Manning – calm and collected with the media – had moments of fire on the field. We've never seen that from Siemian, and frankly never will.
Lynch is a new man, both when he's slinging the pigskin and chatting with reporters. He screams starting NFL QB; Siemian looks like a perfect clipboard carrier.
This outcome has been brewing for a long time, but it feels more likely than ever after watching Lynch dust Siemian on June 5, 2017.
Joseph has insisted this thing could go on for a long time, but the more the coach thinks about it, he should realize naming a starter sooner rather than later makes the most sense for a franchise trying to go to their third Super Bowl in five years.
Name the last NFL team that went into the preseason (or even training camp) without a clear-cut starter who then won the Lombardi Trophy? Off the top of my head, there isn't a correct answer.
There are days in our lives worth remembering.
June 5, 2017 may have been a key one for the next decade in Broncos Country.