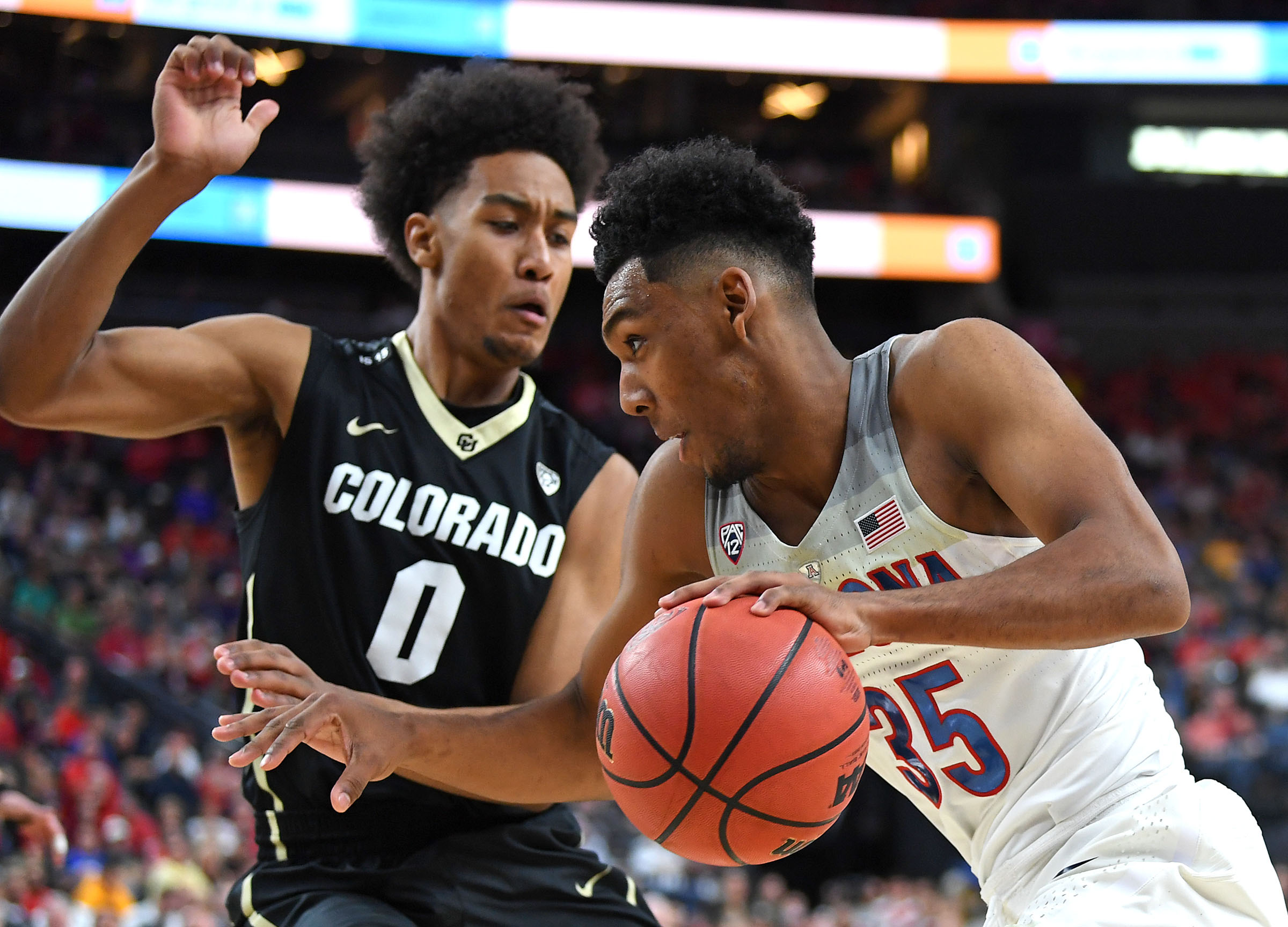 Here we are Colorado; once again, we're sitting around twiddling our thumbs instead of going dancing.
When the UNC Bears men's basketball team valiantly came up just short – by one stinking point, in overtime, no less – to eventual Big Sky champ Montana in Friday night's semifinal game, Colorado (the state, that is) was once again shut out of March Madness. No other Division I team in the state came close. The Denver Pioneers, who finished the season at 15-15, lost in the Summit League semifinal. Colorado lost in the Pac-12 quarterfinal. Air Force, the No. 9 seed in the Mountain West, bowed out in round 1, even though they pushed UNLV to overtime. And Colorado State, the Mountain West's 10th seed, was beat by Utah State (also in round 1).
Turn in your $10, fill out that bracket and adopt a team, Colorado. Hey, it's what we do this time of year. But next year? Well, next year could be different.
Here's a quick preview of March Madness 2019:
Northern Colorado: In.
Jeff Linder's second season with the Bears nearly resulted in an NCAA tourney appearance, so there's plenty of reason to be excited about next season. Linder's third season at the helm in Greeley will result in a Big Sky Conference Tournament Title and, thus, an automatic bid.
Colorado: In.
Buffs Nation is growing impatient, but luckily, the Buffs are young and trending upward. Give Tad Boyle another 12 months with his band of young guns and they'll be tough to beat – even in the Pac-12.
DU: Bubble.
Unfortunately, there are no "bubble teams" in the Summit League, where it's win the tournament or go home. Second-year coach Rodney Billups has made nice strides improving both the style of play and the results at DU, where the Pios are now actually fun to watch. Denver earned the Summit League's No. 3 seed after winning seven of their final nine, but it's always a crap shoot in the conference tournament (which, by the way, is held annually in Sioux Falls — practically a home game for all those "Dakota schools"). Can the Pios win it? Yes. Will they? That's always a tough task in Sioux Falls.
Air Force: Out.
Sorry, Zoomies. Things just haven't been the same since Joe Scott and Jeff Bzdelik. The ol' back door cut just ain't, um, cuttin' it.
Colorado State: ???
This one is anyone's best guess. The fair assessment of CSU — at this exact moment — is that it's a program in a bit of a pickle. The Rams currently have no head coach, and the one with whom they just parted ways had a bad habit of cycling through players like an office printer goes through toner cartridges. There are plenty of reasons that State can bounce back — it's an athletic program that's clearly committed to winning, as evidenced by the school's new facilities upgrade across the board. Besides, the Mountain West is a conference that generally fields more than one team, so winning it all isn't a requirement.
If the State of Colorado fielded two NCAA tournament teams next season, everyone stuck on I-25 would consider it a huge win.
If three teams make it in, we should throw a ticker tape parade.
And you know what? It's about damn time. Nobody 'round these parts has danced since 2016, when CU lost in the Round of 64 to Connecticut. The Buffs lost to Pitt in the same round in 2014. And in 2013, both the Buffs and Rams danced together.
Boyle has a team that can dance next season, and both Billups and Linder are undoubtedly on the right path.
In fact, they're both on a path that might (see should) make CSU take note. Yes, all the noise coming out of Fort Collins is about San Antonio Spurs assistant and former Ram Becky Hammon, but really, all three – Hammon, Linder and Billups – should be on the shortlist. This is a pivotal offseason for the Rams men's program; who they hire could be the difference between a massive rebuilding project and a short path back to the postseason.
In the words of David Bowie, let's dance.
Sitting at home is getting old.