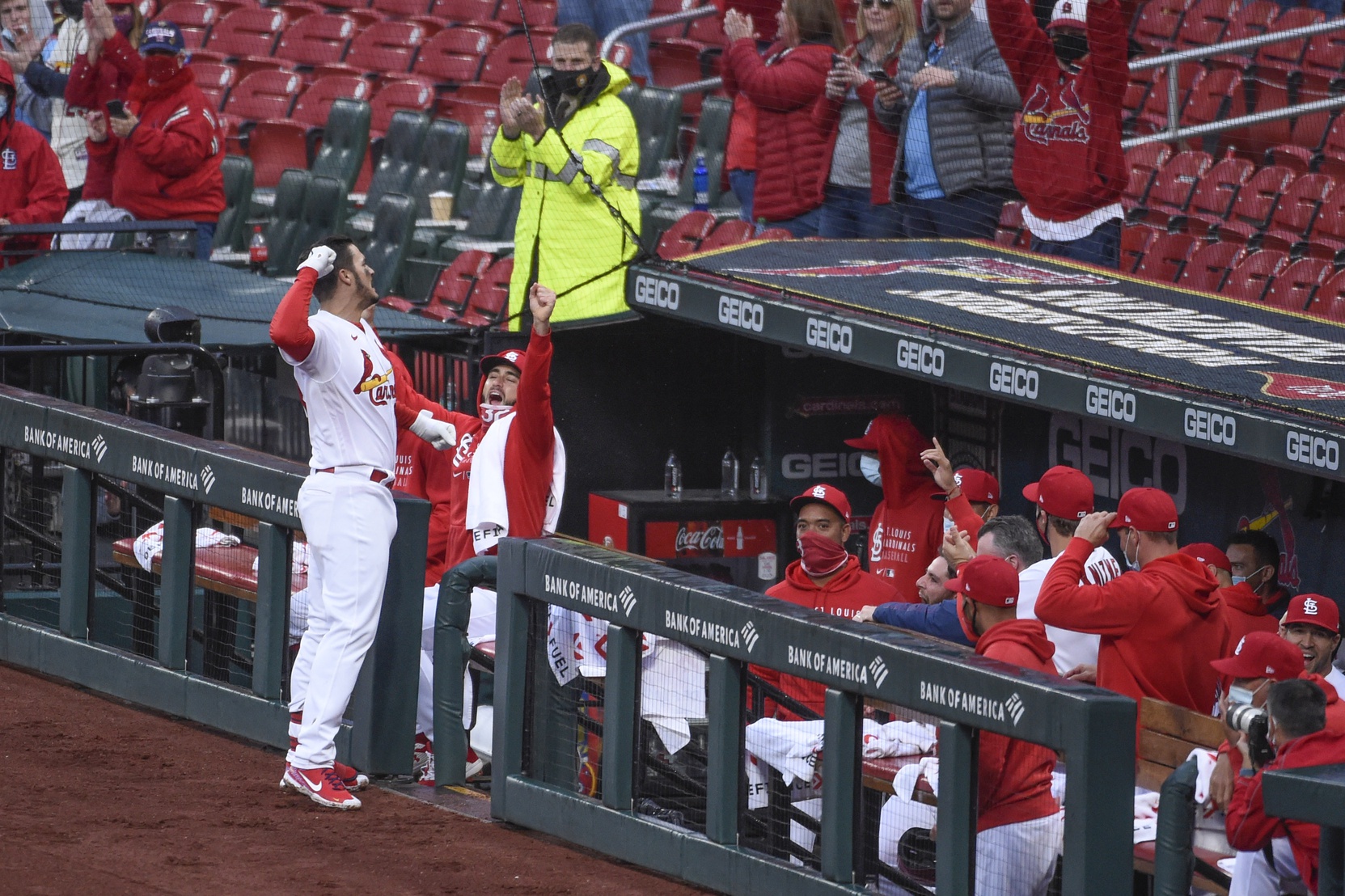 While the Colorado Rockies were busy on Thursday winning their first series of 2021, former star third baseman Nolan Arenado had a big day for his new team.
Arenado hit a go-ahead home run, his first in a St. Louis Cardinals uniform, in the bottom of the eighth inning to propel his club to a victory in their home opener. It was cool to see if you're a Cardinals fan or Arenado fan or whatever, but ultimately the achievement itself wasn't much of a Sports Moment. After the game, however, Arenado and teammate Adam Wainwright uttered a couple of lines that made big waves—and made some folks big mad—about 850 miles to the west.
First, here's what Arenado had to say about the reception given to him by the hometown faithful after his clutch dinger:
🗣️Here is the Arenado "first curtain call" quote.

🤔What's weird is he acknowledges that he hit a home run for the cycle, and that it still tops today's game just a little – then says today was his 1st curtain call.

— Ryan Greene 📷 (@RyanCBS4) April 9, 2021
Arenado claims in this postgame interview to have never received a curtain call, a statement that absolutely had Rockies fans, media members, and everyone in between up in arms. But the thing is, he's not wrong; Arenado sort of received a curtain call after a his famous walk-off cycle on Father's Day in 2017, but does that really count? It occurred after the game ended, so that's debatable. That being said, was there ever another time during which the context of any of his single individual achievements warranted a curtain call? You might be searching for a while if you're trying to find one.
The point is, it's a silly thing to hold against Arenado if a curtain call did happen to occur at one point and he forgot about it, and it's equally weird to hold it against Rockies fans if this in fact was his first curtain call.
So, that's settled. Great. Let's move on with our lives.
Ha ha just kidding, there's more!
Adam Wainwright said over the last two years, Arenado would send Wainwright videos of him hitting to show to "Mo" (John Mozeliak) …. "when he was trying to get traded over here."

🧐

— Katie Woo (@katiejwoo) April 8, 2021
I'm sorry, what?
There's a lot to unpack here. First, if Adam Wainwright's version of two years is actually two years, Arenado has been at least somewhat openly pining for a trade since April of 2019. At that very moment, the Rockies were fresh off of consecutive postseason appearances and, more importantly, Arenado was two (2) months into an eight-year, $260 million extension. He couldn't possibly have been that level of jaded with the organization at that point, right?
There are only two possible reasons why the perennial All-Star and Gold Glover would want out so early, as one card-carrying BBWAA member who covers the Rockies recently reported, albeit with no additional context or explanation. One is that Rockies general manager Jeff Bridich and the team's brass did next to nothing to get the team over the finish line in 2018, when Colorado had by far its best chance to win its first (and only) National League West title. That certainly could have stuck in Arenado's craw. The other is that Bridich and Rox owner Dick Monfort inexplicably insisted on putting an opt-out clause three years into Arenado's extension, which sort of speaks for itself.
But even if one or both of those scenarios angered Arenado, why would he sign an extension? Was he under pressure from friends and/or family, or an agent? Was it something he simply thought he was supposed to do as a gesture of loyalty to the organization that drafted and developed him? None of that seems very realistic. In fact, it's more likely that Wainwright was exaggerating with the whole "two years" quip. If the general premise of Waino's story is true, it stands to reason that Arenado began attempting to sell himself to John Mozeliak and company toward the end of 2019, when the relationship between the Rockies and their long-time third baseman started to fracture.
Still, there are questions to be asked. If that tale from Wainwright is in any way accurate, did the Rockies do Arenado a personal favor by dealing him to St. Louis for basically nothing in return? If so, why would they do that? Did they think Arenado would speak well of the organization on his way out? Are they expecting preferential treatment from Nolan's agent as a result of unloading him? Did they hope that the fans would catch on to all of this nonsense earlier and see it as a win-win situation for everyone?
We may never know the answers to any of those questions, but one thing is for sure: the common denominators here are Bridich and the Rockies, who definitely aren't strangers to trading away star players in extremely convoluted ways. And, considering what we've seen from Colorado over the last two years in terms of its level of resources put toward improving the roster, no one in their right mind can argue that Arenado's desire to leave wasn't justified, regardless of the timing.