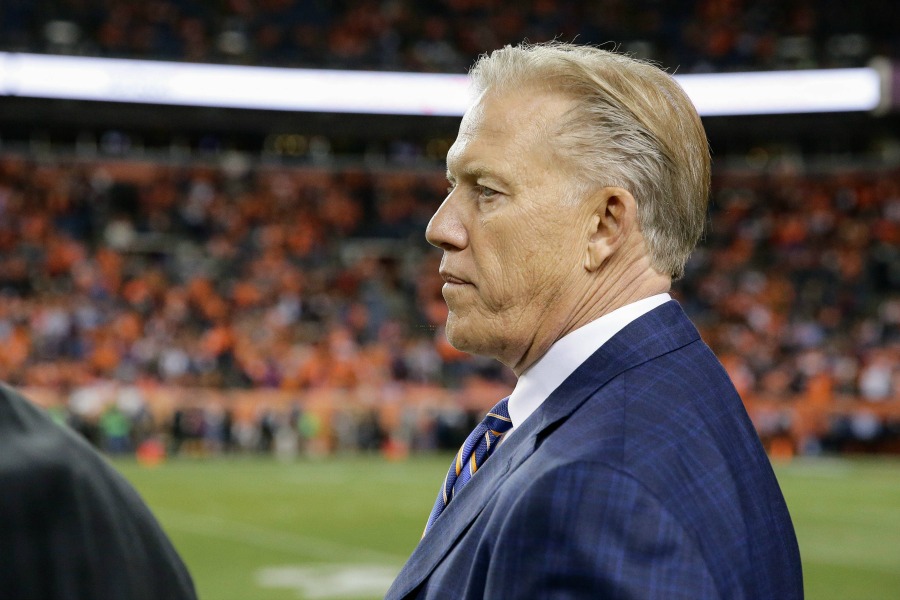 One year removed from a Super Bowl victory, the 9-7 2016 Denver Broncos were eager to put last season behind them and focus forward to a new season in 2017. With over $40M in free cap space to spend on free agents, or acquire a star player, it appeared Denver was going to do just that.
The Broncos began their free agent spending by signing upgrades along the offensive line in guard Ron Leary, tackle Menelik Watson. Denver furthered its improvements in the trenches by signing defensive linemen Domata Peko, Zach Kerr and Bobby Richardson.
Even after all that spending, the Broncos were still in a great situation with a little over $20 million left to spend. That all changed when Denver was forced to repay the NFL $4.5 million in a salary cap loan repayment.
Suddenly, that $20 million becomes roughly $16.5 million, before the Broncos sign their draft picks. After they ink their draft picks and unsigned rookie free agents, fans can expect Denver to be left with about $8-9 million left in cap space.
For fans who have been following the offseason closely know that $8 million may not be enough for Tony Romo's services (should he become available). Not when backups-turned-starters like Mike Glennon are counting as $14 million against the cap for the Chicago Bears.
Nor will it be enough to take on Joe Thomas' contract. Sure, his agent may say that Thomas likes the Rocky Mountains, but would he be willing to take roughly a $3.5 million pay cut to see them from his front yard? Unlikely.
And yes, Jason Peters' contract far surpasses that number as well, assuming the Philadelphia Eagles even want to make him available.
Now, as the NFL Draft approaches and team's finish up Pro Day visits and private workouts, team general manager John Elway has two big problems on his Hall of Fame hands:
The Broncos do not currently possess a quarterback that can lead the team to a Super Bowl.
Even if Denver had such a quarterback, he wouldn't have a left tackle to protect him from the fierce AFC West defenses.
Two of the most important positions on a football team, and the Broncos currently have big question marks hovering over both.
According to 247sports.com, restructuring Demaryius Thomas' contract could free up a $5 million in cap savings. Parting ways with tight end Virgil Green could save $2.8 million, but would only create one more hole on an offense already in need of improvement.
Unfortunately, a decision will need to be made: does Denver want to attempt to acquire a veteran quarterback like Tony Romo, if/when Dallas releases him or find a viable option at left tackle for their current quarterbacks on the roster?
Even with salary cap maneuvers, the Broncos may only be able to afford a journeyman veteran like King Dunlap or perhaps a reunion Ryan Clady. Neither option will see a push in jersey sales, but both would be affordable under the current salary cap situation.
Despite having lots of money to spend this offseason, Denver simply had needs in very limited, inflated markets. Even an Andrew Whitworth signing or Russell Okung re-signing would have left the Broncos with marginal cap space before the draft.
Drafting a left tackle would seemingly be the easiest solution to the problem at hand. But most draft experts agree that this year's crop of tackles aren't near as elite of prospects as they have been in recent years.
Starting quarterbacks and quarterbacks of the future will always cost a team an arm and a leg, either in money, draft picks or compensation. The Broncos were fortunate enough to nab theirs in the first round of last year's draft in Paxton Lynch, but many agree that he's just not ready to take the reins of a Super Bowl team just yet.
Assuming Elway can sweet talk Romo into taking Mike Glennon-esque money, signing Romo would require both salary cap maneuvers listed above and almost completely use up all of the Broncos' remaining salary cap.
Though not exactly on everyone's Pro Bowl ballot, most can agree that last year's starter Trevor Siemian would be a better fit for this team than veterans Ryan Fitzpatrick and Colin Kaepernick.
Does anyone else besides me even still have their Jay Cutler jersey?
Deciding which need to address with a limited number of cap space will be like choosing the lesser of two evils. If a solution cannot be made to address both areas, which unaddressed position would hurt the Broncos the least?
It appears there could be some sleepless nights ahead for Dove Valley, as the Broncos try to capture another Super Bowl with the team that has the defense and key pieces to do so.