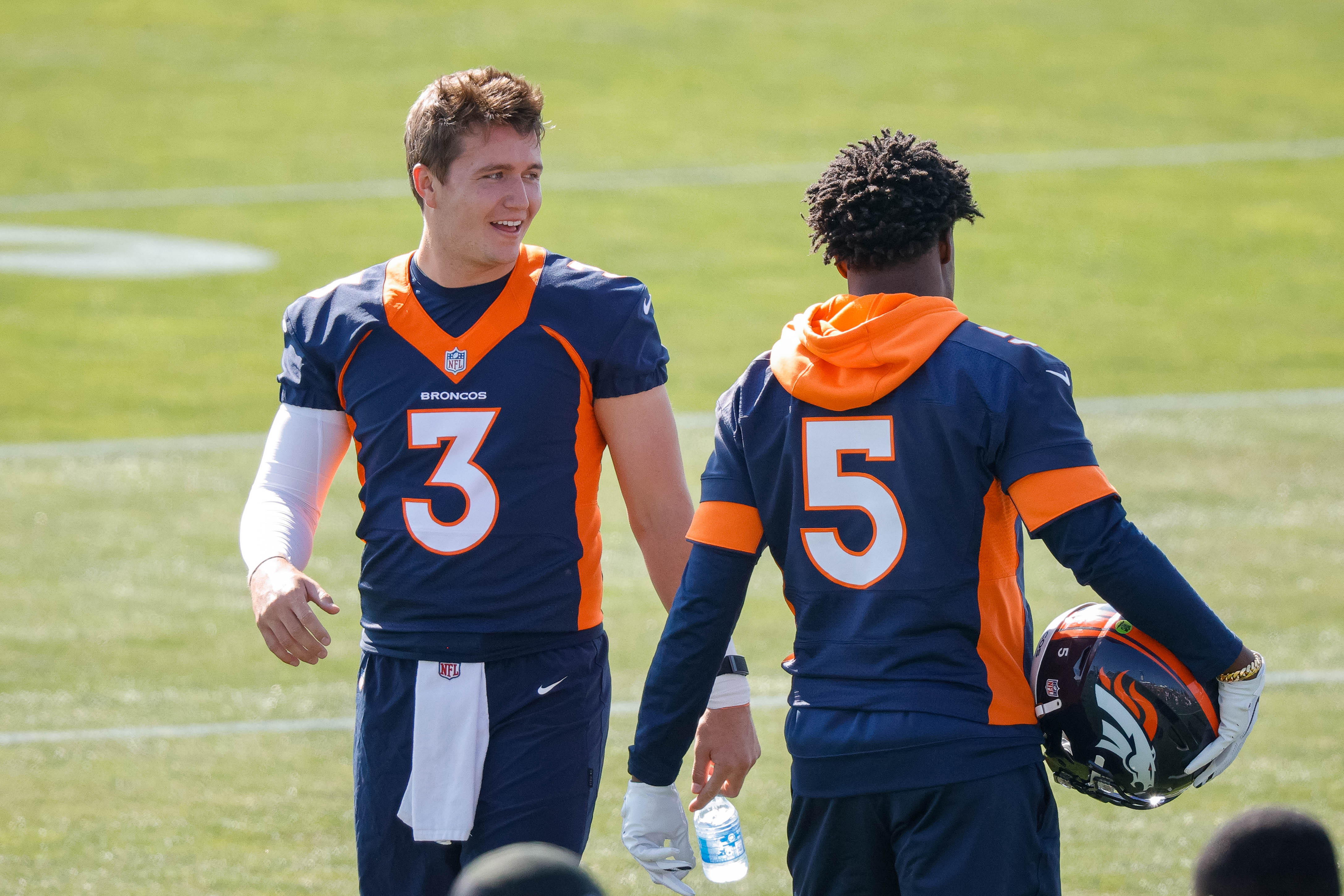 "If you have two quarterbacks, you have none," John Madden.
The Denver Broncos quarterback competition may go down to the wire this offseason, and that can be a good thing. Ideally, if both players are performing well it creates a good problem for Broncos head coach Vic Fangio.
The team officially kicked off training camp on Wednesday, July 28, 2021 with both Drew Lock and Teddy Bridgewater getting praise for their play. Depending on what style of play you value, who "won" the day changes from person to person. What is clear, both players played well on Day 1. On Day 2, each player threw touchdowns while not throwing an interception.
From all reports both quarterbacks played well. Teddy was steady, and Drew made some big throws. In the end, both outcomes should give #Broncos fans some confidence in whoever wins the job has earned it.

— Patricia's Son (@Dr_NManning) July 29, 2021
Earlier this week, the Top-5 storylines highlighted the Broncos' need for one of the two players to play well enough to earn the job. Additionally, another storyline surrounding the measuring stick against a presumably top-tier defense is very telling.
The competing quarterbacks each had moments, catching the eye of their gruff head coach. "From my point of view out there, I thought they both did well," Fangio stated of his top two QBs.
However, there is rightful concern from fans and media of a 50/50 split in reps between the two. In many scenarios, a quarterback competition may be harmful to a player or team because the splitting of reps could negatively impact a player's confidence. Additionally, not having one quarterback in with the first team could minimize their connection and lead to a drop in offensive play.
In this instance, a good competition may be exactly what the doctor ordered for this talented, but underachieving offense.
QB competition could pay dividends for Broncos
In most cases, competition brings out the best in each player. As competitors, both Lock and Bridgewater understand what's on the line, and it may just bring the most out of them both. Good football teams have to embrace competition in all of their rooms, from receivers to defensive linemen, each player is jockeying for positioning.
And up until this point, Lock has not been pushed for his position in his young career. But now, the presence of a real challenger has forced him to evolve and add an edge to his work ethic.
Bridgewater simply wants a chance to compete for a starting gig, and this situation provides him that opportunity.
In the words of their head coach, the quarterbacks are showing a little more, "piss and vinegar."
When asked about splitting reps, Bridgewater replied, "I'm all for it. At the end of the day, we're all competing to make this team better."
Lock when asked a similar question added, "If anything, I'd say it's motivating."
It is clear, both players seem ready to rise to the occasion and showed through the first two days of camp. It does not mean both players are prepared to earn stardom, but it does mean that both players seemed to step up with the added pressure.
Each of them excelled at what they are best at, but most importantly neither player made big mistakes.
Another takeaway from today's #Broncos practice is the team did not turn the ball over. Both QBs struggled last season with turnovers, and against this defense keeping possession is a good sign for both guys. If they keep it up, this offense should be much better. #BroncosCountry

— Patricia's Son (@Dr_NManning) July 29, 2021
Bridgewater knows that this is most likely his last chance to be a starting quarterback in the NFL and Lock is under pressure to realize his immense physical potential and become the face of the franchise.
To do that, both players are challenged to do things they do not do well. Lock is challenged to keep the ball safe and Bridgewater to push it downfield.
When deciding between two players, a coach obviously wants to pick the better of two good options and not select a player by default. Lock and Bridgewater performing well against a formidable defense is a great problem to have when the time comes to make a decision.
And if this team wants to make the playoffs, they must have an offense that can match the stellar defense.
Said this on the BCT podcast today but one of my biggest takeaways from the 1st day of #Broncos Training Camp was how evenly matched the offense & defense seemed today. Each side had their "wins" but nobody dominated the majority of practice. Could be a good sign for the offense

— Ryan Edwards (@redwardsradio) July 29, 2021
Bridgewater showed his steadiness on Day 2 with a rare incompletion sprinkled in. Lock struggled early but came on strong late with a barrage of touchdowns. What both quarterbacks did again on Day 2 was have zero turnovers all while the defense increased their intensity.
Without a doubt, the Broncos and their fans will benefit from having a competent quarterback room. Whether he starts or is ready to step in, raising the floor of the entire quarterback room is the reason why Bridgewater was added to the roster. And in the NFL, whomever takes the job, the next man up is only one play away.
In the end, you want to feel comfortable with both of your options. That comes from both players showing well when the proverbial bullets are flying during their opportunities on the field.
Fangio must fight the urge to make a decision before he needs to and let the competition unfold. At the end of the day, a back and forth battle resulting in the offense looking good with either quarterback is an overall win for all of Broncos Country.