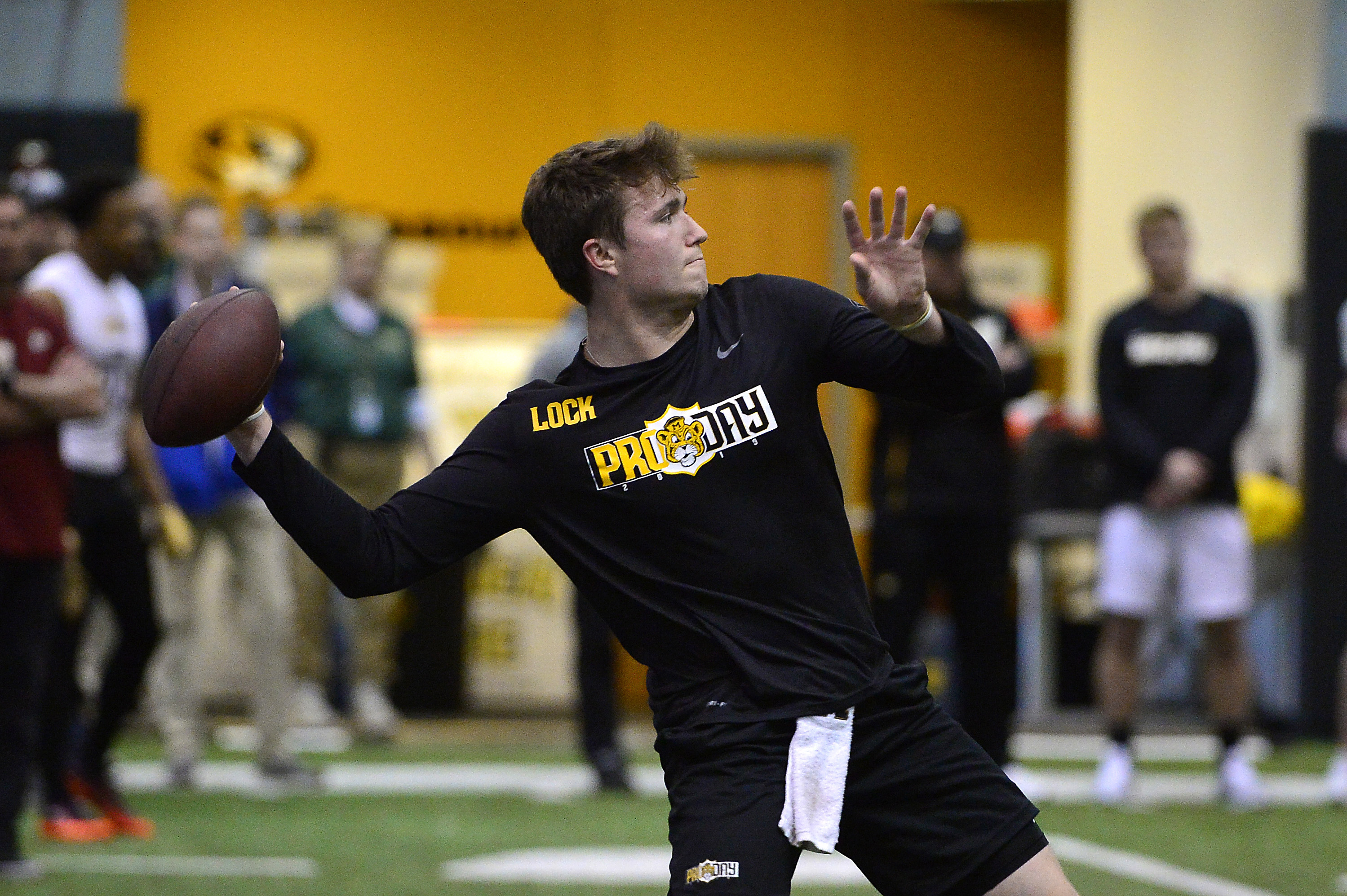 The Denver Broncos made a splash in the second round of the 2019 NFL Draft selecting quarterback Drew Lock from Missouri, cementing a vision and a plan for the team moving forward.
Since the departure of Peyton Manning, Denver has been rudderless at the quarterback position, looking to fix a broken arm with band-aids. Much like when Elway famously noted there was "no Plan B" during the Manning era, there was certainly no Plan B coming out of it. Nor seemingly a Plan C, or D. Back-to-back losing seasons followed and when the trade for Joe Flacco became a reality, many once again believed that Elway was dipping into the band-aid box and utilizing Flacco — like Case Keenum, Paxton Lynch, Brock Osweiler, Trevor Siemian, Mark Sanchez, etc. before him — as just another name in the line of stop-gap bridge quarterbacks with no future plan.
But with the No. 42 overall pick in the 2019 draft, that plan and future is firmly cemented in Denver with Lock. No longer will fans wander in the unknown of what will be lurking ahead; you could say the plan is "locked in."
Finally, there's a future to be excited about knowing that Lock — in due time — will become the franchise arm.
"I've been asked that a couple of times, 'How are you going adapt to being the starter off the bat or being able to learn from a guy?'" Lock said shortly after his second-round selection about the idea of starting right away or sitting and learning. "My answer is the same every time. I got thrown in the fire at Missouri, so if I need to go in and play early, I've been through that and learned a lot from that experience."
Flacco provides consistent stability and allows the Broncos to red-shirt the young Lock which prove valuable to Denver. The Broncos are in no rush to put Lock on the field. And as opposed to previous situations like throwing the under-developed Lynch into the fire unprepared without a veteran to learn from, or simply having no plan behind Keenum, Denver is now covered on both accounts.
"Joe is a great quarterback," Lock said. "Obviously, he's won a lot of football games and won a Super Bowl. I couldn't be more excited to be able to go in there and learn from a guy like that," Lock stated after his selection on Friday night. "Just to get under him and see what he's all about. Learn from a — I'll say it again — Super Bowl-winning quarterback. I couldn't be more excited to be able to go in there and do that. Just be the best teammate I can be right off the bat."
That duo with a clear cut declaration of Flacco as the starter and Lock the young future could set Denver up very well moving forward. Much like how Flacco eventually passed the torch to Lamar Jackson in Baltimore, leaving the Ravens in a very good situation. With time to develop, Lock says he's ready for any situation that may face him on his new team.
"I was also a starter for four years there (Missouri), and I learned what a good backup was. I learned what it took to push me and what it took to help me in the film room, to where if I needed to be that guy for Joe, then by all means. Like I said earlier, a Super Bowl-winning quarterback. It's kind of a prime spot to be in."
Nobody knows if Lock will become a franchise arm and lead the Broncos to any success in the future. The same franchise arm that Elway has desperately sought after since the departure of Manning. But what is known is the plan for the Broncos.
No longer lost in the wild or digging in the cubbard for band-aids, the search is over and the future rests on the right arm of Drew Lock, for better or worse.