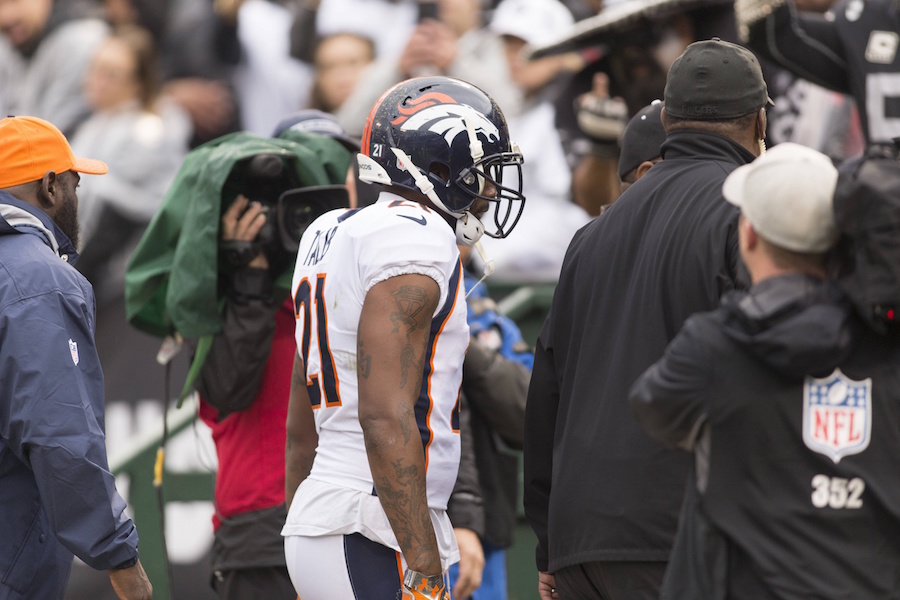 Although no punches were truly landed, the fight between Denver Broncos cornerback Aqib Talib and Oakland Raiders wide receiver Michael Crabtree had the folks at NFL Memes (not affiliated with the league) thinking bigger.
The social media meme factory had a little fun with the fracas and put together a simulated UFC "fight card" for Talib and Crabtree.
BUCKLE UP pic.twitter.com/FSy0InTCFg

— NFL Memes (@NFL_Memes) November 27, 2017
The funny guys at NFL Memes nailed everything about the fight down to the littlest detail, including the hilarious tagline "Nobody but Miami's defense has wanted a man's chain more than this."
They didn't stop there, though. Both Talib and Crabtree got some individual treatment for the ordeal.
BREAKING: Aqib Talib debuts album pic.twitter.com/bKRhOvyolF

— NFL Memes (@NFL_Memes) November 26, 2017
These stats are getting out hand ? pic.twitter.com/MGh7cwoKC3

— NFL Memes (@NFL_Memes) November 26, 2017
With the Broncos' current seven-game losing streak and their downright awful play at dimes during that stretch, there was plenty to pan after Sunday's game beyond the Talib-Crabtree fight.
Here's a few more memes they dropped on Broncos fans during and after the game. After losing seven straight, all you can do is laugh — right?
Broncos: "We're the worst team in the AFC West."

Raiders: "No.. We are!"pic.twitter.com/rQCVMNq7Jc

— NFL Memes (@NFL_Memes) November 26, 2017
Dilly Dilly! pic.twitter.com/RXlXwrxqgd

— NFL Memes (@NFL_Memes) November 26, 2017
The Broncos… pic.twitter.com/5yWYjkHmvu

— NFL Memes (@NFL_Memes) November 27, 2017
No Win November! pic.twitter.com/FzCH2ypFIH

— NFL Memes (@NFL_Memes) November 27, 2017
Broncos fans… pic.twitter.com/BUeNvkevWq

— NFL Memes (@NFL_Memes) November 27, 2017