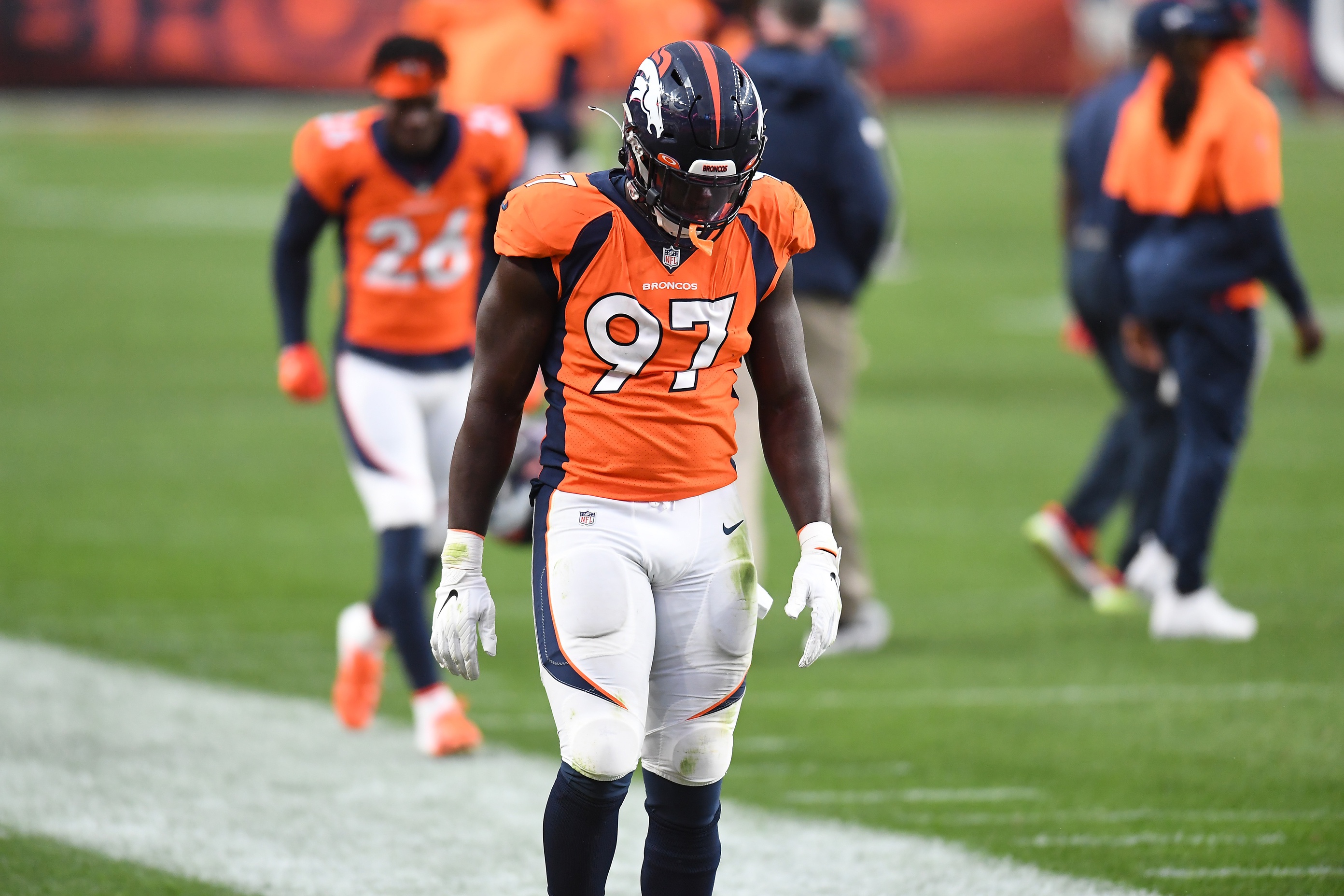 The difference between an 0-2 football team and one that's 0-3 is – mathematically, of course – just one game. If a team was capable to rebounding from losing its first two games, it's certainly not impossible to do the same when the first three don't go as planned.
So, why then, does 0-3 feel like the season has been lost already in Denver, Colorado?
(It does though, doesn't it?)
Following a week two loss in Pittsburgh that came complete with major injuries to Drew Lock and Courtland Sutton, it felt like a punch to the gut to be sure, but not necessarily like the season was lost. There was certainly concern, but with a home game on the horizon, getting back in the win column didn't seem implausible.
But after yesterday's stinker, a 25-10 loss to Tom Brady's Bucs, winning feels – at least from the cheap seats – like a pipedream. In Denver, it feels like:
The Broncos can't score.
The Broncos can't pass.
The Broncos can't run.
And the Broncos damn sure can't block.
On defense, it feels like the Broncos are "okay" but nothing special. Then again, what does it matter with an offense that has only managed five touchdowns thus far this season?
It feels like any depth the Broncos had entering the season is gone – like the idea of "next man up" sounds swell, but in reality, the next man just isn't good enough, or in some cases, isn't there at all. The injuries are real and have no doubt negatively impacted the Broncos; somehow a similar set of losses hasn't sent the San Francisco 49ers into a tailspin. It feels like the Broncos coaching staff doesn't have the stuff to compensate for the growing list of players on the injury report.
It feels like it's over. It feels like it's back to the drawing board.
Again.
Already.
That's not what the Broncos themselves are saying. Not at all. This early in the season, they're still saying all the right things.
"We're way too talented to be 0-3," Tim Patrick said after Sunday's loss to the Tampa Bay Buccaneers.
Agreed.
Just four weeks ago, the Broncos did look talented – extremely talented. Improved at multiple positions on offense – even deeper in some cases – and armed with a new, creative and experienced offensive coordinator, there was no way the Broncos weren't going to be much improved on offense. Sure, the offensive line didn't get better, per se, but with another year under the belt of Garret Bolles, an always-solid Dalton Risner, an All-SEC rookie center and the addition of veteran Graham Glasgow, it couldn't be any worse. Plus, with a fleet-of-foot quarterback like Drew Lock, deficiencies would often be masked.
Defensively, the talent was there already. Any offseason losses were combatted with new and equally significant signings. And as defensive mastermind Vic Fangio molded his roster to better fit "his" defense, surely some form of the Orange Crush would be returning to Denver.
Seems like a lifetime ago, doesn't it? Whether it's injuries or incompetency, the Broncos that plenty thought to be good back in August are now a figment of the imagination.
The best thing that could possibly happen to the Broncos at the moment is a date with, oh, let's say someone like the New York Jets, who also find themselves at 0-3. As luck would have it the Jets are up next. Unluckily, the date involves a trip to the Big Apple on a shortened week. Once circled as a sure-thing win on the Broncos schedule, the game has suddenly taken on monstrous meaning.
"Our whole focus is going to be on this short week and trying to go win a game in New York and try to get to 1-3. Just take it one game at a time," Fangio said Sunday night.
My how the might-have-been-mighty have fallen. That's singing a sad song for a team that had high-hopes not long ago.
After a 1-2 start in 2014, Aaron Rodgers famously instructed all those who were panicking over his Green Bay Packers to R-E-L-A-X. He subsequently led the Pack to a 12-4 record and a trip to the NFC Championship game, where Green Bay narrowly lost to Seattle in overtime.
Is there any Bronco who could – or would dare to – tell anyone in Denver to relax?
Sure doesn't feel like it. Sounds great coming from Rodgers. Sounds like bad advice (at best) in Denver.
In fact, it feels like everyone tied to the Broncos has tightened up – probably justifiably. Fangio hasn't won a game in September and is in grave danger of going 0-4 for two straight seasons. And while September is the furthest month from the Super Bowl, never winning in the first month feels like a surefire way to be sitting at home in January. That type of performance should warm up any coach's seat.
Then again, Fangio is just the most recent leader of the Broncos ineptitude. Vance Joseph started out better than Fangio, but was ultimately a terrible coach who couldn't muster more than six wins in a season. He was shown the door after two years on the job.
John Elway, of course, hired both Joseph and Fangio. In his 10th season as the man in charge, the roster is wholly his creation, too. As good as Elway was during his first five years on the job as an executive, his most recent five have been uninspiring at best. Elway is the ultimate winner, but any objective observer can't give the Broncos high marks on any front lately.
Sports fans in Colorado have always joked that all we've ever asked of the Rockies is to "get us to Broncos training camp." But there's nothing funny about the notion that the Broncos might not "get us to Nuggets season."
Sure, it's a long season, and the math says anything can happen, but is there any reason at all to believe that this year is going to turn around? Nobody wants to be such a downer, but if there's a bright spot it feels like we're all in the dark.
Are the Broncos on the precious of yet another lost season? Or have the Broncos, in a much larger sense, simply lost their way?
The lowly New York Jets – a franchise that has been in no way, shape or form comparable to the Denver Broncos – await. And get this: The Jets are a 3-point favorite to win.
Ironically, it was the Jets who handed the Broncos an 0-4 start to begin the 1999 season, which was the last time 0-4 happened before it took place again in 2019. That particular loss to the Jets prompted a Sports Illustrated cover that read, "We're finished."
Are these Broncos finished?
"The loser is really in trouble," Mike Klis of 9News said on last night's news.
Barring a miracle, Thursday night's loser is done.
If they're not already.