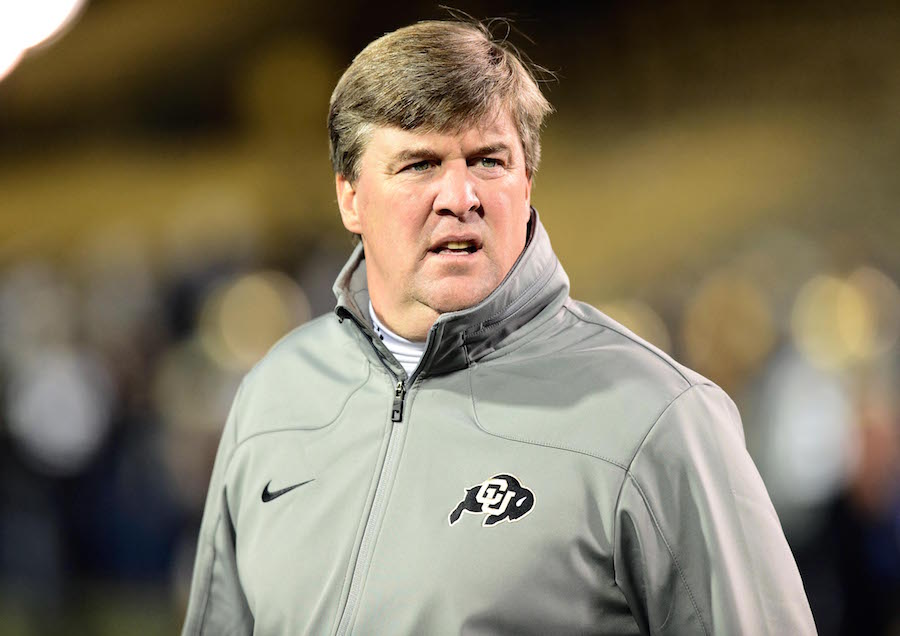 I'm sorry, but UMass doesn't count.
With all due respect to the Minutemen, what happened in Boulder on Saturday is what's supposed to happen. When a team that's relatively new to Division I football, a team that's only won five games in the past three seasons, strolls into Folsom Field in early September, they'd better hop on the airplane back east with another loss.
And that's exactly what happened.
Credit the Colorado Buffaloes for taking care of business this past weekend. Remember, it was only a year ago that the Buffs fiddled around at Gillette Stadium and nearly allowed UMass to enjoy its first D-I win outside of the Mid-American Conference. Ultimately, Mike MacIntyre's Buffs pulled it out 41-38 to the sound of one giant, collective sigh of relief.
This past Saturday, however, things looked to be in order. The final score was 48-14, and it really wasn't that close, as MacIntyre's ball club seemingly took its foot off the gas in the 0-0 fourth quarter. The Buffs were dominant up front, rushing for nearly 400 yards at a clip of 6.6 yards per carry. Like so many before, it was a beautiful day in Boulder.
And it had to be that way. After an opening loss to Hawaii, Colorado couldn't afford a loss to UMass. The Buffs were supposed to beat Hawaii, a team they beat 21-12 last season in Boulder, but that didn't happen. The loss set up a series of "must win" games for the Buffs.
Consider the next game against Colorado State just that.
Here's the tricky part: Beating the Rams will be no easy task. In fact, and as much as fans of the Buffs don't want to hear this, Colorado State might very well be the better team this season. They were last year, proving it head-to-head in Denver with a win that spring-boarded a 10-3 season that concluded with a Las Vegas Bowl appearance. Buffs fans will argue that such results would not take place if the Rams competed in the ruthless Pac-12 (and they'd be correct), but there's no questioning this: As it pertains to this season, CSU is unquestionably the toughest opponent on CU's schedule thus far.
Throw all that out the window though. Regardless of who's "better," the Rocky Mountain Showdown, is the most unpredictable game on either team's docket. Furthermore, those who back the Buffs don't – and shouldn't – care. In their minds, and very simply put, it's unacceptable for the Buffs to lose to the Rams.
Losing to little brother from Fort Collins? It's just plain unacceptable.
When it comes to the Buffaloes faithful, no credit or consideration is ever given to the quality of CSU's program; a loss is only a sour reminder of how far things haven fallen in Boulder. That's not entirely fair, as Colorado State returned to respectability under the guidance of Jim McElwain and now, presumably, under Mike Bobo – two coaching products of the mighty SEC, both of whom understand a little something about winning and big time college football. Still, there was a time when losing to the Rams was unthinkable.
Colorado athletic director Rick George was a big part of that time, working under Bill McCartney from 1987 to 1991 as the Buffs recruiting coordinator and then the assistant athletic director for football operations. During George's time with the program, the Buffs never lost to Colorado State, a stint that included two games in Fort Collins.
George is feverishly working to make his school competitive once again. He's jumped into the deep end of the college football arms race; the new facilities in Boulder are nothing short of spectacular. But if the program, now under George's watch, is to return to its glory days, it must start with the basics – beating CSU.
MacIntyre is a quality coach and an even better man. He runs a tight ship and teaches his players in a manner that any father would applaud. Those who know him wish him nothing but success. But make no mistake; the pressure is on. This Saturday at Sports Authority Field, he must beat CSU.
Fans are looking for order to be restored in Boulder. The head coach has to show that his program in on track toward doing just that.