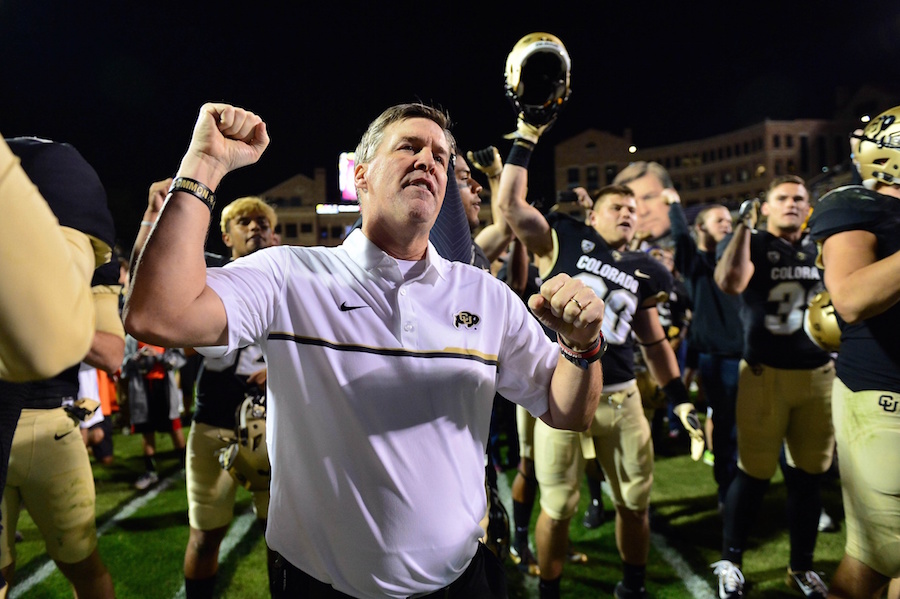 Coach Mike MacIntyre's 25-38 Colorado football career may not scream success, but it's what he's doing behind the scenes that makes him such an impressive coach.
Former Buffaloes offensive lineman Stephane Nembot joined Les Shapiro on Mile High Sports AM 1340 | FM 104.7 to talk about the program's future under MacIntyre. "Mac brought the high tempo to Colorado; we never had a high tempo [under former coach Jon Embree]. I remember when 'Coach Mac' got there and [in] the first practice I ran 150 plays… he had the old-school football mentality too, but he added a tempo to it so we could just get up and go."
In MacIntyre's five-year career with the Buffs, he has sent 12 players to the NFL and is likely to add a few more to his total this year, as quality players like Isaiah Oliver leave CU for the NFL draft. From 2004 until MacIntyre become coach for the 2013 season, there have been just 15 players from Boulder who went on to play in the NFL. MacIntyre will likely match or even surpass this number in just five years.
MacIntyre has not completely revived the Buffaloes' football program, but it is back on the right path. In 2016, MacIntyre lead the Buffaloes to a 10-4 record, good enough to be rank number nine in the AP polls and take the team to the Pac-12 Championship and the Alamo Bowl, both of which they lost. Regardless, it was the first time CU had a winning record and were ranked since the 2005 season.
During the 2016 season, Macintyre earned the respect of the entire nation and became the second-ever Colorado coach to win the Walter Camp Coach of the Year Award, following in the footsteps of the fabled Bill McCartney.
You are either getting better or you are getting worse, nothing stays the same.

With our state of the art facility, this is where we get better!#GoBuffs pic.twitter.com/pacRj20MDp

— Coach Mike MacIntyre (@CoachMikeMac) April 16, 2018
In 2017 the Buffs, were an almost entirely new team, as the large senior class from the year before graduated and moved on with their careers. However, the recruiting class that offseason was one of the best the Buffs have had in several years, and MacIntyre was able to draw in an array of young talent. "Remember, we were not getting that many [top] recruits, so just after the 10-win season we started getting a couple three-star, four-star players. This is because 'Coach Mac' does everything by the book like he's supposed to," Nembot said.
Last season's Buffs fell just short of a bowl game with a 5-7 record, and realistically were just a handful of close plays away from having a seven, eight or nine-win season and a bowl game in hand, even with a team that featured plenty of new faces in key starting roles throughout the season.
This fall, there will be key roles that need filled, but with a team mostly intact from last season, it's fair to expect the Buffs to improve substantially. Nembot believes the Buffs can only go up from last season, saying, "There's always an opportunity for the guys who didn't play last year to come and show what they have. So they can only get better from there."  Quarterback Steven Montez should improve and look to lead his young offense this season, while the defense will rely on a variety of new faces to step up this year.
Click here to listen to the full interview with Stephane Nembot, including the differences between the NFL and college, former Colorado coach Jon Embree, and more on Macintyre.