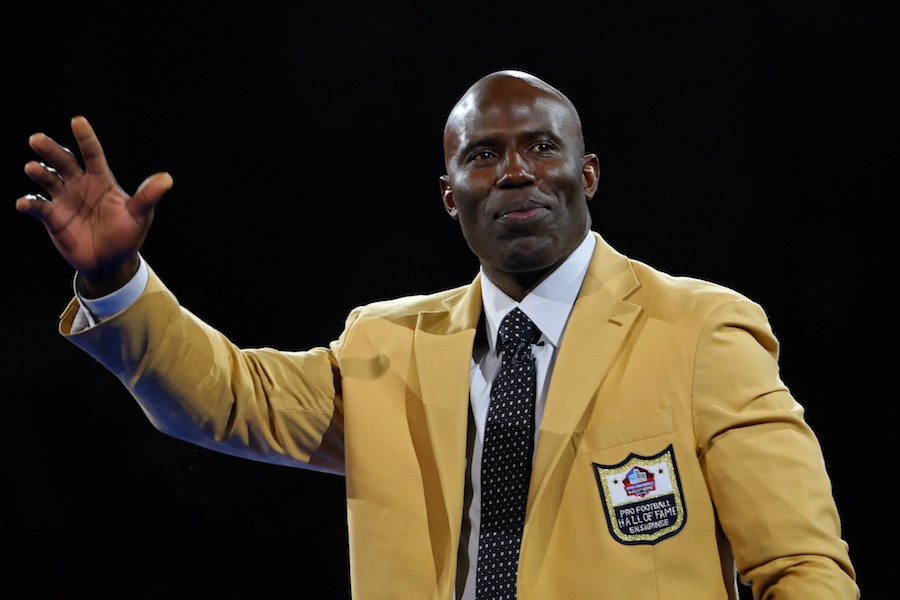 Canton, Ohio has been taken over. It's a cow town that's suddenly filled with Cowtowners.
Remember when they used to call us a cow town, Denver?
I do. And on days when I'm sitting in the gridlock that's Interstate 25, I sometimes wish they still did.
Remember, too, when there were no Denver Broncos in the Pro Football Hall of Fame?
I do. What a shame. There were some great Broncos who deserved to slip on that gold jacket long before John Elway. But again, times have changed. When Terrell Davis takes the stage Saturday at Tom Benson Field in Canton, Denver can boast five Broncos Hall of Famers.
And you'd better believe that more are coming – them and us, meaning Broncos and Broncos fans.
"Let's get Rod in next," Terrell Davis said into a microphone and standing right next to his teammate Rod Smith.
A raucous crowd of orange and blue gathered in the park in front of a Canton brewery (you'd have thought it was a tailgate party just south of the South Stands) erupted. They simply went wild, filling the peaceful night air of Canton with a Thunder that only comes from a Mile High.
When it comes to our Broncos, we travel, Denver. That's a fact. It's like Broncomaniacs from long ago are making up for lost time here in Canton. An invitation that seemingly got lost in the mail, the party in Oh-High-Oh has now been crashed.
The crowd in Canton today is here to see Davis. But they'll be back when it's Smith's turn, or whichever Broncos player gets the next call. Atwater. Mecklenburg. Champ. Mr. B. Peyton. Von.
The Broncos have been damn good. But you know what? Broncos fans have been even better.
Walking the streets in Canton, last night and today, one thing is pretty apparent: Denver has the best fans in the country. An unofficial cow town count of Cowboys and Cowtowners compared to the rest of the fans in attendance comes in pretty close to 2-to-1. Not too shabby for kids who've only been in the Cool Club since 2004, when they cleared a spot for the Duke inside the Hall.
Back at Davis' Gold Jacket post-ceremony celebration last night, chants of "Tee Dee! Tee Dee! Tee Dee!" rumbled through the night. Behind them was the lyrical magic of the Mad Fanatic, a rap artist who pens songs about the Broncos – after every game no less. Lo and behold, there he was, standing on stage with No. 30 himself. The Mad Fanatic has Broncos season tickets and flies in for every game.
From Connecticut.
Now that's an honorary Cowtowner if there ever was one.
"Will you be at the induction tomorrow?" I asked him not long after the music had  died down.
He looked at me, almost as if it was a silly question: "You know it."
Of course. He's a Broncos fan, the best kind this country has to offer.
We'll be at the party. This cow town can count on that.