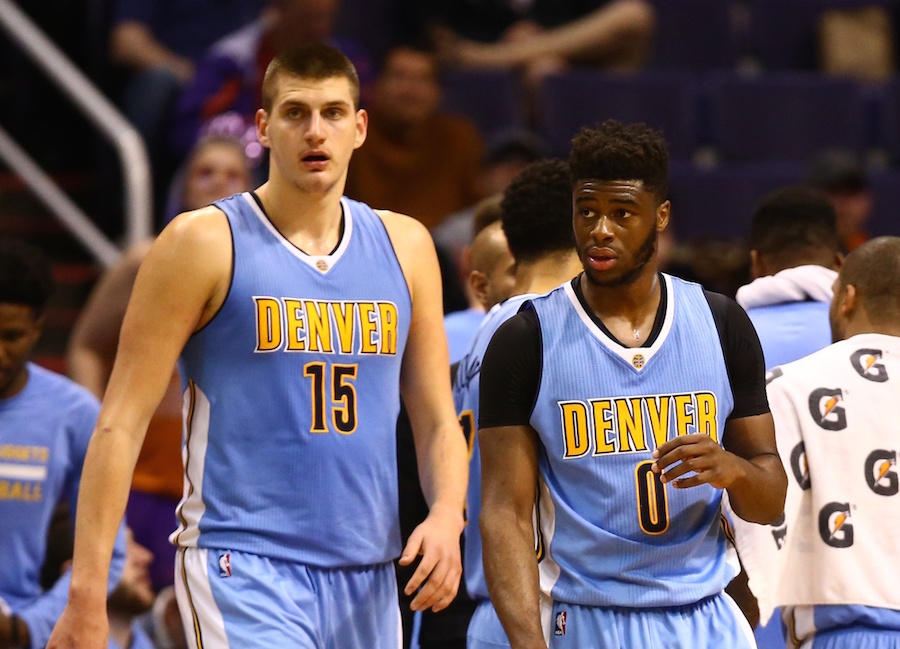 Nikola Jokic is a superstar. Not a budding superstar, or a young player with a superstar ceiling. He's a superstar right now by every measure. Jokic is a triple-double threat every night (which is incredible for a center), his RPM (real plus-minus) is in the top-20 of the NBA (ahead of guys like Anthony Davis and John Wall) and his defense is just as imposing as his offense. The Denver Nuggets finally have their first true superstar since trading away Carmelo Anthony.
Developing a superstar undoubtedly checks one box for the Nuggets brain trust, but it isn't enough. Jokic, as great as he is, can't carry Denver into the upper echelon of the Western Conference. It's no secret that succeeding in today's NBA requires more than one top-tier talent. And the Nuggets simply don't have another player of Jokic's ilk. Which begs the question: What's the best path for the Nuggets this season?
While Jokic doesn't make Denver a legit threat in the Western Conference, he has pulled the Nuggets into playoff contention. Meaning Denver's season isn't the forgone conclusion that it's been in the past; it can go one of two ways.
Denver can continue to challenge for the eighth seed (a position they hold as of today), giving them the illustrious opportunity of being swept in the first round by the Warriors. (Grabbing the seventh seed wouldn't be much better as the Spurs demonstrated they were a far superior team to the Nuggets twice in the span of a little less than three weeks.)
Or, the Nuggets fall into the lottery once again and continue to add young, talented depth.
Those likely playoff matchups have folks in this town claiming that making the playoffs this season would be disastrous for Michael Malone's young team. That's understandable; if you can't seriously compete for a championship, fall into the draft lottery and stock up on assets. The logic makes sense unless your team is already loaded with assets.
Adding more young potential to the Nuggets already log-jammed roster isn't going to make them a contender. Barring a major trade that thins out Malone's bench (which seems likely given Denver's track record) the Nuggets are going to look very similar next season.
It goes without saying Jokic, Emmanuel Mudiay, Gary Harris and Jamal Murray aren't going anywhere. Will Burton and Jusuf Nurkic are all under contract next year. Kenneth Faried, Wilson Chandler and Darrell Arthur all have deals that run through the 2018-19 season. That represents the core of this squad. Throw in Mike Miller and Jameer Nelson's guaranteed deals and it's hard to find room to add players. Danilo Gallinari is the only question mark – he has a player option next season and it's hard to see him not opting out to test free agency.
The Nuggets don't need more young talent to develop; they need their young developing talent to gain experience. Having this young core taste and compete in the playoffs is the next logical step. It's vital to their growth as players.
Watching Jokic take enormous leaps has been a treat. But he's not the rule; he's the exception. Look no further than Mudiay's development as proof of that. Most players need a handful of years to gain the experience to realize their potential.
This young core needs to understand what it takes to make the playoffs. NBA teams fighting for the seventh or eighth seed don't get days off. Every game, half and quarter matter. Understanding that and figuring out how to deal with that mental pressure would be extremely valuable. It's a fundamental step teams must go through to become champions.
Could Denver coast the rest of the season, end up in the lottery and have a ping-pong ball fall in their favor (something that's NEVER happened)? Sure, but in all likelihood they'll end up with a lottery pick in the teens and be forced to stuff another young player into an already crowded rotation.
So, why continue to kick the can down the road? The "next year" plan is never a given and often becomes a never-ending cycle. Making the playoffs would be a huge step in the development of Denver's young core. It's something the management and the fans should be rooting for.
Jokic's leap into stardom has been a speedy one, but there's no doubt the Nuggets are still another superstar away from making any noise in the playoffs. Getting into the tournament this season puts everyone else's development on the fast track as well and that's exactly the path the Nuggets need to be on.