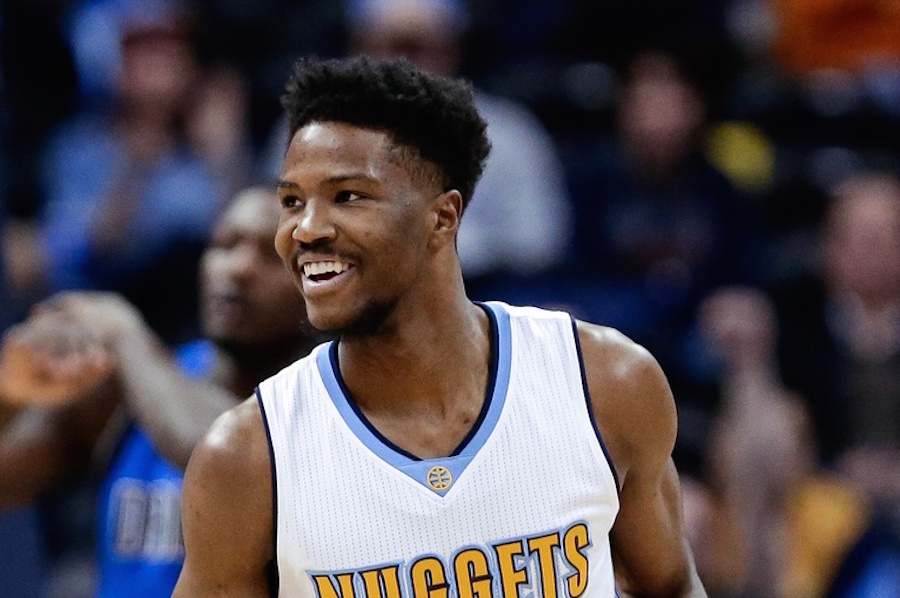 Although the Denver Nuggets have opened the 2017 NBA Summer League with a pair of losses, second-year players Juancho Hernangomez and Malik Beasley have stood out.
This Summer League is an important one for Beasley for many reasons. Denver selected the shooting guard with the 19th overall selection in the 2016 NBA Draft with the expectation that he would develop into a fundamental part of their young core consisting of Nikola Jokic, Gary Harris, Jamal Murray, and Hernangomez.
Due to Denver's logjam of young talent, specifically at the guard position, Beasley spent most of his rookie season on the bench or in the D-League with the Sioux Falls SkyForce.
He appeared in 22 games for Denver last season, mostly in garbage time. That said, Beasley put on a spectacle in the D League (now G League), averaging 18.9 points and 7.6 rebounds per contest. While in Sioux Falls, Beasley was given free rein to play his game, and his athleticism shined.
Malik Beasley of the @nuggets can FLY ✈️ pic.twitter.com/nEXkdnUWnH

— Sioux Falls Skyforce (@SFSkyforce) May 25, 2017
Beasley was one of the more athletic players in his draft class. His raw skill alone was enough for the Nuggets to pull the trigger on him, but he still has a lot of work to do if he wants to earn a role with the team.
Summer League is his pedestal to do so.
Having played in the league last season, Beasley entered his second go-around with an added confidence and an increased role. In the two games he has played so far, Beasley has been the team's primary ball handler on offense.
The results haven't been great as far as wins go, but Beasley has improved and is showing positive signs for the future.
After a first game that saw him score 29 points on 30 shots, Beasley made strides in his second contest, largely thanks to his patience.
"He kind of let the game come to him a little bit more," Nuggets Summer League coach Micah Nori said following the squad's 90-71 loss to the Minnesota Timberwolves.
Beasley was trending in the right direction Sunday and was a lot more efficient, scoring 20 points on 8-of-17 shooting from the field and 3-for-5 from beyond the arc.
"A little bit better," Beasley said of his shooting Sunday. "Be calm. Be a team. Try to be efficient. Know when to score the ball, know when to pass the ball, know when to be a leader."
It's baby steps for Beasley who is still just 20 years old. While he has struggled with the ball in his hands at times, the Nuggets continue to push him in that role in an attempt to add variety to his game.
"He's learning," Nori said. "It's good for him to get in that situation, because a lot of times he's counted on to just score. Now you put him in a situation, you try to lead a team, and you try to make sure he distributes for others."
With Beasley penciled in for the future, Denver has tried to integrate their style of play into his game. The Nuggets' fast-paced offense thrived last season and was one of the NBA's best. So far, Denver's offense has been sloppy in Summer League, but the core values are intact with Beasley at the helm.
"It gets pace right into your offense," Nori said of Beasley running the point guard position. "A lot of cutting and movement. He opens up some shots for some guys just with his pace."
Summer League is Beasley's chance to grow as a player and a leader. So far he has done a decent job of doing so and has flashed his potential in the process. While Summer League is to be taken with a grain of salt as a learning and evaluation platform, it provides Beasley the opprotunity to develop and impress Denver's staff ahead of the coming season.