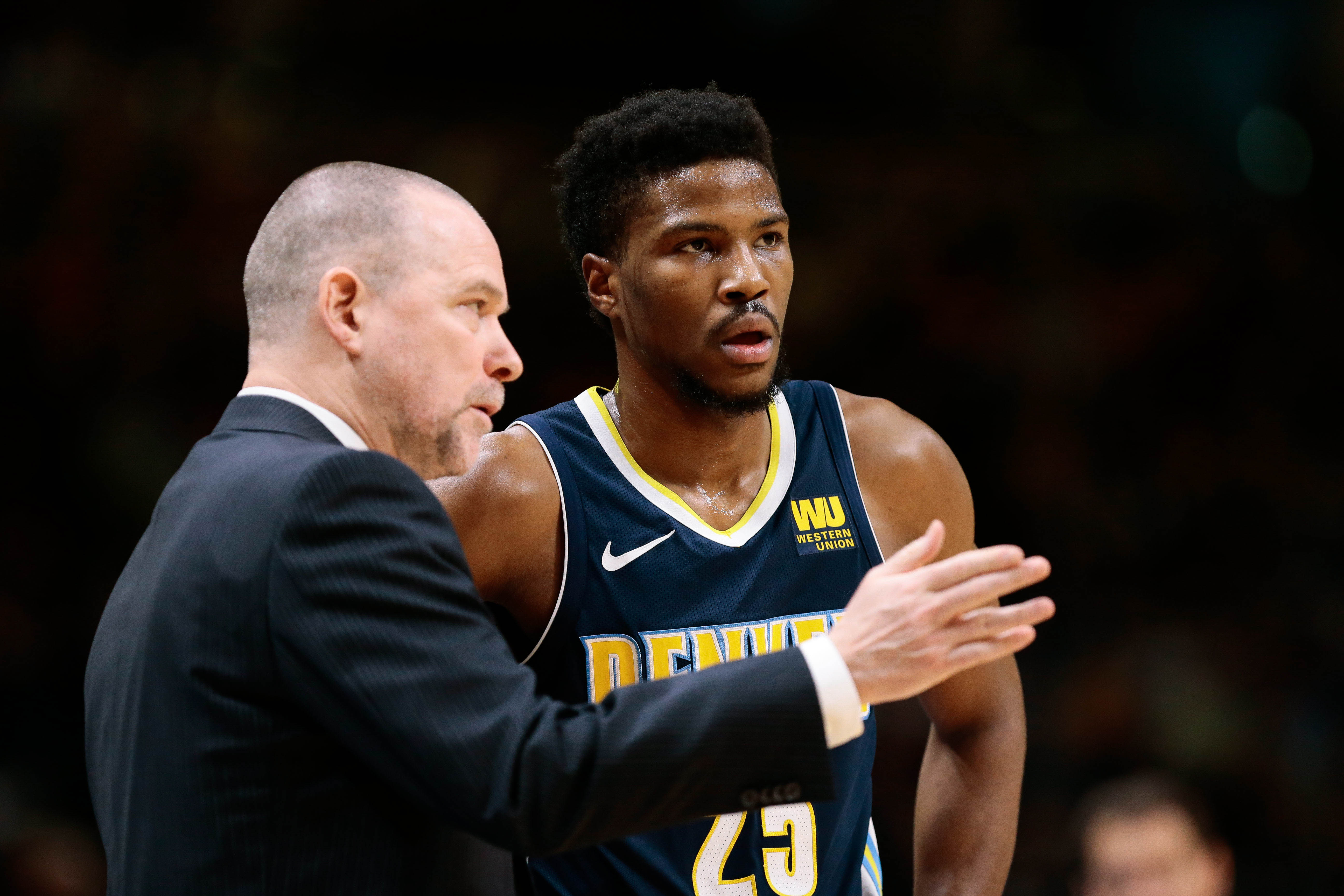 Malik Beasley strutted out of the locker room cuffing the game ball in his hands as he repeatedly muttered the words "first of many" as a group of local media reporters sat there in shock. Everyone wanted to talk to Beasley after he just had a career-high performance at home against the Los Angeles Lakers.
There was a play on Tuesday night when Monte Morris brought the ball up the court with the Denver Nuggets trailing 22-21 in the first quarter. Morris used a crossover on Kentavious Caldwell-Pope to free himself up and then proceeded to hit Beasley with a pass in the corner. Beasley then sized up LeBron James, took a look at the rim, and knocked down the 3-pointer for his first points of the night.
That was the beginning of Beasley's best performance in a Nuggets uniform as he helped the second unit lead Denver to yet another victory. Those type of plays have become routine for the third year shooting guard out of Florida State University, but his road throughout the NBA has been anything but easy. Now, through 21 games in his third season, Beasley has seemed to finally have found his rhythm.
Beasley came into the 2016 NBA draft as one of the most athletic guards in all of college basketball. He was raw in the sense that the Nuggets drafted him based on potential. He only played one season of college basketball in which he averaged 15.6 points and 5.3 rebounds a game. He was named to the Atlantic Coast Conference's All-Freshman team and, at the conclusion of his freshman season, there was a stress fracture in his right leg that required surgery. Despite the injury, he still declared for the NBA draft forgoing his final three years of college eligibility. There were medical concerns, but he ended up being drafted with the 19th overall pick by the Nuggets.
During his rookie season, Beasley was unable to participate in training camp or showcase what he could do during NBA Summer League while dealing with his injury and getting back into basketball shape, but he did show his potential during his rookie season with multiple D-League — now the G-League — stints and very limited time with Denver.
Despite only playing 7.8 minutes, he was able to score 3.8 points per game and was efficient in his time on the court. He showed that he could be a very capable scorer with elite athleticism and a competent shooter, but with the depth that the Nuggets had, he ended up in street clothes the majority of his rookie season. That did not stop Beasley from continuing to work and get better when he was healthy enough to do so.
In his sophomore season, there were high expectations for Beasley, some in which he did not fulfill. Even still, there was still plenty of growth for him from year one to year two. There was plenty to learn on both ends of the floor and head coach Michael Malone challenged Beasley to become a better defender. Only by becoming a better defender would he play more minutes. His shot was struggling to find its mark and he went through spurts in which he could not knock down open shots with the second unit which limited his time even more. That is why becoming a strong defender was such an important development for Beasley. Only with solid perimeter defense on a team full of offensive fire power would Beasley find a role and be rewarded with time on the court.
Beasley struggled a bit early on with understanding how to become a high-level defender. He has always been a player whose athletic abilities allowed him to be a productive defender, but this is the NBA — the home of the best basketball players in the world — with players just as physically gifted as him. Beasley had to do it in a different way than he was used to. By the end of the 2017-18 season, he started to become a more reliable source of energy for the team as he started to become a better defender and looked like more like the player that Denver drafted.
Now, in his third season, it seems as if Beasley has finally blossomed. He had an incredible NBA Summer League in which Malone again challenged him to do more by doing less.
"One thing we talked to him about a lot in Summer League was, you're trying to do too much," Malone said. "You're trying to do things that you're really not capable of doing."
Beasley took that criticism in stride and the game finally began to slow down for during this past summer league. He excelled and was one of the standout players for the entire tournament.
Beasley only played in three games during summer league and, in that time, he displayed new shooting mechanics, improved ball handling, and tenacious defense. He averaged 16.0 points and 4.3 rebounds a game and seemed to have wowed the coaching staff. What was evident was the amount of work that he had put in during the offseason with not only improving parts of his game, but also with his body as well as a new outlook on being in the league.
"I still didn't play that much last season," Beasley said. "I thought I needed summer league to show what I can do. I just want to kill whoever was in front of me whether it's right now or when we play in Las Vegas."
Confidence or a lack of talent were never an issue when it came to Beasley as he has always been a player that has worked hard and had so much untapped potential. The biggest dig on Beasley was his inability to simplify the game and let the game come to him.In year three it appears that Beasley has simplified his game and also has a better understanding of the game.
Through 21 games, Beasley is well on his way to a career year. He has found his role on the team as a high-energy player that can change the game with solid defense. He also has been able to knock down his jumpers so far this year. He is shooting a career best 46.3 percent from the field and 36.8 percent from beyond the arc.
Malone has shown that he trusts Beasley, who is playing a career high 18.2 minutes a game. With the increased minutes, Beasley has seen his numbers rise in every single category.
Beasley may have had a bit of a slow start, but is now in the midst of his best year yet. He is in the best shape of his life both from a mental and physical standpoint, he is knocking shots down consistently, and is showcasing his incredible athletic abilities. He has stepped into a larger role and looks completely acclimated to the NBA.
"To watch him grow from that kid in high school to who he is now, it is a proud moment," Paul Millsap said when asked about Beasley. "He should be proud of himself. He has done a lot of work and put in a lot of work to become the player he is today."
Jamal Murray and Gary Harris make up the Nuggets starting back court and Denver is very high on both of them, but Beasley has also put in the time and has given the Nuggets another great player to build around. Who is to say that Beasley is not also part of the future?
Regardless, Beasley is happy and the organization is elated to have him come into his own. According to Beasley — on his way out of the locker room after his career high game against the Lakers — this is just the beginning.