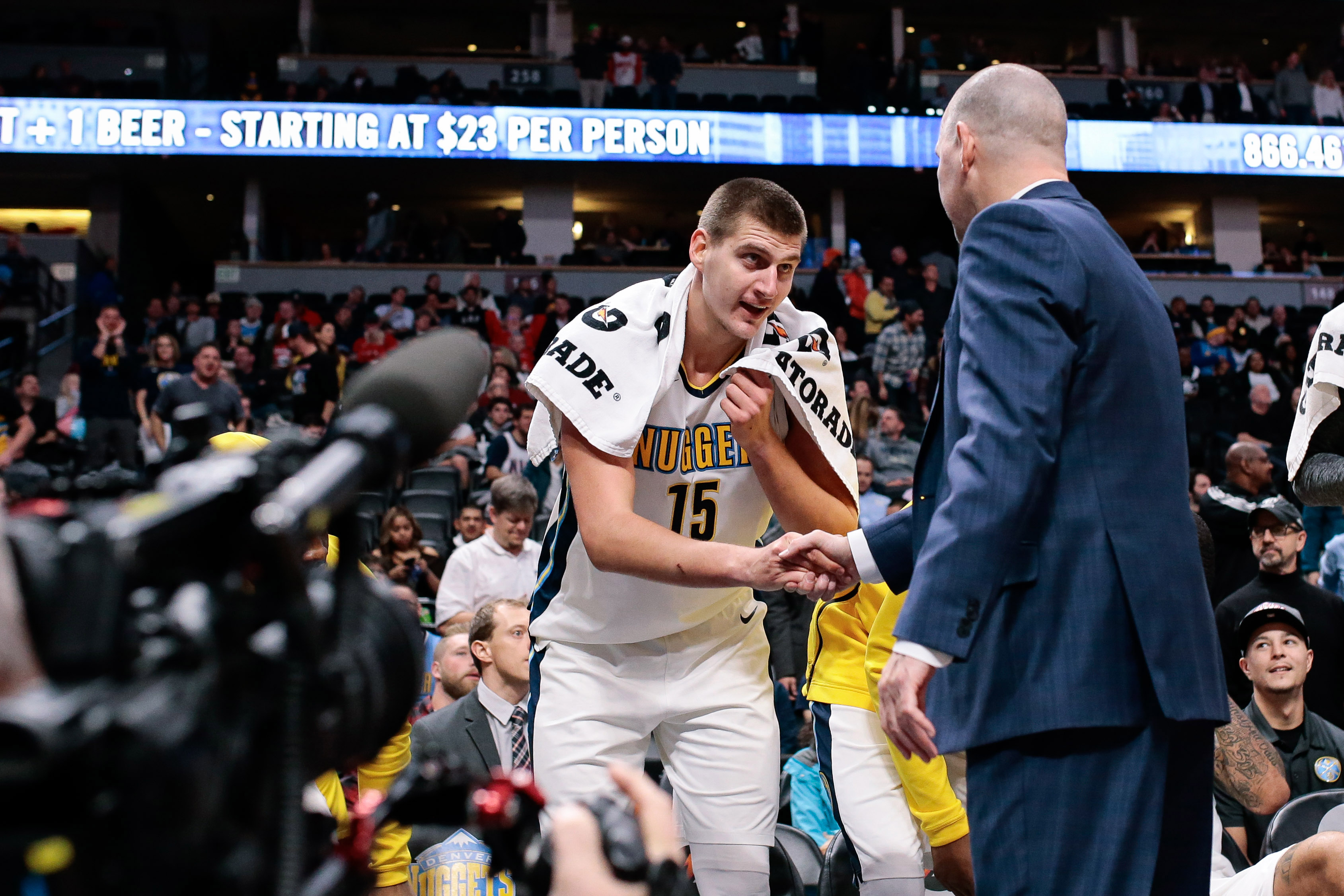 Stylistically, a Nikola Jokic-led offense is fast and furious. It relies on quick, open reads with plenty of cutting and the ability to improvise. On the downside, the Denver Nuggets' defense suffers when they're running it. That's an understatement. The team drops from high teens in defense to nearly dead last. Is that offense something that is sustainable over a long period of time?
On the flip side — stylistically — head coach Michael Malone's preferred style of play is a more controlled, with an emphasis on 'control'. He likes to call plays on offense, dictate pace and encourage a style of defense that works better with that slower pace: 24-second defense to induce a contested, end-of-shot-clock miss that's followed by hard-nosed rebounding. This, however, has led to the Nuggets' offense looking brutally inefficient in a modern NBA that encourages efficient offense. The reliance on called plays has slowed down creativity and improvisation…
The struggle is real, and on Tuesday night against the Dallas Mavericks — where every game is a crucial must-win – things came to a head. Jokic looked disinterested in scoring at all in the first half (zero points on 0-1 shooting), and the team was slower-paced than they had been in at least a month. Re-incorporating high-priced free agent signee Paul Millsap into the Nuggets free-form offense has been difficult, and the Nuggets' defense remains a mess. The coup de grace came in the form of Malone benching Jokic and under-performing Jamal Murray for the entire fourth quarter. The Nuggets' lineup that was left out on the floor couldn't keep up and ended up losing critical game to a tanking team.
Needless to say, this was a loss the Nuggets couldn't afford to take. After the game, Nuggets head coach Michael Malone said benching Jokic and Murray for the entirety of the fourth quarter was a "coaching decision". Later, he elaborated a bit further without mentioning those two particular players.
"Right now, if you're not going to go out there and give it your all, you're not going to play. We don't owe anybody anything. What each player owes is to go out there and play as hard as you can," Malone said after the game.
Meanwhile, Jokic spoke about his fourth-quarter benching. "I don't know what to say," Jokic explained, following that with an echo of Malone. "It was a coaching decision."
Let's be frank. The friction generated by Malone on Tuesday may end up being a huge mistake that, in the long run, may cost the Nuggets their first playoff appearance in five years if they cannot figure this out. It's never good to bench your best player, even if he is playing disinterested and appears to be pouting when you are in the middle of a playoff race. In mid-January, during the dog days of the NBA schedule? Fine. With 19 games left, when every game counts and you are in danger of dropping completely out of the playoffs? Wrong place. Wrong time.
Additionally, Jokic needs to understand that he can't have games where he checks out of scoring. While Jokic's skill set is much more about what's best for the team, he needs to be a scoring threat on a nightly basis. Doing anything else drags the whole team down. Play to the best of your ability, even if it's a tough night and a less-than-ideal matchup. You can figure stuff out along the way.
Fortunately for the Denver Nuggets, the Los Angeles Clippers lost as well, keeping the Nuggets hanging on to the eighth playoff spot by a toenail. Tonight, the Nuggets take on the Cleveland Cavaliers on the second night of a back-to-back in Denver. The Nuggets beat the Cavaliers on Saturday on a second night of a back-to-back, but you can guarantee that the Cavs won't be as simple to defeat this time. And now, the Nuggets are dealing with unnecessary, self-inflicted drama, to boot.
It's up to Michael Malone and Nikola Jokic to ensure that this rift doesn't derail the Nuggets season. If ever a team needed a playoff appearance, it's these Nuggets, and one hopes that the player and coach can come together and find a way to work best with each other. The stakes are far too important to let this golden opportunity slip away.
The Nuggets are 35-29; holding the best record they have had this late since 2013. Yet it feels like it could all slip away if they aren't careful in this stacked Western Conference.
They don't have the luxury of time anymore. That time… is now.