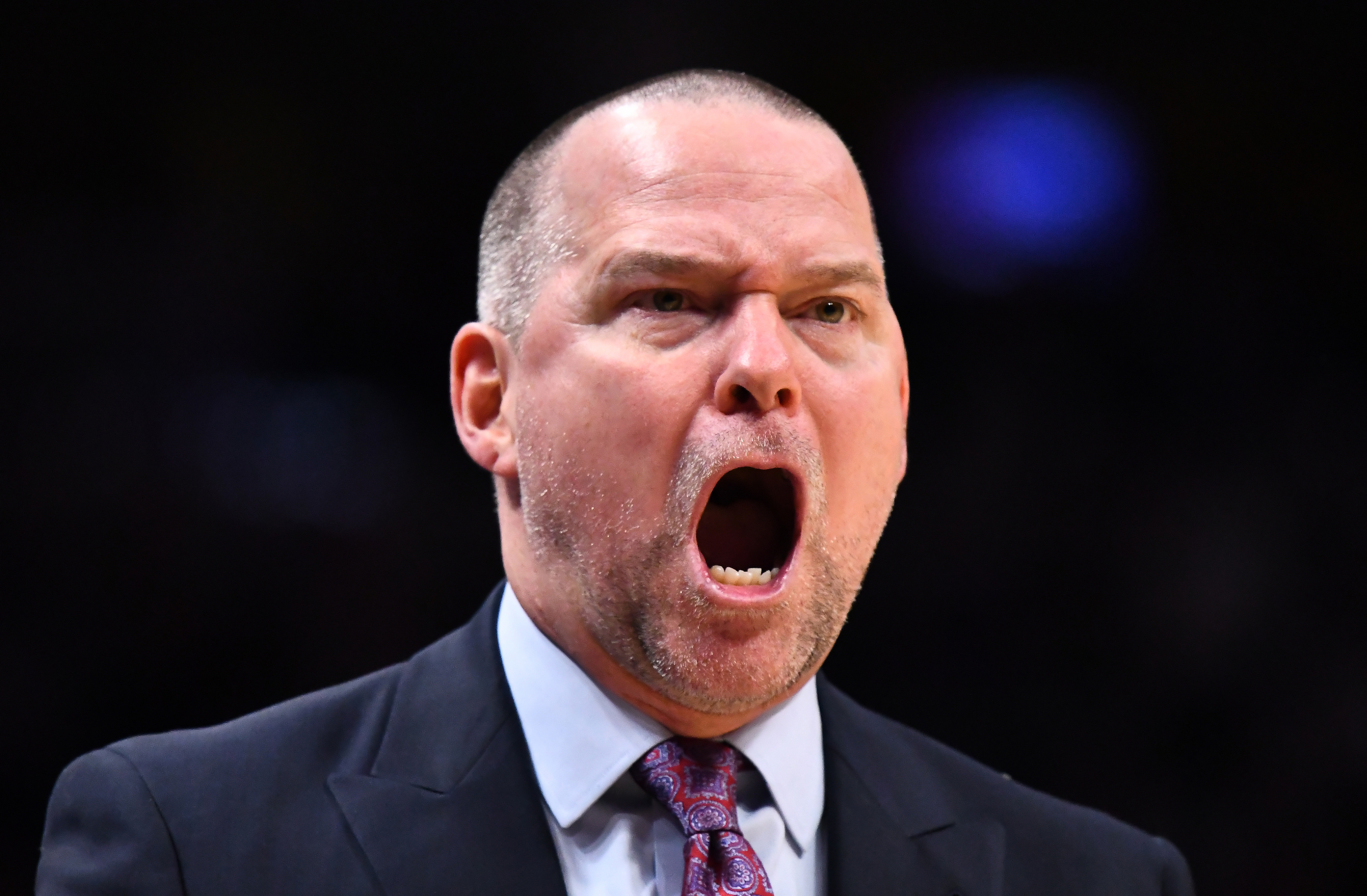 The Denver Nuggets have been incredibly impressive during the 2018-19 season. They are currently the second seed in the brutal Western Conference, are sporting a 43-22 record, and are just one-and-a-half games behind the first-seeded Golden State Warriors after missing the playoffs by just a single game in each of the past two seasons. Regardless of how you slice it, this Nuggets season has been a resounding success so far.
Still, that does not eliminate the fact that Denver is just 4-4 in their last eight games since the All-Star break has come and gone. Now, after most recently getting embarrassed in Golden State in a 122-105 loss, Nuggets' head coach Michael Malone's frustrations have reach their tipping point despite of how well Denver has played for most of the year.
"Our issue in Golden State was guys' care factor; we were not ready to play," Malone said at practice on Monday morning. "You are playing against the best team in the NBA who has won three out of four championships, coming off an ass-kicking, and we thought we could just show up and play. We have a young team. They have to understand what they are walking into. We did not match the urgency or the intensity that was needed in that game to the level of our competition. That is why our starting unit was so bad. We were not ready to play."
Malone has ripped into his team multiple times in the past few weeks for their lack of what he has dubbed a 'care factor' as well as the need for more intensity, urgency and preparation. Additionally, the Nuggets roster has been playing more selfishly than normal since the All-Star break which has thrown the offense into disarray. So far, Malone's efforts to get his team back on the right track have not yet come to fruition.
All of those issues are why during a film session on Monday morning — two days after the Nuggets were drubbed by the Warriors — Malone elected to utilize, "some open and honest conversation," to try to get his youthful Nuggets team back on track
"I showed 13 clips today and I told the guys before we watched them, 'if anybody in here is sensitive, get up and leave now'," Malone stated unflinchingly. "It was very open, very honest, and very direct about what a bad shot is, what a bad turnover is, and what selfish basketball looks like.
"Hopefully they hear the message and get back to playing the way we play."
The Nuggets needed a wake-up call. They have been too lackadaisical for the better part of a month and needed to be reminded that they are not invulnerable. Losing three of their last four games seems to be the alarm they needed.
Malone came into his press conference on Monday morning after practice armed and ready with a list of significant issues the Nuggets have been enduring since the All-Star break.
"Since the All-Star break, we are 4-4 and a couple things are trending in the wrong direction. Our turnovers, points off turnovers, are 28th in the NBA. Our offensive efficiency since the All-Star break is 19th. Our field goal percentage on offense is I think 25th. I think it is a number of things. I think we are taking a lot of contested shots. I think we are taking a lot of bad shots. Those poor shots and turnovers are fueling teams breaks.
"The numbers do not lie. I had them up on the board. Who we have been this season compared to who we have been since the All-Star break; it is a marked difference. We have the number two defense in the NBA since the All-Star break, but our offense has let us down since the break and we have to get back to playing Nuggets basketball."
Since the All-Star break, the Nuggets have the third-worst turnover percentage in the league (14.8), the 19th ranked offense, and they are shooting an awful 43.5 percent from the field in that time. Most of these issues have to do with the fact that the Nuggets are not playing their typical altruistic style any longer. Over the entire season, the Nuggets make 307.1 passes per game. Now, in Denver's eight games since the All-Star break ended, that number as plummeted all the way dow to 266.4.
"It is just the possessions where guys think — sometimes it is not even selfish — 'I got to play the hero; I am going to bail us out'," Malone explained. "When we hit adveristy, we need to think more 'we' instead of 'me'. Not one person can take this team and put them on their back; we do not have that guy."
There are pretty good statistical indicators that Nuggets are playing individually instead of collectively. Their turnovers have skyrocketed, total passes made have dramatically fallen off, and their efficiency shooting the basketball is awful. Simply stated, Denver has been playing far too much hero-ball and it has led Denver losing three of their last four games.
"For me, it is about us getting away from who we have been and, more importantly, understanding why you win and why you lose," Malone said. "When we win, we play a certain brand of basketball. With 17 games to go — 11 of those 17 against teams that are .500 or better — we cannot afford to deviate from that and try to make it up and change the pattern because it does not work well for us."
The best way to break that pattern is for the Nuggets to get back to playing through Nikola Jokic. In the first five months of the season (October through February) Jokic did not have a single month with a usage percentage lower than 24 and that number spiked up as high as 30.8 percent in January. Now, in the month of March, Jokic's usage percentage is all the way down to just 20 — the lowest mark of his career since November of 2016.
"Give him the ball. We have to give him the ball more," Malone stated emphatically. "Some of the shots that we take are awful shots. I think in that game, we had 30 possessions where we had either zero passes or one-pass shots and they were bad shots. If you want to help Nikola out, give him the ball. Something good happens when he touches it.
"When Nikola touches it, good things happen because he is going to score, he is going to find the open man, he is going to draw a foul or double team, and good things happen. I trust him with the ball. So let's get away from those poor dribble down, don't pass the ball, don't move the defense, take a quick shot, now we are exposed in transition and now we are playing uphill the rest of the way. The greatest thing that I have taken lately is that we need to get Nikola the ball a lot more."
By the time Malone was done airing out grievances during the Nuggets Monday morning film session, he then challenged the roster by asking them what kind of a team they want to be — a group that limps into the playoffs or the best team they can be?
"For us, we just have to keep pounding the stone, keep on working, keep on staying together and understand that there is no need to panic," Malone stated. "With 17 games to go, we have a great opportunity in front of us, but who do we want to be? That was one of my questions to our team today. Do we want to just kind of crawl into the playoffs and be thankful we made it? Do we want to fight for homecourt advantage in the first round? We are a game and a half behind Golden State. Do we want to really commit to trying to get that? I do not know, but I do think that his homestand will really show case to all of us where we are as a team, what our commitment level is, and what are we willing to fight and sacrifice for. It is going to be a challenge because we have a very difficult schedule the rest of the way."
Now, all that is left is for Denver's roster to step up and get back to winning basketball games by playing Nuggets' basketball. There is nothing holding them back except for themselves.
"I am tired of talking. All we do is talk, talk, and talk," Malone explained. "Let's start doing it. Let's get back on the floor and doing it. Let's start creating better habits and be who we need to be. Talk is great, but at some point, actions are better. Let's put all of that into actions."