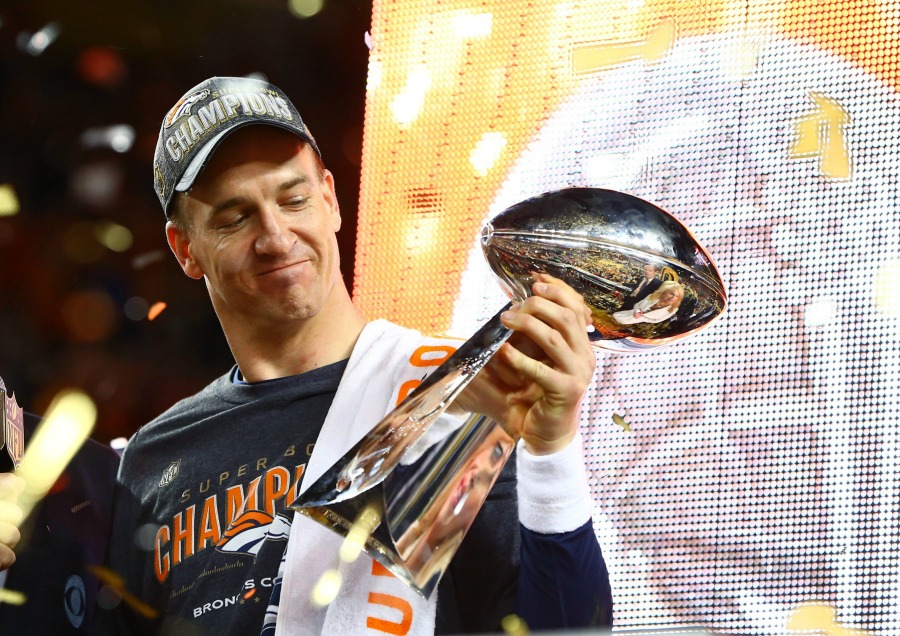 The Selection Committee of the Colorado Sports Hall of Fame voted six individuals — including Peyton Manning and the late Rashaan Salaam — to be inducted at the 54th annual banquet, set for April 18 at the Denver Hilton City Center (1701 California St.).
Joining former Broncos quarterback Manning and University of Colorado Heisman Trophy winner Salaam as April inductees were Joe Glenn, Sam Pagano, Tracy Hill and the late Alex Burl when the Class of 2018 was selected today. The Selection committee will pick the 2017 Athletes of the Year at a January 2018 meeting as the Colorado Sports Hall of Fame recognizes collegiate, high school, Olympic/Pro athletes at the Denver Hilton City Center banquet.
Peyton Manning is unquestionably one of the greatest quarterbacks in football history, and he helped the Denver Broncos win their third Super Bowl title to cap off his career in February 2016. "The Sheriff" played his final four seasons with the Broncos, signing a free-agent contract after spending 14 years with the Indianapolis Colts, with whom he also won a Super Bowl. Before becoming a Bronco, Manning sat out the entire 2011 season with a neck injury.
In his 18 NFL seasons, Manning threw for a league-record 71,940 yards and 539 touchdowns, at one point starting 227 consecutive games. Five times, the former University of Tennessee standout was named NFL Most Valuable Player. He was picked for the Pro Bowl 14 times and a first-team All-Pro on seven occasions. He's one of just two QBs to win at least 200 games in the NFL (regular season and playoffs combined), along with Tom Brady.
One of Manning's most impressive seasons came in 2013 in Denver as he set single-season NFL records by throwing for 5,477 yards and 55 touchdowns as the Broncos racked up an amazing 606 points. In Manning's time in Denver, the Broncos won four AFC West titles and went to two Super Bowl. Manning earned Colorado Sports Hall of Fame Athlete of the Year awards for both 2012 and '13.
Rashaan Salaam is the only Heisman Trophy winner from a Colorado-based school, claiming the honor in 1994. That year, in what would be Bill McCartney's final season as head coach at CU, Salaam rushed for 2,005 yards and 24 touchdowns in 11 games, averaing a stellar 6.9 yards per carry as the Buffs finished with an 11-1 record. That junior season, he recorded 10 100-yard-plus rushing games, joining the likes of Barry Sanders, Tony Dorsett, Marcus Allen and Mike Rozier as college players who have rushed for at least 2,000 yards in a single season. Salaam also caught 24 passes for 294 yards that year.
Salaam, the son of former Cincinnati Bengals running back Teddy Washington, skipped his senior season at CU and was a first-round draft pick (21st overall) of the Chicago Bears. He ran for 1,074 yards and 10 touchdowns as an NFL rookie. But after a 496-yard season in his second pro year in 1996, Salaam would play just five more games over the next two seasons before his NFL career was over.
Salaam grew up in the San Diego area and played 8-man football at La Jolla Country Day, where he ran for 100 yards in every game but one and went on to be named a high-school All-American in 1991.
Salaam died in Boulder on Dec. 5, 2016 at age 42.
Joe Glenn was the head football coach at the University of Northern Colorado for 11 seasons beginning in 1989, with the Bears winning two NCAA Division II national titles during that span — in 1996 and '97. Over his career at UNC, Glenn compiled a 98-35 record and won four Northern Central Conference titles. And prior to taking over as head coach, he served as an assistant at UNC for two seasons.
Glenn also has been a head coach at Doane College in Nebraska, where he took over at age 27 (1976-79); Montana (2000-02); Wyoming (2003-08); and at his alma mater, the University of South Dakota (2012-15). In addition to his two DII national titles at UNC, Glenn claimed a Division I-A national championship at Montana in 2001.
At Wyoming, Glenn took a struggling program and turned it into a success. In 2004, the Cowboys beat UCLA in the Las Vegas Bowl, which marked the school's first bowl victory in 38 years.
Sam Pagano was successful as a football coach at both the high school and professional levels, and also ran a very highly regarded football camp in Colorado. The Pueblo product, who was inducted into that city's Sports Hall of Fame in 1978, coached Fairview High School in Boulder for 26 years, starting in 1969. There, he led the Knights to three state high school titles in a decade as they prevailed in 1978, '79 and '87. Overall, Fairview went 164-58-4 with Pagano at the helm. In 1978, Pagano won the Ed Lesar Award, given by the Colorado High School Coaches Association to the Outstanding Teacher/Coach in the state.
After leaving the high school ranks, Pagano coached in Europe — specifically in Bergamo, Italy; Berlin and Paris. His Bergamo squad won the Euro Bowl in 2002, finishing the season 16-0.
Pagano oversaw the highly regarded Mile High Football Camp in Colorado from 1975 to 2012. Among those who helped instruct at the camp were Peyton Manning and Vinny Testaverde. Pagano's son Chuck currently serves as the head coach of the Indianapolis Colts, while son John is the assistant head coach-defense with the Oakland Raiders.
Tracy Hill remains the most prolific scorer in the history of Colorado girls high school basketball as she racked up 2,934 points while at Ridway High School in southwest Colorado from 1980 to '83. In fact, she remains 264 points ahead of the No. 2 player on that list, Abby Waner of ThunderRidge.
Hill averaged 44.6 points per game as a senior, 38.7 as a junior, 33.4 as a sophomore and 15.4 as a freshman. Following her senior season, she was named the state's player of the year and the Colorado Sportswoman of the Year. In 1983, she also earned the Fred Steinmark Award, given to one senior boy and girl each year for outstanding achievement in sports, school and the community.
When Hill finished her career at Ridgway, she held 21 state high school records. She also lettered four years in volleyball and was a three-time state qualifier in track. In college, Hill played at Missouri, Central Wyoming and Montana State, receiving All-American honors at Central Wyoming. She competed professionally in Australia and was named Tasmanian Player of the Year in 1993. Hill has been inducted into the National High School Hall of Fame (2012) and the CHSAA Hall of Fame (1993).
Alex Burl, nicknamed "Bullet", was a standout as both a sprinter and a football player, and served as a trailblazer in several respects. Burl won the state 100-yard dash title in 10.0 seconds in 1949 while at Denver's Manual High School. He went on to compete in football and track at Colorado A&M (now Colorado State University) from 1951-54.
At CSU, Burl won Skyline Conference titles in the 100- and-220 yard dashes and qualified for the 1952 Olympic trials in the 100. That year, he placed fifth in the NCAA 100, becoming the first African-American to earn All-America honors. Burl was also the first African-American to compete in any NCAA championship event for Colorado A&M. In 1954, he placed third in the NCAA 100. Burl won the Nye Award, given to the oustanding student-athlete at Colorado A&M, in 1954. He also claimed the Rocky Mountain AAU 100 title three times. In 1956 while in the Army, Burl would run a career-best 9.3 100-yard dash.
In football, Burl played running back and defensive back at Colorado A&M, starting for three years. He was picked for the College All-Star Game, which pitted the nation's top seniors against the NFL champions. Burl spent one season in the NFL, with the Chicago Cardinals, becoming the first black player from a Colorado college or university to compete in the NFL.
After his competitive days were over, Burl coached football and track at Manual and Denver West. Sons Gary, Farley and Gerald won multiple individual track titles as Manual claimed the state team championship. Burl has been inducted into the CHSAA Hall of Fame (1999) and hte CSU Athletic Hall of Fame (2000). Grandsons Cameron and Davis played football at CSU. Burl died in 2009 at age 78.
Tickets for the Colorado Sports Hall of Fame Banquet are $200 each and Sponsor tables start at $2,500. For additional ticket and table information, please phone the Colorado Sports Hall of Fame (www.coloradosports.org, 720-258-3535). The Colorado Sports Hall of Fame & Museum is located at Gate 1 on the west side of Sports Authority Field at Mile High at 1701 Bryant Street in Denver.
Since its inception in 1965, the Colorado Sports Hall of Fame has inducted 252 individuals prior to Tuesday's selection meeting. The first class of inductees featured Earl "Dutch" Clark, Jack Dempsey and former Supreme Court Justice Byron "Whizzer" White. Roland "Champ" Bailey, Dante Bichette, Jeremy Bloom, Hashim Khan, Maurice "Stringy" Ervin and John Wooten were inducted into the Colorado Sports Hall of Fame this past April.