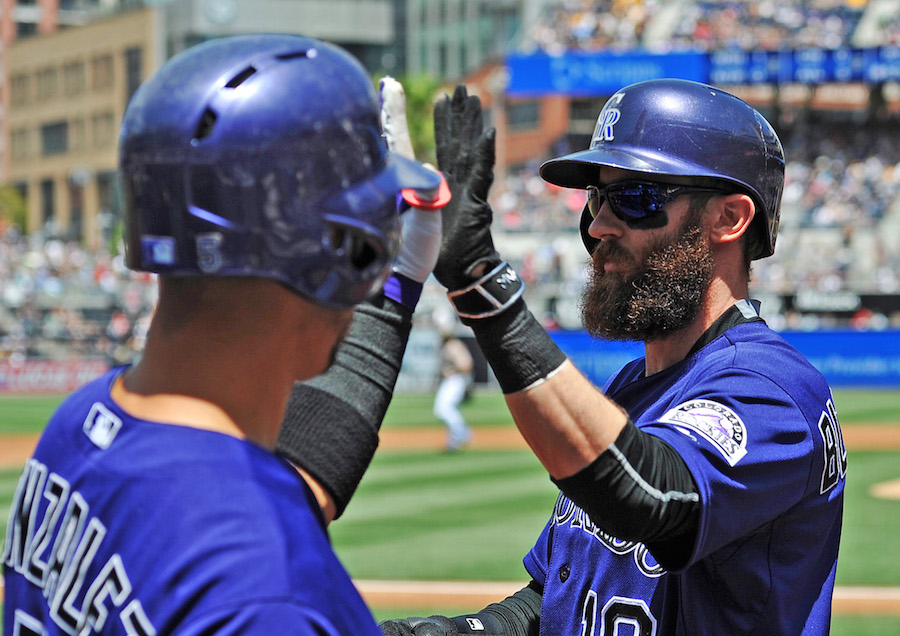 Close your eyes and picture the outfield for the 2020 Colorado Rockies. Those of you that didn't envisage a slightly older and heavier-set version of yourself playing cornhole on The Rooftop might have imagined something that looked like this as you scanned from left to right:
Corey Dickerson playing a serviceable left field, hitting in the four-hole and chasing a triple crown.
An ageless Charlie Blackmon, still bearded, still grinding out at-bats and being a general thorn in the side of right-handed pitchers, though not quite as much on the basepaths as he once was.
And in right field it's… maybe Carlos Gonzalez? I mean, he's getting up there in years. But he's not that old, right? And he's a natural-born hitter for Coors Field, right?
If you had asked fans of the 2010 Kansas City Royals to envision the outfielders that would take the field for them in the 2014 and '15 World Series, they first would have first laughed at the idea that five years after a 67-95 finish they'd have back-to-back World Series appearances to claim.
After the laughter had subsided, they might say they'd have seen Alex Gordon coming – KC had almost converted him to a full-time outfielder at that point – since veteran Scott Podsednik had been traded at the deadline to the Dodgers, but Gordon hadn't found a consistent defensive home anywhere in KC, four years into his career at the time.
Mitch Maier would likely be gone from center (a .263 average with 39 RBI in 117 games won't get you to the Fall Classic) as recent trade acquisition Gregor Blanco looked like a potential mainstay. A ruddy-cheeked Brewers rookie named Lorenzo Cain was on no one's radar outside of the Kansas City front office at the time.
And in right field, they'd tell you to flip a coin if either of their 25-year-olds, Jai Miller or Jarrod Dyson (who played primarily center), would pan out. They had traded David DeJesus almost as soon as the season ended and Alex Rios was playing above-average baseball for division rival Chicago at that time while Nori Aoki wasn't even in the big leagues yet.
Four years later it was Gordon, Cain and Aoki in the World Series for Kansas City. Rios took over for Aoki this year.
Now, rethink that question about the 2020 Rockies outfield. Does a Colorado Rockies outfield that takes the field in the 2020 World Series still feature Dickerson, Blackmon and Gonzalez in your mind?
Five years from now Blackmon and Gonzalez will be smack-dab in their "mid-30s." Jose Bautista had one heck of a year in right field for Toronto in 2015 at 35 years old. Is Gonzalez, who will be 35 in 2015, capable of finding a fountain of youth later in his career as Bautista did?
Rios played at 34 years old this year for the Royals, but hit just .255 and only managed to see the field in 105 regular season games. Will Blackmon be of the same mold when he's 34? Or will his aggressive style of play nowadays slow him down even more so?
Dickerson will be 30, a year younger than Alex Gordon was this year, but with the injury problems he's had in his early- and mid-20s, is there any reason to believe he'll be healthy and anchoring the lineup? (Brutal honesty chimes in, "Maybe in the AL as a DH?")
The 2015 Rockies won just one more game than the 2010 Royals. If the team plans to make back-to-back World Series appearances in 2019 and '20, it's unlikely that the outfield you might have first imagined when the question was posed will be the one that gets them there.
Gonzalez is an unrestricted free agent following the 2017 season. The trade rumors are already starting to heat up around him, with the belief he could be moved as early as this offseason. It's unlikely the Rockies will be willing to take the PR hit that would come with shipping CarGo the same year as Tulo. But if Gonzalez is having a solid year again in 2016 or '17, don't expect him to stay in purple pinstripes unless the Rockies are within a game or two of the NL West lead.
Blackmon still has three years of arbitration remaining, so Colorado might consider locking him up after back-to-back productive years in 2014 and '15. But he was already the subject of trade rumors back in January of this year, and though the Rockies have hitched their PR wagon to "Chuck Nazty," a long-term deal might be out of the question as Colorado has two top prospects who will no-doubt factor into their evaluation of Blackmon's future.
If his career path follows a consistent trajectory, David Dahl should expect big things in 2016. A terrific showing in rookie ball in 2012 was followed by a disastrous 2013 in which he saw the field in just 10 games. He was great in 2014, earning SAL Best Defensive Outfielder, Most Exciting Player and Best Batting Prospect honors. He suffered an injury in 2015 that again cost him the majority of the season. What will 2016 hold? Dahl hopes a shot at Triple-A Albuquerque, though New Britain seems a more likely destination. If he can fully recover from having his spleen removed, Dahl can play any outfield position, which is important because a prototypical centerfielder with a not-so-prototypical swing is hot on his heels.
Raimel Tapia continues to post big numbers wherever he goes. The Dominican hit .305 in 131 games for Modesto, tallying an impressive 166 hits and 71 RBI this year. Since coming stateside in 2013 after two years in the Dominican Summer League, Tapia has never hit below .300 and he stole more than 25 bases in each of the last two seasons. At 6-foot-2, he can certainly add to his 160-pound frame. If you like the lay of the Royals' outfield, think of him as a left-handed Lorenzo Cain who just needs some meat on his bones. He'll be just 22 years old when Spring Training breaks next year. A 26-year-old Tapia might look a lot more realistic than a 34-year-old Blackmon in centerfield when the first pitch of the 2020 World Series is thrown in Denver.
Can Corey Dickerson stay healthy enough to be the "veteran presence" in an outfield with Dahl and Tapia? 2020 will be his first eligible free agency year, so even if this year's health problems can be put behind him, Dickerson will remain a curious case. He has the tools to be the kind of hitter that at Coors Field could make a run for a triple crown. But defensively he's average or below-average. Colorado survived mediocre defensive play from Dante Bichette and Matt Holliday en route to playoff berths. Dickerson seems best-suited in a DH role long-term (he's absolutely maniacal when it comes to his craft at the plate), so a 2020 version of him in a Rockies uniform seems a bit far-fetched, especially considering the timing of his free agency.
Does that vision of the 2020 World Series outfield look distinctly different now?
Fans of the 2010 Kansas City Royals didn't have a whole lot of optimism after completing their fifth last-place finish in seven years (they finished fourth in the division in the other two). Now, they're two wins away from a World Series title thanks in large part to the productivity of outfielders who better fit the team's aggressive, fast, and strong defensive style of play.
There's no doubt the Rockies need to improve their pitching first and foremost – Kansas City engineered a major overhaul in that department, too. But a trip to the World Series five years years from now might have to include some new faces patrolling the second-most expansive outfield in baseball. (Kansas City's Kauffman Stadium is No. 1, if you're reading this Jeff Bridich).
Perhaps Corey Dickerson can become the Rockies' version of Alex Gordon (with a better bat) and stick it out when the good times roll around at the turn of the next decade, but don't count on CarGo or Chuck Nazty being there.
Whether its with prospects like Dahl and Tapia, trade deals like the Royals executed to land guys like Cain and Aoki, free agent signings like Rios or the more likely combination of all three things, those scenarios are far more realistic to imagine than the three entrenched starters heading into 2016 still being around in 2020. Cornhole on The Rooftop, however, is here to stay.