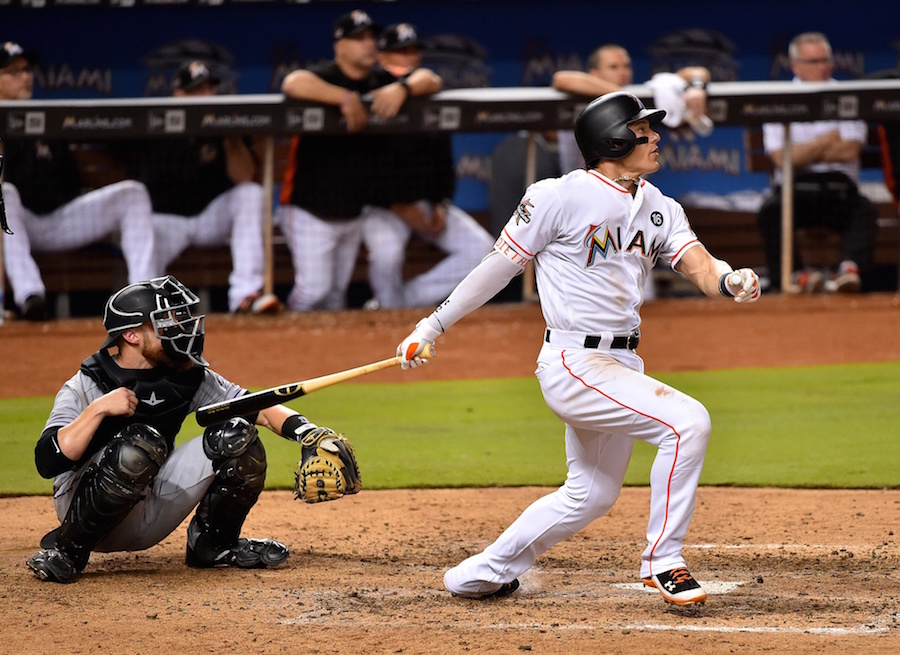 The Rockies put on a strong defensive display against the Miami Marlins, the other top-fielding team in the National League, but it was the bullpen that proved to be the deciding factor in Colorado's 6-3 loss on Friday night.
Gerardo Parra had two impressive outfield assists to cut down Marlins base runners and help Rockies starter Jon Gray out of a couple tight spots. Nolan Arenado snared a hot shot that had extra bases and an RBI written all over it. And Gray made an outstanding play on a swinging bunt to cut down the speedy Dee Gordon.
Arenado became the first player in 2017 to reach 100 RBIs when hit drove a Jose Urena 88-mph changeup over the right-centerfield wall to give the Rockies the lead in the third inning.
Miami scratched out a run in the bottom of the fifth after Gray allowed back-to-back singles to open the frame. He got Miguel Rojas to ground into a double play, scoring Derek Dietrich.
Gerardo Parra added a solo shot in the sixth inning to push Colorado's lead back to two, but the Rockies would give it back and more in the bottom half of the inning.
Giancarlo Stanton hit his 40th home run of the season, a towering shot off Gray. Then, a double, a wild pitch and a walk set up J.T. Realmuto's game-tying sacrifice fly to deep center. Another walk chased Gray from the game. His night ended with 5.2 innings pitched and three runs allowed on eight hits and a pair of walks. Mike Dunn got Tomas Telis to fly out to Charlie Blackmon to end the threat.
Pat Neshek got a clutch strikeout of Stanton in the seventh with a man on, but Jake McGee couldn't contain the Marlins in the eighth. Miami touched McGee for three runs on three hits and a walk, including a one-out triple by Telis to chase the lefty. Adam Ottavino retired the two hitters he faced to stop the bleeding.
Trevor Story reached base in the bottom of the ninth, but that was all the Rockies could muster against Brad Ziegler.
Colorado and Miami will continue their three-game series on Saturday. Jeff Hoffman will start for the Rockies.