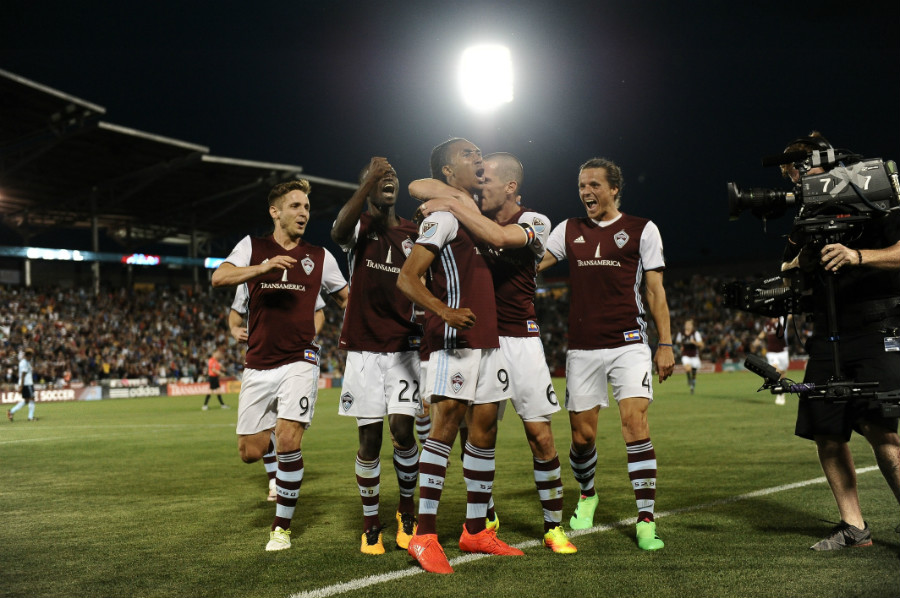 Marlon Hairston may only have two goals to his credit in his three-year Major League Soccer career, but the former Louisville Cardinal is fully embracing a stage bigger than what he was used to at the Division I level.
Louisville is one of the more popular collegiate soccer programs in the nation, making the NCAA Tournament eight years in a row and coming in second in 2010. MLS is the big time, though, and Hairston knows that.
"This is another level," Hairston said. "Louisville was definitely a great atmosphere, but here it's a complete different atmosphere. The fans that we have here – I think the last couple games have been sell-outs – so it's great to be playing in front of the fans."
Since Colorado selected him 12th overall in the 2014 MLS SuperDraft, Hairston's journey to Commerce City has been anything but ordinary.
Hairston made his MLS debut – barely – on March 29, 2014 in a 3-2 home loss to Sporting Kansas City. Hairston committed one foul in two minutes. He made 22 appearances and nine starts that year, scoring his first career goal on August 20 in the 14th minute of a 4-3 loss to the Galaxy.
Hairston was loaned out to the Rapids' USL affiliate Charlotte Independence twice in 2015, making eight total appearances and scoring one goal before coming back up for a second stint on September 9.
He had to wait until the Rapids' final home game of that year – October 10 against Montreal – to log his first minutes of the season. Hairston went on to play a full 90 minutes in the last three matches of the season, playing at right back after spending his rookie season in the midfield.
Since then, Hairston went 18 appearances without a goal – until Saturday.
"It's something I've been working for for a while," Hairston said, "Try to find the back of the net again. I definitely had a lot of opportunities thus far, and hopefully I can pick up where I left off and continue to get a couple more."
Hairston scored in the 78th minute of a back and forth match with Kansas City, sealing the Rapids' first win since June 18 and extending a club-record unbeaten streak to 14.
The goal was a "long time coming" for Hairston, who's come a ways from college soccer and has made tremendous strides in his game. After that night, Pablo Mastroeni had nothing but praise for the 22 year old.
"Nights like tonight from Marlon validate all the hard work that he does," Mastroeni said in postgame. "For him and the rest of the younger guys that have a lot of upside, they're people of character; they're people that want to get better, and they're people that we love at the club."
Hairston's efforts that night earned him Man of the Match and a nice bottle of champagne. After the euphoria had died down, though, he was back to work focusing on next weekend's game.
"We know it's not going to be an easy game," he said. "Dallas is at the top of the league right now for a reason. Their attack is really good, so it's definitely going to be a dog fight here at home, but we haven't lost here at home so we're confident with our chances."
From western Mississippi all the way to Dick's Sporting Goods Park, Hairston's road to the professional ranks has been rocky at a minimum, seemingly unlikely at times. Now that he's here, however, there's no signs of him slowing down.