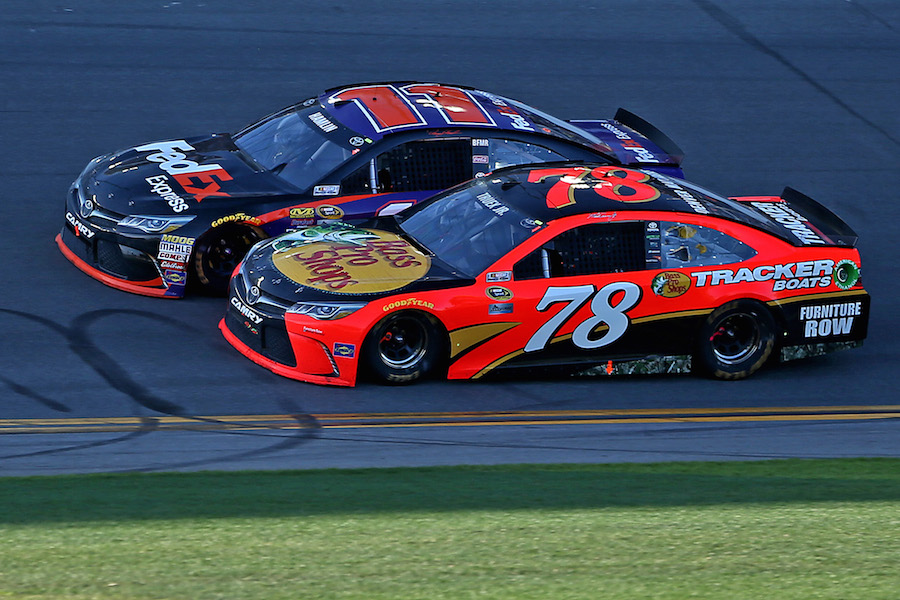 "The thrill in football, you can't get any more excited than that, winning a Super Bowl. It's the same thrill over here. Most people never get to have a dream in life. I've had two from an occupational standpoint. I'm probably one of the most blessed guys in the world." – Joe Gibbs, former Washington Redskins head coach and current owner of Joe Gibbs Racing, winner of the 2016 Daytona 500
Damn, Joe. It could have been us saying these things. The Super Bowl and Daytona? Denver would be blessed, too.
A 500-mile race that's won or lost by less than a foot? Talk about a game of inches. The difference between becoming the only town in America to ever win the Super Bowl and the Daytona 500 in the exact same month came down to 0.010 seconds. Talk about a thriller.
And to think, this is the second time you've broken our hearts, Joe. Super Bowl XXII was a laugher. Back on Jan. 31, 1988, your man Timmy Smith beat our Broncos by 204 yards. Yesterday, your driver Denny Hamlin beat Furniture Row Racing – our very own NASCAR team – in a photo finish.
Had Furniture Row Racing driver Martin Truex Jr. been able to hold on at the finish line at Daytona International Speedway, it would have been the second time in February that Denver beat "Carolina." Every other major NASCAR outfit is headquartered in North Carolina, including Gibbs' team, and lil' ol' Denver almost beat 'em all. Betcha both Gibbs and Hamlin would have handled the loss better than Cam Newton.
Most sports fans in Colorado will call this the greatest February of all time. That has nothing to do with the fact that we get an extra day in 2016; it's just that the Broncos' other two Super Bowl victories took place in January. Until now, really, the Daytona 500 wasn't watched with much of a rooting interest in these parts. What a month! Sure, Furniture Row Racing has been in the race 10 different times now, but yesterday withstanding, they've only had one top-10 finish (in 2010 they finished 6th); on average, "we" have finished 19th in the Daytona 500.
And thanks to Truex Jr., now there really is a "we."
Would a win at Daytona have created the kind of stir that sees one million people turn out for a parade? Probably not, but what he and his crew almost pulled off yesterday would have been about as miraculous as The Drive. Not only did Furniture Row Racing switch its manufacturer from Chevrolet to Toyota over the offseason, but the No. 78 car wrecked during the final lap of qualifications on Thursday. Truex Jr. started the race 28th in a 44-car field – in the backup car.
Piloting a car he barely knew and winning the Daytona 500 yesterday would have been more improbable than Doug Williams – who only started two regular season games for Gibbs' 1987 Redskins – winning Super Bowl MVP. Vegas was handing out 25-to-1 odds on Truex Jr. to win, and Sin City almost had to pay up. Hey Colorado, not only do we have a team, we've got one hell of a driver, too.
And while Furniture Row Racing is still a one car, one driver team, it now has a few friends on the track. Because the team moved over to Toyota and gained a new technical alliance with Joe Gibbs Racing, Truex Jr. got some help from Gibbs' drivers – Hamlin (who won), Matt Kenseth, Kyle Busch (third place) and Carl Edwards (fifth place). Or, it might be fair to say that Truex Jr. helped them.
Last November, Furniture Row Racing finished the season at No. 4 in the 2015 Chase for the Sprint Cup. That was unheard of, unprecedented, unthinkable in the sport. So, in January, we called Truex, Jr. the Mile High Sports Magazine Professional Athlete of the Year. And yesterday, only four freaking inches kept the No. 78 car from handing our state it's first-ever Daytona 500 title.
It sure feels like a Leap Year – as in, we've leaped into the mix when it comes to the game of NASCAR.
Super Bowl LI is scheduled for Feb. 5, 2017. The 2017 Daytona 500 is set for Feb. 26. Maybe next year we'll get the sweep.