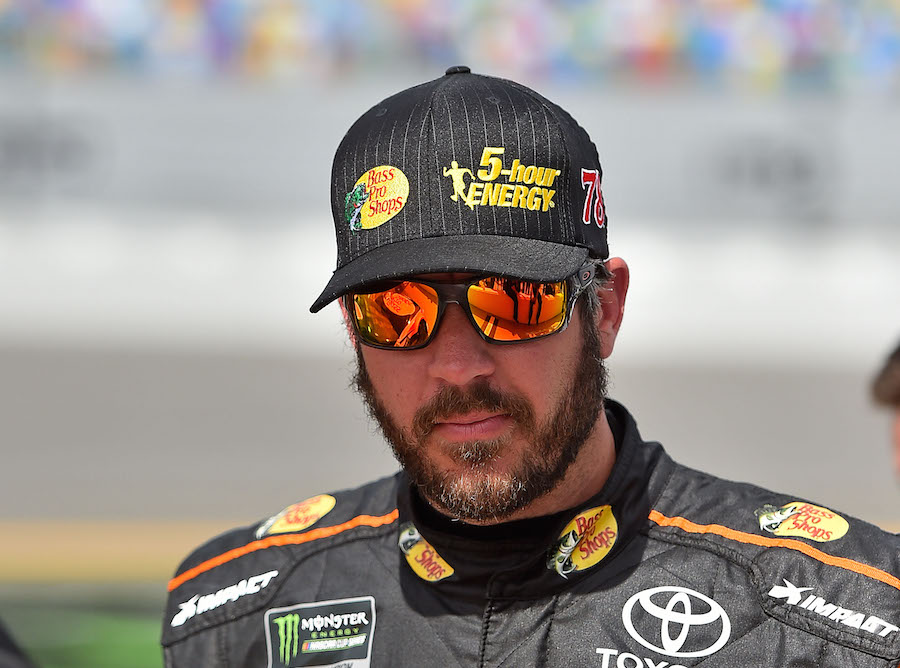 Martin Truex Jr. was in position to win the past two Daytona 500s. He lost to Denny Hamlin in 2016 by one-hundredth of a second, which is the closest finish in the race's history. Last year he had the lead with two laps remaining, but slid back to 13th as a result of running out of fuel.
Truex will be competing in Sunday's 60th running of the Daytona 500, driving the No. 78 Bass Pro Shops/5-hour ENERGY Toyota for Furniture Row Racing at the 2.5-mile Daytona International Speedway.
The following is a question and answer with Truex, the 2017 NASCAR Cup Series champion, ahead of this year's "Great American Race."
You ended the 2017 season in Florida (at Homestead-Miami Speedway) under an enormous amount of pressure as a final-four driver. And now you start a new season in Florida at the biggest race of the year. Do you feel like you're going from one pressure-cooker to another?
No question about that. If you're fortunate enough to be a final-four driver at Homestead there's a great deal of pressure in the one race takes all. Trust me, that is pressure. Then you turn around three months later and you're at the biggest race of the year. Crazy how it works. But these big moments are what we all live for.
What is the team's approach to the Daytona 500?
We come here and go for the win and not worry about points, don't worry about stage points and stage wins. We just come here to win. We have 35 races remaining after Daytona to figure it out and make up the points. This race is all about winning.
What does it take to win the Daytona 500?
Fast car, a lot of luck and making the right moves at the end.
Does losing the 2016 Daytona 500 in the closest finish of the race's history (lost to Denny Hamlin by one-hundredth of a second) still haunt you?  
Not until I see the replay.
Does winning the season championship last year soften the sting of that Daytona 500 loss?
Winning the title is the ultimate goal but I don't know if it takes the sting away from losing that race. But the championship definitely checks off the top five on the list of things you want to accomplish as a driver in this sport. Daytona 500 is pretty high on that list and we'd like to do it.
You've won the Southern 500, the Coca-Cola 600 and it's the Daytona 500 that is keeping you from claiming NASCAR's Triple Crown. Do you think about this?
Yes. I have thought about it. I know we've come close at Daytona a few times now. It's kind of surreal to think about the races we have won and what we've accomplished the last few years. No guarantee that we will ever check the rest of them off, but to have the chance to do it and to see the races we have won as a team the past three years I never thought it was possible. I am enjoying the opportunities and feel privileged to be in this position.
Though you were in position to win the past two Daytona 500 races, your overall speedway record has been both so-so and unlucky. Is that accurate to say?
Our Speedway record has been very bad and typically speedways have not been my strong suit. I feel like I am always in the wrong place at the wrong time. But I've been able to put myself in position to have a shot at winning a few of them but haven't been able to get it done yet. It's a little frustrating. But we're still learning ways as a team to make moves better and to position ourselves in front of the field and stay there. I don't know if we quite figured it out yet. I am not sure if we have the speed as one of the guys to make those big moves and be aggressive here, but we'll keep looking for it. One good thing about these (superspeedway) races is anybody has a shot to win. You just have to put yourself in position. It seems like there are always a few guys who are really fast and who are capable of really making big moves and setting the tone. However, there are still opportunities for teams that are a little off on speed to make something happen as well.